Operations DECKHOUSE II and HASTINGS
July 1966
This is not an official USMC combat operations page, but my personal attempt to recover as much info as I can about the operations participated in by the 3rd Battalion, 5th Marines in Vietnam. I will be posting recollections and pictures (when available) from Marines and FMF Corpsmen who participated in Operation HASTINGS. Comments are from informal emails, phone calls, and other correspondence to Brad and I. All related pictures and information is greatly appreciated.~DR
[ Operation HASTINGS KIA ] [3/5 Citations for HASTINGS][ HASTINGS at 34 ]
(click images to enlarge)
3rd Battalion, 5th Marines Combat After Action Report
16-18 July 1966 Operation DECKHOUSE II
18-30 July 1966 Operation HASTINGS
(courtesy of JD Murray)
"DECKHOUSE II was the operation along the STREET WITHOUT JOY along the coast. We jumped off into HASTINGS the day we left DECKHOUSE II. HASTINGS was to the west of DH II. Based on numerous requests for the total picture of our BLT on DHII and HASTINGS, I have decided to create a graphic of the BLT in honor of Hans Haupt, the H&S Co. Commander during that operation. Hans has worked tirelessly not for one or two companies, but for the entire Battalion in searching for former members. JD Murray
Operation DECKHOUSE II
Gio Lien Province
During the early summer months of 1966, evidence was mounting that large NVA forces were building up in Northern Quang Tri Province, Vietnam. With rare exception, most recon inserts were encountering armed, uniforned NVA throughout the province. Deserters stated the NVA were there to drive the ARVN out of the province.
General Walt (CG III MAF) met With General Westmoreland in Hue and discussed Operation HASTINGS. Westmoreland approved and authorized Walt to transfer up to an entire division to the Quang Tri Province. Gen Kyle (CG 3RD MARDIV) established the 4th Marines (forward) at Dong Ha, and activated Task Force Delta headed by his Asst Div Cmdr, Gen English, in preparation for the operation. The Task Force included four infantry battalions (2/1, 1/3, 2/4, and 3/4). 3/12 Artillery Battalion also joins the task force. Based on intelligence reports, General English decided to seek the NVA in the Song Ngan Valley.
16 July '66
Helos lifting off M Co from USS Princeton heading for the "Street Without Joy" area just north of Dong Ha on Operation DECKHOUSE II 16 July.
18-29 July '66
Operation HASTINGS
DMZ, Cam Lo, Quang Tri, Vietnam
Completed our Special Landing Force mission and offloaded in Chu Lai, Vietnam

BLT 3/5 was airlifted into the area to exploit the B-52 strike and act as a blocking force for any NVA units escaping from the Song Ngan area where most of the Task Force were located. No friendly forces had operated in BLT 3/5 initial zone of action prior to their entry. It was suspected that the area might include a regimental sized CP, and perhaps, even the CP for the 324B NVA Division.
BLT 3/5 was commanded by LtCol. Ed Bronars, with his able commanders, Capt. Hans Haupt (H&S), Capt. Sam Glaize (I Co), Capt. Dick Maresco (K Co), Capt. Reiss Tatum (L Co), and Capt. Harold (Dell) Pettengill (M Co).

Helos preparing to liftoff 2d Plt., M Co into HASTINGS (JD is holding map in pic)
Capt. Pettengill had briefed the platoon commanders 10 mins. prior, and I believe I was able to brief my squad leaders only minutes before this pic. I doubt whether the troops got more than, "Get ready to Rumble."
M Co making helo assault on NVA positions
18 July '66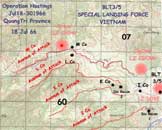 In the initial landing, only Capt. Pettengill's M Co encountered serious resistance. The company landed on an NVA unit in LZ CROW at 04362, and after heavy airstrikes were able to overrun the NVA. 20 NVA killed during the afternoon battle.
L Co also landed in LZ CROW. Cos K, I, H&S, and BLT CP landed in LZ DOVE.
M Co Helos landing in LZ
I think this is just after we landed where M Co landed on top of the NVA on the 18th
NVA KIA
19 July '66

There was little contact during the morning of the 19th. L Co made contact with a platoon of NVA at 045625, and K Co had NVA contact at 038608 that afternoon. L Co discovered a Bn CP at 040620 with 140 bunkers.
20 July '66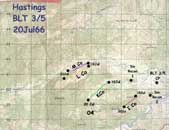 At first light all BLT companies resumed search and destroy operations west in their assigned TAOR's.
At 0915am Co L destroyed an NVA Hqs.
At 040620. Both L and M Cos had contact early in the day. A patrol from the 106rr platoon discovered a possible political reception center at 098619.
At 1610 K Co at 044598 found a Bn/Regt CP with hundreds of uniforms, packs, shirts, shelter halfs, etc. and documents. All were new.
Co M had contact at 028616 and 022610 killing 4 NVA and capturing supplies and documents.
At 1815pm L Co killed 2 NVA at 025610.
At 0100am K Co ambushed 10-15 NVA. Results unknown.

M Co Command Group and radiomen
Wineriter, GySgt. Goodrich, Capt. Pettengill, Lt. (ready for inspection) Lindblom
21 July '66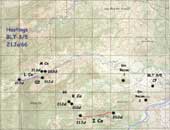 All BLT 3/5 companies continued search and destroy missions in their TAORs.

Co M at 0920am discovered prepared positions at 024618 with much equipment. 200 bunkers, hospital and mess hall in area. Large quantities of engineering equipment and explosives and mines found indicating probably an NVA Engineering Bn. Probably evacuated because of B-52 Arc Light.

M Co found a Chinese Mine Detector at 028618. 2 NVA bodies, 12 graves were also found, apparently caused by arty fire or an earlier contact with Co K or M.

CO, M Co Capt. Pettengill, with radiomen Wineriter and Leslie, calling in an air strike on NVA positions. Lt. Lindblom wounded during the strike and evacuated. Lt. Joe Mirgeaux was sent in to replace Lindblom by the Bn. Cmdr., LtCol. Bronars.

Joe Mirgeaux
WIA 21 July 1966

Part of NVA Engr. Bn. mines and equipment found by 2d Plt. on 21 July
22 July '66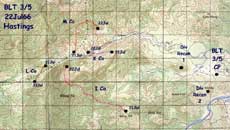 Continuing search and destroy operations to the west, Co M reached Hill 314, which intelligence sources indicated was the site of a regimental CP. 1 NVA killed by M Co 024625.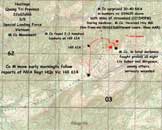 At 1545pm Co M 2d platoon surprised 30-40 NVA in prepared bunker positions vic. 034625. Co M overran the positions. While evacuating the wounded, the NVA assaulted from 034623. Both the 1st platoon under John Keker and the 3rd Platoon under Joe Mirgeaux overran the NVA on top of the nearby hill. The NVA probed M Co positions throughout the night.
At 1700pm, an ambush from L Co. fired on 4 NVA at 025610. Reinforcing squad helped kill 4 NVA.
At 1845pm I Co at 026608 contacted 12-15 NVA. NVA withdrew.
2d Plt M Co going down streambed just before we ran into NVA bunker complex which Vernon Ford describes so well.
M Co patrolling in triple canopy jungle
Night of 22nd and Morning of 23rd
The LZ blown out of the triple canopy the night of 22 and morning of 23 when M Co ran into the NVA in bunker complexes along the streambed. Joe Mirgeaux and John Keker, among others, were evacuated from this LZ.



Carl Matlock, 2d Plt. M Co eyeballing NVA shack for sleeping purposes
23 July '66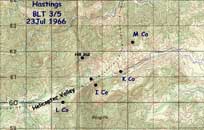 At 0040am Co M killed 2 NVA.
At 0815am I Co killed 1 NVA.
At 1000am Co M killed 2 NVA at 033627. Co K found 1 dead NVA at 025611. Co I at 1105am sighted 2 NVA at 018602, killing one, capturing one and one 57mm recoiless rifle.
At 1555pm I Co discovered a large equipment cache at 017607 and captured another NVA.
At 2230pm L Co killed 1 NVA at 005605.

Looking down into blown out LZ
24 July '66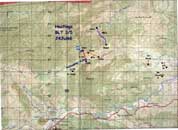 At 0700am L Co was approached by 2 NVA at 005605 wearing camouflaged utilities and U.S. helmets. 1 NVA killed.
At 1115am I Co discovered 21 NVA bodies near 016617, in area of previous L Co ambush.
At 1155am H&S Co patrol found NVA bivouac site at 083614 with 140 bunkers.
At 1200 Co I made contact with 3 NVA near 011616 along well used trail. 1 NVA killed, 1 captured.
At 1215pm Co I came under intense automatic and small arms fire at 013616.
At 1425pm Co I received mortar and automatic weapons fire while moving up draw at base of Hill 362. Once on top of Hill 362 and moving across a saddle, I Co came under very heavy concentrated enemy fire from three sides. LtCol Bronars ordered K Co to reinforce I Co. K Co got within 300 meters before heavy NVA fire from an estimated 30-40 NVA halted their advance at 018614.
Meanwhile, I Co. remained under intense enemy firing including at least 4 NVA mortar positions. The mortars took a heavy toll on I Co Marines until an UH-1E helicoper gunships strafed the NVA mortar positions identified by Lt. Jim Kirschke, the 81mm Mortar Platoon Commander, who discovered the position through a quick map study.
NVA captives identified the NVA forces as 6th Bn, 812th Regt., 324B NVA Division. Captured were 3 mortars, 27 rifles and machineguns, 1 57mm Recoiless Rifle and large numbers of packs and equipment.
At 2335pm M Co was probed at 025636.

I believe this is a photo of Hill 362 where I Co got ambushed on the 24th. This photo was taken on the 26th when M Co arrived on the hill.
M Co Command CP with the WO, Capt Pettengill, Leslie, and other radio operators
Bob Wineriter is in there somewhere. The terrain reminds me of the 24th/25th when M Co was directed to protect a downed helicoper and crew deep in the DMZ.

2d Plt. M Co moving towards downed helicopter
These photos probably off Hill 362 of Helicopter Valley (the valley gained its name during this operation when several helos were shot down earlier).
25 July '66

During the early hours, Co I was contunially probed by an estimated 2 reinforced NVA companies. NVA broke contact 0430am.
At 1000am L Co killed 1 NVA at 016607 and at 1500am they sighted 7 NVA, killing 1 NVA at 011612.
At 1630pm L Co was attacked by approx. 20 NVA at 011617, killing four NVA.
At 1645pm L Co received a tear gas grenade.
At 1700pm Co K discovered 6 NVA bodies and numerous drag trails vicinity 018617 and a large store of equipment including machineguns, submachineguns, grenades, and uniforms.
By 1715pm I Co patrols around 011617 had found 14 more NVA bodies and numerous drag marks.
26 July '66

Today was relatively quiet, with contact consisting chiefly of small probes. M Co joined the other companies on Hill 362 in preparation for the foot movement to a newly assigned TAOR.

Probably Hill 362 on the 26th. As I recall, it was the only hill we were on in HASTINGS that we could see other terrain.
27 July '66

L Co received probes at 0015am on Hill 362. After conducting intensive air strikes and artillery preparation, the rifle companies moved westward to designated positions in the new TAOR. The BLT CP displaced by helicopter.
At 0815am, L Co. received sniper fire, returned fire killing 1 NVA. at 011617 and capturing 1 NVA with 2 submachineguns.
M Co. Command Group
Front Row: Lt. . MacArthur, Arty FO, JD, Lt. Fred Matthys, and WO Griggs.
Back Row: FAC, Capt. Pettengill (CO), and Lt. Mullinex, XO.
28 July '66

The following companies conducted search and destroy operations against NVA forces in the grid squares indicated:
Co K - 7960
Co L - 9660
Co M- 9860, 9960, 0060
At 1215pm Co M found a cache at 999593 of NVA equipment. An hour later M Co found another cache of clothing and equipment at 999593.
At 1227pm, the 2d Platoon M Co sighted 25-30 NVA at 989613 digging a mortar and 50cal MG position on top of the hill as the 2d platoon moved up a steep ravine. Artillery and air strikes were called in on NVA position. During a search conducted by Co. M, a trail eight to ten feet wide was discovered in the area of 0161 to 9661 along the mountain ridge line. It was noted that tall trees were pulled and lashed together to complete the jungle canopy over the trail. The trail showed signs of frequent use and had communications wire throughout its length.
Left: 2nd Platoon, M Co. 3/5
Right:. 3rd Platoon, M Co. 3/5
2d and 3rd plts M Co, taken the afternoon after 2d platoon had run into the NVA Mortar Platoon as described by Rick Golbeck. We returned to this knoll for our M Co night defensive positions. Arc lights hit the high ground that night on the hills directly to the right of the pics. Although at least 1000 meters away, shrapnel fell into our lines. Lots of after action explosions.

I believe this was the ravine 2d platoon M Co climbed and found the NVA Mortar unit
At 1400pm K Co received 10-20rds sniper fire from 987592.
At 1605 L Co made contact with 4-5 NVA snipers at 965603.
At 1815pm I Co moved into the BLT CP area to provide security and constitute the BLT reserve.
29 July '66

At 0915am Co K commenced movement to Landing Zone Bluejay vic. 983563 for subsequent helilift to the USS PRINCETON. H&S Co., 2d platoon, Co B, 1stMotor Transport Bn, and I Co followed in trace. The helilift was completed by 1610pm.
Battery F commenced helilift from vic 117579 at 0900am to USS PRINCETON.
30 July '66
Operation HASTINGS ended for BLT 3/5 on 30 July
At 0830am Co L and M and the remainder of H&S Co commenced movement towards LZ BLUEJAY. Helicopters lifted the first elements of Company M at 1305pm, and by 1530pm all units of BLT 3/5 were aboard assigned shipping.
I have used the following references:
"A Few Good Men" by Ronald Brown
"Semper Fi, Vietnam" by Edward Murphy
BLT 3/5 After Action Report and Command Chronology
My experience with M Co as 2d Platoon Commander on HASTINGS
Input from Reiss Tatum, CO of L Co. on HASTINGS
This graphic was created in honor of Hans Haupt, H&S Co commander for BLT 3/5 on HASTINGS. In the last several years he has personally been responsible for locating many of the surviving members of the BLT 3/5 through his diligent and persistent efforts on the internet. JD Murray, Oct. 2002
Submitted by Rick Golbeck

Rick Golbeck
Mike 3/5
I was one of the originals of Mike Company. I remember when we outposted! We mustered as an outfit, and trained briefly at Camp Margarita. We outposted from Long Beach on 1 March, 1966, on the USS Renville (APA227), stopped briefly in Hawaii, then went to Okinawa for a dose of the toughest training any outfit could get! Then to the Philippines for jungle survival training. We all remember Alongapo! That's where Bolen tried to marry Main Gate Lucy!
Denny LaNore, William Mattson, T.P. Johnson, St. Clair (KIA), and Dennis Rudnicki.
Taken in late June or early July of '66 in the Philippines
I was in first squad, first fire team, first platoon. Cpl. Banevez was my squad leader, he was K.I.A. on the first day of HASTINGS. Then Cpl. Travis Barlow became fire team leader. It was me, Barlow, Danner, and Romball in the GAFF!
Sgt. Ross was our squad leader. I was the company tunnel rat and point man. I remember our C.O. Capt. Pettengill, our platoon commander Lt. J.D. Murray, Plt. Sgt. B.T. Turner, Corpsmen Youngblood and Janiak, P.F.C. Ford, Toal, Cote (with his .38),York, Hubbel, Sundin, Lett, T.P. Johnson, Eddins, LaNore, Sgt. Royce, and so many more!
I remember L.P.H.-5, USS Princeton, and our first squadron of the old 34's. We pulled operations DECKHOUSE I and II, and NATHAN HALE with that squadron, and then got the 46's, or chinooks, for HASTINGS. We went off Special Landing Force, and were on Hill 49 outside of Chu-Lai for awhile.
Do any of you guys remember that week or ten day outing we took into the hills west of Chu-Lai where we were given dehydrated rations for the whole operation? I still remember that our bunker on Hill 49 was voted best in the company by Capt. Pettengill! Hell, it was the best bunker ever built by Marines in Nam! I'll bet it still stands today!
Left: The Romball, Golbeck, Danner, Barlow Bunker! (1st Prize)
Right: Bolen and Romball (notice all the beer cans)


Mike Company, early 1966, Okinawa.


Mike 3/5 2nd Platoon, taken in Okinawa, April '66.
(Rick is in the second row, third from the left. Can't remember some names).
Front row left to right: Corpsman Youngblood, Cpl. Travis Barlow, ?, Cpl. Griffith, Sgt. Royce, Lt. Murray, SSgt B.T. Turner, Sgt. Ross, Cpl. Herrin, ?.
2nd Row: Vernon Ford, Herrera, Rick Golbeck, ? , ? , Saint Clair (KIA), Theo Eddins, Denny LaNore (KIA), ? .
3rd Row: ? , ? , Toal, Nattie Abromowitz, William Mattson, ? , ? , Joseph.
4th Row: Greg York, Carl E. Matlock, ? , Thompson, Garcia, ? , ? , Romball, Leo (Bill) Lett.
5th Row: ? , Schuh, Hubbel, Sundin, ? , ? , ? , Corpsman Janiak.
HASTINGS
INTRO: My story deals with a routine recon patrol in our sector of responsibility that occurred days after India Company's engagement. At the beginning of the story, I stated that we were assigned to scout out the top of a mountain "in the vicinity" of where India had been hit. This is more or less conjecture on my part, because I'm assuming that the whole battalion was operating in an area in where we were in close proximity to each other. We had heard of India's plight, and were hunting the bastards down. It wasn't a rescue mission. The chronology of this event in no way diminishes the revenge we inflicted for India. My conjecture was that all the companies operating in an area of close proximity was correct since Lima and Kilo were "trekking" to India's position also.
****************
Last night I spent two hours agonizing over the I/3/5 website, and recollections of Operation HASTINGS. We had heard that India had been badly mauled in a mortar attack. I'm going to relate one of my personal war stories to you, and then add it to the I/3/5 website. Those troopers from India Co. that made it out of HASTINGS are probably unaware that this took place, and might find some solace in the revenge we inflicted on the N.V.A. I think this incident took place around the fifth or sixth day into HASTINGS, and let me assure you, it was a bloody affair.
On this fifth day of HASTINGS, first platoon of "M" company was assigned to scout out the top of some hill in the vicinity of where India had been hit. Intel had word that a mortar platoon of N.V.A. were in the area. I was in first platoon, first squad, first fire team, and we were always the point it seemed. I preferred being point man, and after a while, I just naturally assumed that position, and that of tunnel rat also. On this occasion our fireteam led the way up this hill. We proceeded slowly and stealthily. It was quite a hump, very thick jungle.
As we neared the top, I remember everything was quite still, no wind, the heat was suffocating. Our fireteam now was nearing the summit while the rest of the platoon was wound far down the mountain in a long single file behind us. All at once, a noise broke the stillness! It was the sound, the unmistakable sound of someone pounding something, or hammering a post or large stake into the ground! As soon as the sound shattered the silence, we all stood there staring at each other in silent and excited bewilderment!
We halted the platoon, and Cpl. Travis Barlow, LCpl. James Danner, Pfc. Dennis Romball, and myself went up for a closer look. Cpl. Barlow led the four man recon to the edge of the summit and he peered up over the edge first, then signaled to us "ENEMY IN SIGHT"!! The four of us then crowded up to the edge of the summit next to Barlow to get a glimpse of our elusive foes. There they were setting up aiming stakes for their mortars, and they were aiming them in on our company down in the valley at the base of this mountain we were on.
The sight of the enemy sent an adrenaline rush through me I can't begin to put into words! I raised my M-14 and was aiming in on the one closest to us, when Barlow put his hand around the barrel and shook his head, no. He was thinking, I was reacting without thinking. Had our four man recon team engaged the enemy at that point with the entire platoon wound down the mountain in single file, we never could have brought an effective volume of fire against the enemy that was still unaware of our presence even though we were just a few meters away from them.
We descended and rejoined the main column, passed the word down to Lt. J.D. Murray, who then immediately radioed Company Commander Capt. Pettengill and informed him of the possibility of imminent attack. From what I heard after we got down from the mountain, as soon as the C.O. passed the word, that there were nothing but assholes and elbows flying as they took cover! As we withdrew from the mountain, an airstrike ensued along with an artillery barrage. The Phantoms were coming in at treetop level, the roar from their engines was awesome and deafening! The N.V.A. never knew what hit them!
The following day 2nd or 3rd platoon went up to the top of the mountain and found a dozen mangled mortar tubes, and many more mangled gooks! I rationalized that there couldn't have been a whole lot of N.V.A. mortar platoons in the area, and that the one we snuck up on was probably the one that mangled "I" Co. I sure hope it was!!
Semper Fi,
Rick Golbeck, Mike 3/5



Vernon Ford, M/3/5


Silver Star Citation
(on the Mike 3/5 website)

Submitted by Chuck Greene

Chuck Greene
Mike 3/5
I was in-country 66-67. Our first assignment was called SLF (Special Landing Force). We were a Battalion Landing Team, but assigned to Helicopter Insertions off of the USS Princeton. HMM362 and HMM364 Helicopter Squadrons were assigned on the Princeton with us.
My first operation was Operation Nathan Hale, and then we rolled in to DECKHOUSE I, and then I believe Operation PRAIRIE. I was on the first part of Operation HASTINGS. I was dinged a couple of times, spent time in Subic Bay in the Hospital, then to Guam, and finally back to the States to Great Lakes Naval Hospital in Chicago. This was the closest to my home, as I am originally from a suburb of Detroit, Michigan, a little town called Southgate.
I remember the training at Marguerita, the trip from Long Beach on the Renville, the one night stop in Hawaii. Then on to Okinawa to pick up the Princeton. First OP off of the Princeton was NATHAN HALE. I was shot on that OP, and then again on the next OP, PRAIRIE, I think.
I was with the third platoon, third squad, third fire team. I was an automatic rifleman. Our Platoon Commander was Lieutenant Lindbloom. Platoon Sergeant was Staff Sergeant Mickey Finn, Squad Leaders, Ortiz, Boyer and Turner. Fireteam Leaders, Cpls. Young, Davidson, Craft and Perez. Cpl. Perez was KIA on Operation NATHAN HALE.
Others in the Platoon were Paul Blackburn, Mike Pape, a kid from Kansas named Eberhardt, another Blackburn we called BB, an American Indian Pesowanit, we called him Chief, Sandoval, Mike Reardon, John Sanchez. Jim Madden. Gary Bolen was attached to our platoon 0331 M-60, John Hernandez M-79 man.
After 30+ years I found Cpl. Perez' parents. They were in Lone Pine, California. I was surprised to know they only got a message which said their son was KIA, never any details. I was able to provide details, and gave them some closure. I visited them this summer, they were very nice people. Pesowanit and Sanchez KIA, PRAIRIE or HASTINGS, can't remember right now.
Semper Fi/Greeneman
Submitted by Gary Lee Bolen, M/3/5

Gary Bolen and Mark Russ
(picture courtesy of Carlos Septien)
I trained at Camp Pendleton with M/3/5. I was a machine gunner, 0331. I think we as a unit left for Vietnam Aug. '66 (?) until Aug. '67 (?). It may have been earlier in the year. I'm confused by heavy training in the jungles of Okinawa and Philippines. My first of 18 operations were DECKHOUSE I, II (which were launched off of a US Navy ship LPH 5-USS Princeton). We stayed ashore after Operation HASTINGS. My unit never really stayed anywhere very long, although I spent time on separate occasions in Chu Lai, Khe Sahn and a hill top #69 outside Chu Lai.
Toward the end (last month) of my tour, they rotated most of what was left of the original I, K, M 3/5 to other companies. Most of L company were killed or wounded. I went to C 1/7 and RR. As I left Vietnam, it looked as though the US Army was taking over Chu Lai air base. I'm looking for others of the early M 3/5 group, specifically Eric Hubbell, Jim Madden, Jacque Cote and Jim Danner.
Submitted by Hans Haupt
Hans Haupt
H&S 3/5
I don't recall the exact dates, but I took H&S probably around Feb. or March, 1966 and formed it up at Camp Pendleton for debarkation to RVN with the battalion which was just forming up for deployment. I probably had it until about October of that same year when I was reassigned as S-3.
About November [?] I was transferred to Division HQ. At that time Capt. O'Donnell was just being assigned to 3\5 as Communications Officer so that sometime later he evidently was given H&S, but I would have no way of knowing when.
I believe Mike Carey took it over right after me followed at some point by Dennis Perkins who was my Asst. S-3 before I went to the Chief of Staff's office.
When India was hit in the ambush, I was monitoring their radio traffic on my radios. Doctor Gatenby, one of the battalion surgeons, was nearby. We could hear much of what was going on including a lot of the gunfire.
Doc concluded right there that blood would likely be needed to aid the wounded if there was only some way to get it to them, so he requested that a random supply be sent in from the ships along with a standard, USMC wooden locker box. The blood was packed tightly along with other medical supplies and anything else he could find to provide padding and protection. Eventually, that locker box was helo-dropped through the jungle triple canopy in sheer hopes that it would survive and India would find it. Both it, and they, did.
At the time we were packing that box, Doc expressed some concern stating that he hadn't time to yet fully train the Corpsmen how and when to transfuse blood, but that he had faith in their intelligence and skills to figure out what to do when faced with an emergency. We found out later that his faith was well placed. I often wonder if the Corpsmen ever got the full credit they deserved. HSH
Submitted by Norm Carr, Jr.
My Name is Norman D. Carr Jr. I served with M. Co 3/5 3rd Plt. since we departed Long Beach by ship in '66. I have only two pictures , one is a company picture taken on Camp Schwab in Okinawa, and another is a small black and white photo taken in the Sampagita Club in a Subic Bay Naval Base club. In this photo is Doc Braiser and Doc Hunter, Steve Staley, Don Reardon, myself and Charles Greene, we are sitting at a table in our khaki uniforms drinking San Miguel Beer. All these guys signed the back of this picture.
I think it was on DECKHOUSE I or NATHAN HALE when Charlie got shot in the leg and Cpl. Perez got killed. We were sweeping towards a village and the gooks opened up on the right from the village. "HASTINGS" was terrible. I've been a Police Officer most of my life and I have seen some bad things happen, but not like the events that occurred on "Operation HASTINGS."
The first bad event was we were in a staggered column going up a creek bed, I was in the 1st squad of the 3rd plt. I was the M-79 man, my squad leader was Sgt. Ortiz, Plt. Sgt. was Mickey Finn. A wonderful man, Lt. Lindblom, was our Commander, but for some reason I can't remember, he was not on this operation, but a nice Lt. by the last name of Marigold took his place.
An Army spotter plane called the Headhunter spotted NVA in the creek washing clothes directly in front of us. He did not know our company was down there, and called in an air strike. I don't know exactly, but that damn HE bomb hit the ground right next to us, and the shock of it nearly knocked everyone on the ground. The Marine in front of me (Collyott) got the back of his leg blown out, and a Cpl. Craft, a wonderful black Marine from Philadelphia, got hit in the ankle and till this day I don't know if he lost his foot or what. It was a foot long piece of green shrapnel from the bomb that hit Collyott's leg. I saved this and the members of our plt. all signed it.
Collyott was older than us, and enlisted because his brother got killed over here (I hope I'm spelling his name right), and I wonder where he is now. They grafted skin off both of his ass cheeks to fill the gaping wound. When he was hit, I said, "It's your right leg," and he said, " No, it's my other leg." When he moved, the meat fell off his right leg, it was blown out of his left leg and was sticking to his right leg like two pounds of hamburger.
22 July 66
The next and most terrible event was 22 July 66 on HASTINGS. It was sometime in the afternoon when shit hit the fan, it was either 1st or 2nd plt. who was ahead of us in a column made contact with the NVA in fortified positions. The fire fight lasted a while, and toward the evening hours our platoon got called to move up. I seen dead Marines and NVA while moving up the hill. They told our squad we had to go to the top of the hill to set up a LP (listening post) from the main perimeter for the night. We kept very close intervals because it was thick brush and darkness was setting in. I really think most of us, including me, thought the fighting was over and al the gooks split, but it wasn't that way.
Pesewonit, my close Indian friend, and my other close friend, Juan Sanchez were killed instantly right in front of me. There were still NVA dug in, and we walked right into them within 30 feet. Coleman, a big tall Marine was behind me, and Sgt. Ortiz and he got shot in the leg. Sgt. Ortiz and myself got minor shrapnel wounds from I think a Chi Com grenade. At this time I heard some yelling, "I see them, I see them!" It was Lt. Marigold running up the hill to help us. Everyone was shouting, "Get down!", but the NVA shot him in the chest either two or three times The Lt. fell almost on me, and I held my hands on his chest till the corpsman came.
I think SSgt. Mickey Finn also took a load of shrapnel in the arm. He was a good Marine, I wonder where he is.
I was medevaced to the USS Princeton, and later had to identify Sanchez and Pesewonit and also Bell who was KIA later that night when more NVA hit the perimeter.
Left: Oscar Bell, KIA
Right: Pesewonit-Russell "Chief", KIA
(pictures courtesy of Carlos Septien, M/3/5)

SEMPER FI, Norm Carr
lcarr@innernet.net


Submitted by Carlos Septien, M Co. 3/5



Ed. note: Corrections to names in picture: Eugene Mettler (not Joseph Mettler) and Mark Russ (not Russ Meyers)

CARLOS SEPTIEN, M/3/5
I came from 2/2/2 Mar.Div.Camp Lejeune to M/3/5 in Feb. 66. We became a company at Camp Margarita and shipped out in Mar. 66 to Hawaii, and then to Oki for jungle training, then to the Phillipines...beautiful Olongapo City. From there we were off to the Nam. Did DECKHOUSE I and II, then PRAIRIE and last HASTINGS where I was wounded and sent to the USS REPOSE. Several weeks later back to M/3/5, that was in Chu Lai.
1. Chuck Greene
2. Eckstrom and Bell (KIA)
3. Crowley and ?
4. Ecstrom and ?
5. Eugene Mettler (KIA according to Carl Septien, but NOT on The Vietnam Veterans Memorial Wall in DC)

1. Mark A. Russ
2. Carlos Septien and Gil Hernandez
3. J. Cote
4. Eckstrom


Sea Tiger article of M Co. 3/5 HASTINGS battle

India 3/5, 3rd Platoon
Okinawa, Japan
I was a squad leader with 3rd. Plt. while the company was training at Camp Pendleton in late 1965. During this same period, I was sent to SCUBA school in San Diego. I stayed with I/3/5 while in Okinawa, and the training at Camp Fuji. I was transferred to B Co. 1st. Recon Bn. just before the Co. went afloat to the Philippines. My recon Plt. was attached to 3/5 for DECKHOUSE I and II, NATHAN HALE and HASTINGS working off of the Princeton.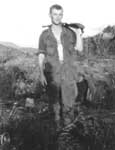 Dick Weber, I/3/5
(pictures of I Co. 3/5 submitted by Dick Weber)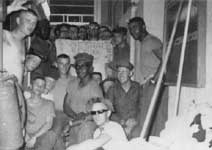 Weapons Platoon
Okinawa before shipping out to RVN, sign reads, "We Shall Return"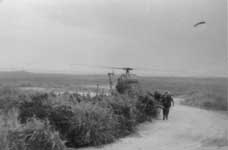 Landing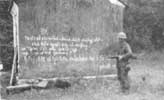 VC Propaganda sign "NO DYING FOR THE CURSE OF THE CAPITALIST YANKEES"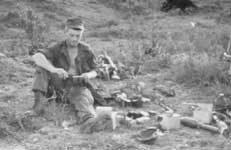 Dick Weber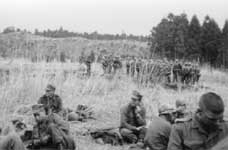 Wpns. Plt. sitting
1st Plt. standing, 3rd Plt. assaulting hill
Joe's Hill 362
by Joe Holt, India 3/5
(on the India 3/5 website)
John Olsen's newsletter Issue 2 posted on the India 3/5 website, first published in May of 1996, is primarily about Operations HASTINGS. John Olsen wrote his memory of HASTINGS, very detailed. See also a contemporaneous letter from 2nd Lieutenant Williams, to his wife describing the Operation, complete with hand drawn map.
[ Operation HASTINGS KIA ] [3/5 Citations for HASTINGS][ HASTINGS at 34 ]

Capt. Joseph Mirgeaux, Jr. Memorial page
H&S and Mike 3/5 website
India 3/5 website
George Neville's Hastings Web Site: http://www.georgeneville.com