CPL. BRUCE ARDEN CHRISTENSEN
Born on Oct. 15, 1947
From ST. PAUL, MINNESOTA
Casualty was on Feb. 9, 1971
in QUANG NAM, SOUTH VIETNAM
HOSTILE, GROUND CASUALTY
GUN, SMALL ARMS FIRE
Panel 5W - - Line 90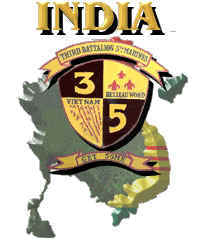 Cpl. Bruce Christensen served with the 3rd Battalion, 5th Marines, India Co. His name stands proudly on the India 3/5 Wall of Honor. Semper fidelis, Brother Marine. We will never forget.

Thank you to a fallen friend
Bruce died in the Quan Queson Mountain area outside of LZ Ross and in the sniper valley area. Bruce was attached to my squad that day. He was a machine gunner and very much liked by everyone. As Lt.Turner, Bill Tapper, Myself and RTO Joe Pleasa were checking our defensive perimeter, it was decided they wanted Bruce to cover another field of fire. As we were walking away, Bruce stood up as they hit us.
Looking back on it after all of these years, Myself and those above owe our lives to Bruce for as he stood up, he took the burst of AK fire that was meant for us. And our corpsman tried everything in vain to save him, but he never knew what happened.
Bruce started out in the An Hoa area, and was on many operations. He was as fine of a person as you would ever want to know.
I want to say thank you, Bruce, for the life you gave the four of us. May God Bless your soul. I helped carry him on the chopper that da,y and have always remembered Bruce and my other fallen friends of India 3/5, 3rd plt. 1st Mar. Div.
Bruce Bryan
friend/squad leader
***********************************************
Platoon 1178
I was in boot camp with Bruce as a member of Platoon 1178 at San Diego during the last half of 1969. To my knowledge, Bruce is the only member of our platoon to have been killed in Viet Nam. I remember that Bruce was assigned as the secretary for the platoon, and spent considerable time doing work for the drill instructors. He was always cordial to everyone, and was a nice guy. I am sorry that he died, but he was a good Marine, and one who served his country with pride.
Semper Fi
Jim Barns

****************************************