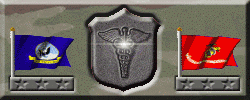 HM2 GALE HERBERT FELVER
Born on July 2, 1946
From Rahway, NJ
Casualty was on July 29, 1966
in South Vietnam, Quang Nam

Panel 9E--Row 86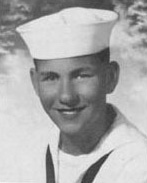 Gale "Stormy" Felver
Gale "Stormy" Felver served as FMF Corpsman with the 1st Battalion and 2nd Battalion, 9th Marines. His Marines and fellow Corpsmen will never forget. Semper fi, Doc.

"Though very large, he is not, he can say an awful lot."
~Sports Club 2~


(Gale Felver's high school picture courtesy of friend and former schoolmate, Bob MacAvoy)

Stormy

Some weeks ago, I was surfing through a number of Corpsman sites that I have bookmarked when I came across a request from Fred Gardner for information from anyone who knew Gale "Stormy" Felver. This started a exchange of e-mails that provided me more information about Stormy. These new insights only served to reinforce what I already knew; Stormy was a special person and a beautiful human being who touched the lives and hearts of everyone who knew him.

Stormy and I served together with Hotel Co, 2/9/3 as platoon corpsmen. We were partners, swapping out the duties of day time patrols, night ambushes and daily company sick call.

On the day Stormy died, I was on R&R and didn't learn of his death until I returned. For very long time, I repeatedly asked myself the question, "Would things have been different if I hadn't gone on R&R?" I suppose I blamed myself for not being there for him when he needed me the most. It took a long time to get rid of those thoughts.

Stormy had a thing for nicknames and he never told anyone other than me why he had such an unusual nickname. Being a corpsman and having the first name of Gale would have been a double whammy while serving with the grunts. At any rate, he gave me the nickname of "Mo" which turned out to be a blessing. Seems that the Vietnamese could not pronounce the letter "P", so my name always came out "Phaul". So the villagers then could say "Bacsi Mo".

I think of Stormy a lot lately and how his quiet, determined manner always had a calming effect on me, particularly during and after difficult times.

I miss him. He was a true friend.

Thoughts while standing above your final resting place

These lyrics from a not so old song entered my mind as I stared at your tombstone a while ago. Strange, but I stood there many times over the years, remembering. But this time, I don't know why, these words came to me and just hit home.

"Through these fields of destruction, Baptisms of fire;
I've watched all your suffering, As the battles raged higher;
And though they did hurt me so bad, In the fear and alarm;
You did not desert me, My brothers in arms"
~Brothers in Arms by Dire Straits~

Taken too young. Sleep well my brother.

Bob MacAvoy
USAF, Phan Rang RVN, 8/67-8/68.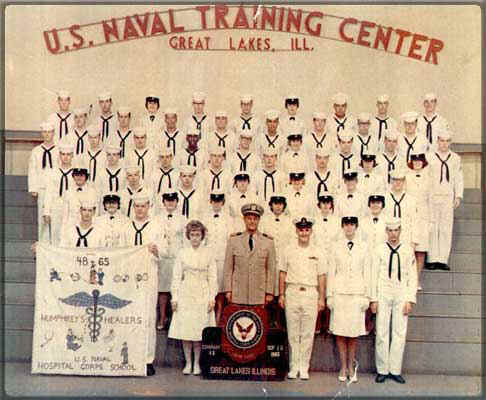 This photo was sent in by Fred Gardner, Gale Felver's friend and fellow Corpsman. Gale "Stormy" Felver is in the 4th row, 4th from the left. Next to him on the left, their close friend Larry Yoder, also KIA in Vietnam (5/66). Fred Gardner is in the front row, all the way to the right.

For 35 years, Fred never knew what happened to Stormy after he went to Vietnam. In Jan. 2001, Fred located another Corpsman, Doc Lou "Luigi" Beck, who also knew Stormy, and told Fred that Stormy had served with both the 1st and 2nd Battalion, 9th Marines. Doc "Luigi" is also in the picture, two from the right of Stormy. Thank you so much for sharing this precious picture, Fred.

Rest in Peace Shipmate

I went to Hospital Corps "A" School with Gale "Stormy" Felver in 1965. He was a young guy out of Rahway, NJ, and I was a young guy out of Detroit. We both liked the popular music of the day, and fashioned ourselves as singers. We used to get together in the evenings before lights out and sing whatever tunes we knew the words to. Stormy did a great rendition of "Land of a Thousand Dances" by Cannibal and the Headhunters.

Anyway, we hit it off and became good friends and shipmates. I'm not sure when or where the nickname of Stormy came from but, as I remember it, with the first name of Gale it was linked with Gail Storm the actress. Somehow or other that link evolved into the nickname "Stormy," and that is how we knew him. I don't know anyone in our Corps School Company whoever called him anything else. He was a great guy, and by all accounts, from people who know, a great Corpsman after "A" School.

When we graduated Stormy went to Philadelphia Naval Hospital as a Ward Corpsman. I went to Naval Hospital - New London. He served there with several other classmates from Company 48-65. He got his orders to FMF School at Camp Lejeune sometime in 1966 and went to Viet Nam with the Marines in May or June 1966. He was assigned to Second Battalion Ninth Marines (2/9/3) where he served his "grunts" with pride professionalism and dedication. He was KIA on July 29, 1966.

Stormy was one of those guys you remember. He was smart, loyal, dedicated, funny and took his work, but not himself seriously. I spent almost nine years in the Navy, six of them as a Corpsman with the Marines and aboard Nuclear Powered Submarines, and can only remember a handful of the people I served with; particularly the people in Viet Nam where we all tended to progress from FNG to Short Timer without ever really getting to know each other very well.

Stormy is one of the people I remember clearly, and I am saddened by his death and proud to be numbered among his friends. I think of him often, miss him tremendously and know, from other FMF Corpsmen who served with him in Viet Nam, that he was, and is, the essence of what makes a Navy Corpsman a "Doc." As the saying goes: "All gave some; Some gave all." Stormy gave it all, everyday.

Rest in Peace Shipmate, and be secure in the fact that you are remembered.

God Bless and Semper Fi
Doc Gardner
HM1(SS)
FMF - Chu Lai
66-67


FMF Corpsman emblem and background by Redeye