1LT. RONALD DEAN LAYTON
Born on Dec. 23, 1943
From GOLDEN, COLORADO
Casualty was on Apr. 4, 1969
in QUANG NAM, SOUTH VIETNAM
HOSTILE, FIXED WING - PILOT
AIR LOSS, CRASH ON LAND

Panel 27W - - Line 11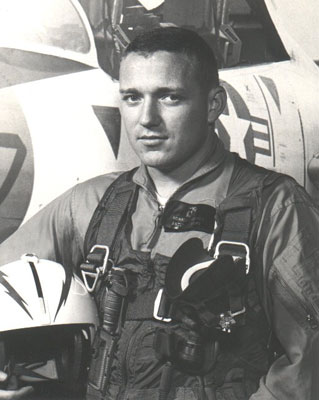 My Brother

I was so proud of Ron and his accomplishments. He was handsome, smart, athletic and fun. His sense of humor was catching and his smile made his eyes squint.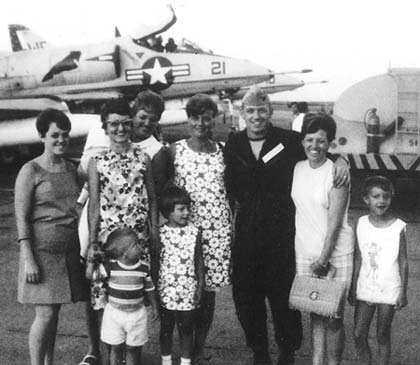 Ron loved flying and was ecstatic when he learned he would fly jets for the Marines. He was only happier when he was with his wife, Carol. His sense of duty to his country took him away from us twice: when he shipped out to VietNam in September of 1968, and the day he died - April 4, 1969.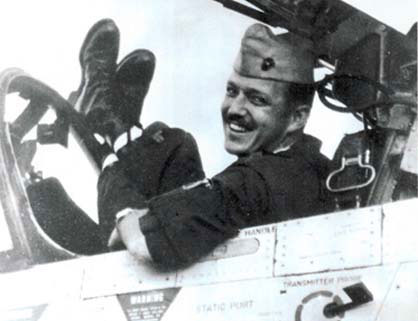 "Joe Cool"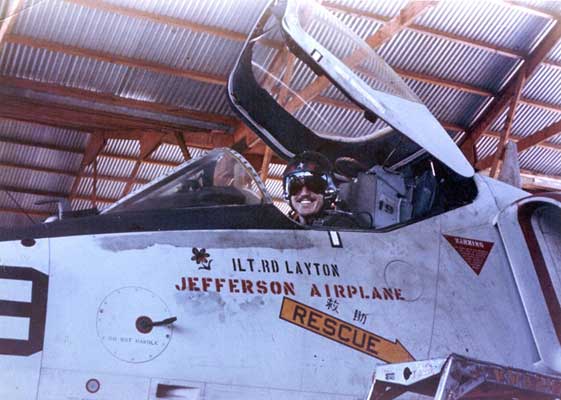 Notice what he named his airplane!

The "Wall" in Washington, D.C. has been a very special place to me for several years. When there, I feel a closeness to Ron that is amazing - I feel his spirit and know that he is with me always. I'm not in DC much now, so this picture will have to substitute for personal visits to the beautiful memorial.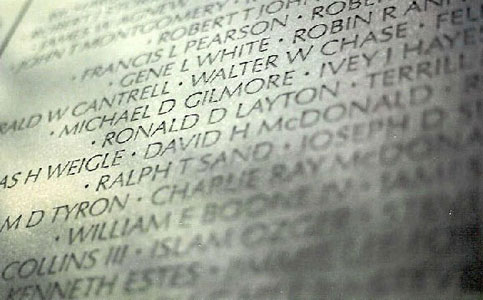 Ron, I love you and miss you so much! --Barb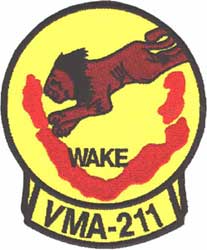 His name is 1Lt. Ronald D. Layton, and he was flying an A-4E out of Chu Lai with VMA 211. He and his wingman were "hotpad" launched (emergency) in the early afternoon to provide close air support for ground forces 17 miles SW of Danang. On his second pass he was struck by hostile fire and crashed. The plane disintegrated, and his body was recovered from a sandbar in or near the Song Vu Gia. He did not eject, but was still strapped into the ejection seat some distance from the plane.

There were ground forces nearby, but I am unable to find anyone from the unit under fire using my research techniques. I do have an eyewitness from a distance north of where he was bombing. His name is Neil Wilson, and he's with the 1st Bn 7th Marines.

Ron may have been flying in "Operation Oklahoma Hills" as there were a number of air strikes during this operation. He may have been supporting the 1/7 or the 3/5 as both were involved in this operation and both were in the right area to have been involved in the fighting where he crashed.
Barbara Scheibel
scheibel711@aol.com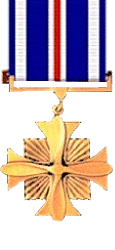 The President of the United States takes pride in presenting the
DISTINGUISHED FLYING CROSS posthumously to
FIRST LIEUTENANT RONALD D. LAYTON

UNITED STATES MARINE CORPS RESERVE

for service as set forth in the following

CITATION:

'For heroism and extraordinary achievement in aerial flight while serving as a Pilot with Marine Fighter/Attack Squadron 211, Marine Aircraft Group Twelve, First Marine Aircraft Wing in connection with operations against the enemy of the Republic of Vietnam. Early on the afternoon of 4 April 1969, First Lieutenant Layton launched as Section Leader of a flight of two A-4 Skyhawk aircraft assigned to destroy an enemy staging area seventeen miles southwest of DaNang in Quang Nam Province.

Arriving over the designated area, he found that visibility was extremely poor due to a heavy ground haze and that friendly units were within 300 meters of the target. Effectively coordinating with the Ground Forward Air Controller, he skillfully maneuvered his aircraft on the initial pass against the hostile position and delivered his ordnance with pinpoint accuracy, causing numerous fires.

Undaunted by the threat of enemy fire and the smoke and haze which nearly obliterated the target, he completely disregarded his own safety as he fearlessly maneuvered his Skyhawk into the hazardous area a second time and released his rockets with devastating effectiveness against the hostile position.

As his A-4 began its climb out of the dangerous area, it came under intense hostile ground fire and sustained severe battle damage, forcing the aircraft to crash and fatally injuring First Lieutenant Layton. First Lieutenant Layton's courage, resolute determination and unfaltering devotion to duty were in keeping with the highest traditions of the Marine Corps and of the United States Naval Service. He gallantly gave his life in the service of his country.'

FOR THE PRESIDENT,

H. W. BUSE, JR.
LIEUTENANT GENERAL, U.S. MARINE CORPS
COMMANDING GENERAL, FLEET MARINE FORCE, PACIFIC"

Comrades Still

Ron Layton and John Franklin Meyer were best friends in flight training at Pensacola and were killed within three months of each other in the same general area, Ron flying jets and John helicopters. See John Meyer for further particulars.

Michael J.W. Remme

Thank You

Talked to your sister last night Ron, or I guess I should say Sir, you are a officer, no I think I'll call you Ron. Looked at your picture tonight for a hour and cried, that gives me the right to call you Ron. I don't know you, but I do. I know what you stood for. I know you have a loving family. I know you are a true American, and gave ALL you had to be one.

I know you saved lives by risking your own. I was on the ground I know what it's like to call for air support. "Where do you want it Ranger 35?" " Put it on the treeline" Yea, we loved you guys. Men like you are the reason I got home, a little banged up but still got home, THANK YOU. Some will say you died in vain, but they won't say it to me, I'll not hear that. We'll meet some day and have a cold beer, if it's really Heaven you know they have cold beer.

Larry Harper
Viet Nam Vet 1969-70 ( Brother)

You Were So Special

Ron, You were like a son to me, even though I was only 10 when you were born. I'm so glad you were a part of my life. I was devastated when you were taken away. We had a lot of good times together, and I have many fond memories of you. You will always have a special place in my heart. I love you, Aunt Lou
Lou Huth

I Am So Proud

Hey Ron, I was very young when you were taken from us, but I do remember how I looked up to you. You were so strong and handsome to me. Even though I don't remember much about you, I am very proud to say that you are my cousin. You are a hero to me and our country. Thank-you for being there for all of us. I love you, Paula

Paula Rodgers

VMA-211 unit insignia courtesy of Bluejacket.com