PFC. PETER JOSEPH MC COY
Born on Jan. 1, 1951
From BERKELEY, MISSOURI
Casualty was on May 23, 1970
in QUANG NAM, SOUTH VIETNAM
HOSTILE, GROUND CASUALTY
MULTIPLE FRAGMENTATION WOUNDS
Panel 10W - - Line 86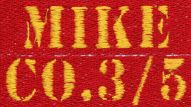 Pfc. Peter McCoy
served with the 3rd Battalion, 5th Marines, Mike Company. His name stands proudly on the
Mike 3/5 Wall of Honor
alongside the Marines he fought and died with. Semper fi, Brother Marine. We will never forget.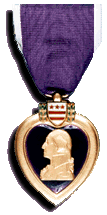 Friend, Fellow Marine
I knew Pete from the second grade on to the end of his life, really great guy. We were Cub Scouts, my Mom was our Den Mother. We went to a Catholic grade school, Holy Ghost. We would play this ball game called "keep away" and give the ball to Pete, and he would be gone. He was the fastest runner in school.
I was in Vietnam Oct. 1968-Oct. 1969 with 9th Engineer Bn. I spent most of my tour with ROK Marines south of Danang. I had two cousins served with 5th Marines, David Roe 1967-68, and his brother, Thomas 1969-70. Pete was a great friend and fellow Marine, and I miss him very much.
******************************
Patrick Fogerty

Rubbing of Peter McCoy's name taken at The Wall in DC, courtesy of Tom Lindsay, M/3/5
****************