LCPL. ROBERT VERNON PETERSON
Born on Oct. 6, 1947
From CANTON, MISSISSIPPI
Casualty was on Jan. 30, 1968
in QUANG NAM, SOUTH VIETNAM

Panel 35E - - Line 77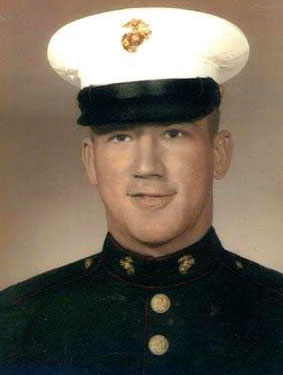 Robert Vernon Peterson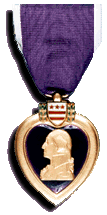 LCpl. Robert Peterson served with the 3rd Battalion, 5th Marines, India Company. He was KIA during the TET Offensive of 1968 during a battle the I/3/5 Marines call "Operation Alamo." His name stands proud on the India 3/5 Wall of Honor. Semper Fidelis, Brother Marine.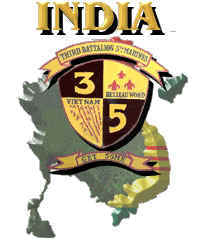 This was my friend, and fellow Marine

He died an honorable death. I was there, I know. On that day, his family would have been proud of him in the fact that he served his country in the utmost, and paid the highest price. I am proud to have known, and loved him as I did. A Marine that will never die in our hearts. Semper Fi. Curtis Eidson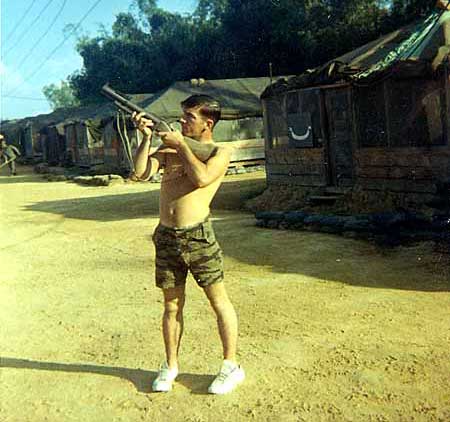 "POINT MAN" OF HEAVEN'S GATES

"PETERSON, YOU ALWAYS DID THE POINT WALKING FOR US. YOU WAS A DAMN GOOD ONE TOO! THIS OLD RADIOMAN WILL ALWAYS REMEMBER YOU, AND KEEP YOU IN HIS HEART ALONG WITH ALL OF INDIA'S FALLEN BROTHERS! SEMPER FI! TERRAPIN INDIA OUT!"

JERRY BAIN
COMPANY RADIOMAN AND FRIEND

India 3/5 Marines, Robert Peterson "Mississippi" sitting next to Brooks "Alabama"

Peterson was by far the best "Point " man in Vietnam, not just in my opinion, but in the opinion of Leatherneck Magazine. He was totally fearless, and would go out of his way to get into a good "firefight." I mostly remember him playing his favorite 45 record "Jimmy Mack" over and over again. To this day, every time I hear that song on our Oldies station, I think of him.

His best friends were Billy C. Bolton and Dansby. It was really strange that he got killed just minutes after Billy Bolton. A lot of guys said that when he got word of Billy being killed, that he was hellbent on revenge. He walked right to the gate of the village, and ripped it open, only to walk into the sights of the waiting enemy.

We lost two of America's greatest warriors that Jan. 30th, 1968. His other best friend, Dansby, carried Peterson out that day, and we never saw him again either. I miss you Peterson, but like your favorite song Jimmy Mack. You will live in my memory forever. So long "Point Man." SEMPER FI, Slick.

Robert " Slick " Mowery
Friend, comrade, and Marine
Pictures of Robert from his brother Babe Peterson's family album
A friend who lives on in our hearts
When Robert went to Viet Nam he wrote us every week. We sent him a big box of "penny" candy. The last letter we received from him arrived two weeks after his funeral. He said that it was "hot as Hell and twice as dirty," and that he did not know why they were over there, but that they had a job to do, and they were doing it. He asked me to cook him a big steak when he got back but no rice, he never wanted to see rice again.

He lives on in our hearts, and will never be forgotten. He was my son's "bestest buddy," and when he saw him in the casket he said, "that's not my Wobbert." He had never seen him in uniform. We are all so proud of him, and for the sacrifice that he gave for this country. The Wall is a memorial to his, and all the others' memories.
Kathy Moore Smith
Friend
ksmith@meta3.net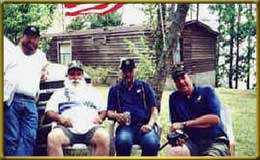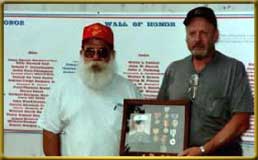 On May 20, 2000, Robert's brother Babe Peterson met some of the Marines who served with Robert. Left picture from left to right: John Gunderson (India 3/5), Babe, Brad Reynolds (Mike 3/5), and Jerry Bain, (India 3/5).

Right picture: Babe and Curtis Eidson with a display case Curtis made with Robert's picture and the Silver Star, Bronze Star, two Purple Hearts, and other medals he earned inside.