PFC. CHARLES FLOYD TYSON III
Born on Mar. 29, 1950
From FELLSMERE, FLORIDA
Casualty was on June 21, 1969
in QUANG NAM, SOUTH VIETNAM

Panel 22W - - Line 110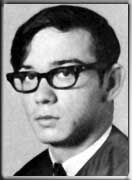 Chuck Tyson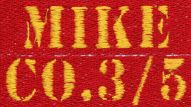 Pfc. Chuck Tyson served in Vietnam with the 3rd Battalion, 5th Marines, Mike Company. Chuck's name stands proudly on Mike 3/5 Wall of Honor along with his fellow Marines killed in Vietnam. God bless you forever, Brother Marine.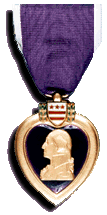 I STILL COME TO HAVE A BEER WITH YOU

CHUCK WAS THE TYPE OF GUY WHO WOULD ALWAYS BACK YOU UP IN ANY SITUATION. IT JUST DIDN'T MATTER WHO YOU WERE. HE COULD BE COUNTED ON EVERY TIME. SEMPER FI, AND POP A SMOKE. LOVE, THE BUG.

Mark Axton
NEWJAKPRD@aol.com
FRIEND, BUDDY, PAL, PARTNER, FROM CHILDHOOD
Saturday, June 19, 1999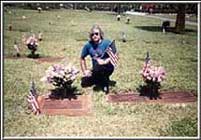 Mark Axton "The Bug" (left) and Mikel, also Vietnam veterans, at Chuck's grave Memorial Day 2000
Missing him still
DEAR DEBBE, MARK SENT ME THE MEMORIAL PAGE YOU MADE FOR CHUCK. I TOLD MARK THAT CHUCK IS SMILING. I CAN HEAR HIS LAUGHTER. HE ALWAYS HAD A CERTAIN WAY OF LAUGHING BEST WHEN HE WAS BEATING ME IN MONOPOLY, OR CATCHING MORE FISH THAN ME, OR AGGRAVATING HIS SISTER. HE WAS A SPECIAL FRIEND TO ME.

MY BROTHER DROWNED IN BERMUDA IN '66. HE WAS IN THE COAST GUARD, AND HE TOO LOVED CHUCK. SO, HERE'S TO YOU, CHUCK, AND ALL THE OTHERS WHO WENT WITH YOU. YOU GUYS WILL NEVER BE FORGOTTEN.
ONE DAY AT A TIME
~KENNY~
greennie@webtv.net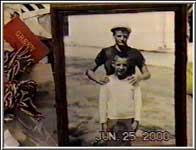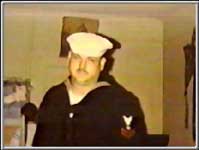 Left picture: Chuck Tyson (front) with his buddy, Kenny Green
Right picture: Kenny just before going to Germany