LCPL. EDWARD J. WOLFENDALE
Born on July 6, 1949
From LAWRENCE, MASSACHUSETTS
Casualty was on Feb. 24, 1969
in QUANG NAM, SOUTH VIETNAM

Panel 31W - - Line 42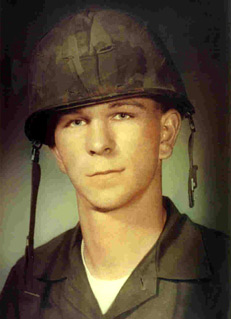 Edward Wolfendale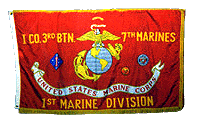 Brother Marine
In a little village called La Chau II, a company from the 141st NVA fought their last battle. On Feb. 24, 1969, it was almost over, there was only one bunker left to take. "Wolfie" tried to take the bunker with a LAAW.

He ran forward to get closer to the bunker, and to get a good shot. I don't know if his LAAW exploded, or if he took a direct hit from an RPG. It don't really matter, the end result was the same.

When Wolfie was shipped home, the Major that escorted his body had no information on how he was killed. The family undertaker told Wolfie's folks it looked like he stepped on a mine, and that's what they thought for 30 years.

In January 1999, I finally found the family, and told them the truth. I gave them phone numbers of other Marines who were there. My calls to them were warmly received.

Hey Wolfie ! Semper Fi ~Tom Smith

On Nov. 10, 1999, Lt. General Raymond Ayers presented Wolfie's Silver Star to his mom, Stella. It was 30 years overdue, but now his mom and five brothers know that Wolfie gave his life to save his India 3/7 Marines.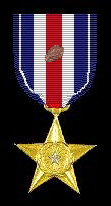 Jimmy Smith took this rubbing of Wolfie's name from the Vietnam Veteran's Memorial Wall on Nov.11th, 1998, on a trip from Martinsburg, VAMC, WV.

Hi Wolfie, we never met, but I am a friend of some real good friends of yours. My friend Tommy Price was in Vietnam with you, and the Marines of India 3/7. From what I have learned of your friends, you were in the best of company, with some of the Marine Corps' finest. There isn't a day or night goes by they don't think of you, and wish you were here. God bless you forever. ~DR

(Picture of "Wolfie" submitted by Tom Smith)
(Photo of Silver Star ceremony from the Eagle Tribune)