Gen. Herman Nickerson decorating GySgt. Dennis Dinota with the Silver Star
Operation DESOTO
Denny Dinota, GySgt. M Co. 3/5 I served with Mike Company from about Dec. '66 through Operation DESOTO - end of Jan. through Feb. '67, and through Operations UNION and UNION II spring and summer of '67. Transfered out after ADAIR to DaNang area the end of June early July (?).
I was platoon sergeant and platoon commander of 2nd platoon (and another platoon for a short while), and was the company gunny during UNION and UNION II. During UNION and UNION II, 3/5 engaged in three pretty big battles. Mike Company was up front in all of them.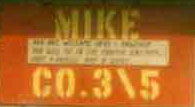 The President of the United States takes pride in presenting the
SILVER STAR MEDAL to

STAFF SERGEANT DENNIS T. DINOTA
UNITED STATES MARINE CORPS

for service as set forth In the following

CITATION:
For conspicuous gallantry and intrepidity in action while servings as a Platoon Commander with Company M, Third Battalion, Fifth Marines, First Marine Division in connection with operations against insurgent communist (Viet Cong) forces in the Republic of Vietnam.

On 1 February 1967, during Operation DESOTO, the lead elements of Staff Sergeant Dinota's platoon came under heavy machine gun and sniper fire from Viet Cong located in a series of bunkers. He immediately moved to a position where he could direct the fire of his men. While pinpointing the enemy positions for one of his M-60 machine gun teams, he was exposed to a heavy volume of enemy fire from at least six enemy bunkers.

Realizing that another machine gun team had not located the enemy bunkers, he sprinted across sixty meters of exposed terrain to assist the team in locating the enemy targets. Directing the fire of 3.5 rocket launchers against the hostile positions, his succeeded in destroying one enemy bunker which produced a large secondary explosion. In addition, he effectively marked enemy positions which facilitated the accurate delivery of air and artillery fire, resulting in the subsequent destruction of a series of mutually supporting bunkers connected by trenches. As a result of his actions, the company was able to maintain its position and establish a defensive perimeter.

During the engagement, when a fire team experienced difficulty in retrieving a wounded Marine, Staff Sergeant Dinota unhesitatingly assisted in retrieving the wounded man and carried him over forty meters of fire swept terrain to a position of safety. Throughout, Staff Sergeant Dinota displayed outstanding courage, exemplary professional skill and daring initiative in the face of heavy enemy fire, and thereby upheld the highest traditions of the Marine Corps and the United States Naval Service.

For the President,

Louis A. Wilson
Commandant of the Marine Corps
Operation UNION
On May 12-13, we got what you might call Banzai-ed after an all day fight. We were out-numbered by several hundred. The NVA did manage to break through our line, but died for their efforts. During times like that you don't see officers and staff getting up running about the area giving directions and displaying leadership and all that stuff. You couldn't stick your little finger in the air without getting it shot off.
The skinny kids in the fighting holes did what they were trained to do, and did it. point man was the first to come upon what was left of Fox 2/1. He first came up on a Marine machine gun squad still around their gun. Because they still had their gun means to me that they fought until they died, and the enemy never got the gun. About 10 yards further, we came upon the rest of the company. They were on line, halfway across a rice paddy, dead. Most of them anyway. Very few emergency evacs. Officers still had their radio handsets to their ears. All very surreal.
During that time earlier in the day as we were losing people we received replacements from the rear. They were cooks, bakers and candlestick makers who probably earlier in the day were fat and happy and getting a sun tan. Boy, were they in for "It." Anyway, when the sun came up in the morning we were all in a daze.
I didn't count the dead NVA, but the rumored number was 167 that they left on the field. We don't know how many they managed to take with them.
Combat experience is all relative to each individual's own experience. During January and February we had been in some pretty good scraps. I knew I had experienced combat. I could have left the war and felt satisfied. The company had seen the elephant. On May 12-13 and the rest of UNION, I realized that I (we) hadn't seen shit.
And it never stopped for six weeks.
About a week after UNION, we were still in the field on yet another operation. I was standing at the bottom of a hill when a company runner came running down and with excitement told me that I was getting transferred. I felt bad about leaving, but at the same time I couldn't believe that I just might get out alive. As I started up the hill to the C.P., Bill Vandegriff stopped me to tell me thanks. I'll never forget that. Coming from a man like Vandegriff it was like getting the Medal of Honor.
There is no way to describe what goes on, and everybody while going through the same experience remembers it differently. Strange life we have here. Denny
GySgt. Denny Dinota receiving the Bronze Star from Lt. Gen. Robert Cushman, CG III MAF & I Corps

The President of the United States takes pleasure in presenting the BRONZE STAR MEDAL to
GUNNERY SERGEANT DENNIS T. DINOTA
UNITED STATES MARINE CORPS
for service as set forth in the following
CITATION:
For heroic achievement in connection with operations against the enemy in the Republic of Vietnam while serving as Company Gunnery Sergeant with Company M, Third Battalion, Fifth Marines, First Marine Division.

On 16 May 1967 during Operation UNION, Company M was deployed in the vicinity of Phong Phu (1), Quang Tin Province, to relieve another company which had been subjected to enemy small arms, machine gun and mortar fire. As his company moved into position, Gunnery Sergeant Dinota observed two mortally wounded Marines lying in an exposed area approximately 110 meters to the front of the company's perimeter and in danger of being captured by the numerically superior enemy force.

Unhesitatingly, he organized a squad and led it along a trench line for seventy-five meters across an exposed rice paddy to the position of their fallen companions. Exposing himself to the intense enemy fire, he directed the evacuation of the Marines, recovered three M-16 rifles and one M-60 machine gun, and returned his squad safely to his company's position without sustaining a casualty.

His resolute courage and unwavering determination inspired all who observed him and greatly enhanced the morale of his unit. Gunnery Sergeant Dinota's exceptional professionalism, exemplary leadership and selfless devotion to duty were in keeping with the highest traditions of the Marine Corps and the United States Naval Service.

The Combat Distinguishing Device is authorized.

For the President,

Louis A. Wilson
Commandant of the Marine Corps
Denny Dinota, Bill Vandegriff, Roger Nicholson, Steve Walker-Haygood, Ken Fields
3/5 Reunion 2002, La Grange, GA
M Co 3/5

December 13, 2002

A couple of months ago I was approached by a young Marine Sergeant from Weapons Company 3/6. He must haveseen my M/3/5 tattoo and heard me telling war whoppers at the end of the bar at my favorite watering hole where he moonlights as a bartender from time to time. After talking for a while on several occasions and becoming friends he asked me if I would be the Guest of Honor at his unit's Mess Night. He said that he was to be "Mister Vice" (Vice President for the mess night) and one of his jobs was to find the Guest of Honor. The President of the Mess Night is of course the CO of the unit.

I told him sure I would, all the while thinking (knowing) that it would never happen and that they would surely be able to get some retired general, colonel or some other upper level dignitary as the guess of honor/speaker to bore them to death. After all, this is Jacksonville, the home of Camp Lejeune. Why the hell they would want a former Staff Sergeant/Gunnery Sergeant was beyond me.

A few weeks later the sergeant's unit was having a promotion wetting down at the club and the Sergeant introduced me to his First Sergeant.

A week later a real squared-a-way Sergeant in full dress blues appears at my door and presents me with an invitation to be the Guest of Honor at the Weapons Company 3rd Battalion 6th Marines Mess Night.

I guess they wanted somebody who had actually occupied a fighting hole and who had seen the "Elephant."

While putting down on paper some ideas/thoughts for my speech I realized that of all the mess nights, Marine Balls and other formal events I've attended over the years I cannot recall one of the speaker's names, much less the subject matter of their talk. So I could see myself going into the same abyss.

Well, on Friday, December 13, 2002, a squared-a-way Corporal wearing full blues arrives at my door to escort me to the mess night!

My speech? It was about those (YOU) magnificent, wonderful skinny "kids" I served with in Mike Company and the rest of 3rd Battalion 5th Marines! I told them about the battles you fought and won. I told them how you would raise up under fire and advance against fortified positions. I told them about how you beat back attacks. I told them about the stink of death and fear and how you sacrificed and didn't complain and how you are still making that sacrifice and still not complaining. I told them about the reunion and the tears.

I told them how "I Got To" (as if it were some kind of miraculous appointment from on high) serve with you.

I at times had to catch my breath and hold back the tears, but I got through it. I could tell I had their attention and later when it was over and the young PFCs and Lance Corporals and Corpsman told me it was the first time they ever saw the men pay that much attention to anybody before. Whether it was speeches by the general, training instructors or whatever. That compliment coming from the "Troops" put me in a daze. It was an award. It was like Vandergriff telling me "Thank You" when I left Mike Company.

Seeing those "Kids" I see time frozen from thirty five years ago.

Denny Dinota
M/3/5 1967

Brad Reynolds (M/3/5 67-68) and Denny Dinota
3/5 Reunion 2001, La Grange, GA

Jim Bisesi (H&S 3/5 67-68), Craig Sullivan (H&S and M/3/5 67-68), Denny Dinota
3/5 Reunion 2001, La Grange, GA