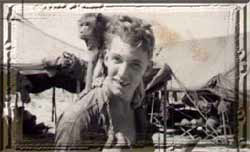 "The monkey on my shoulders here was stolen from an Army Hootch when Thiel, Austin and myself used our Tactical Skills to take him to the FLICK with us when we were in the rear area at Phu Bai. We were on our way to the FLICK when we spotted him, and we all agreed that he wanted to see the FLICK too."

Doug Maier, Mike 3/5 Served in Vietnam from early May of '68, and left in May of '69. When I came incountry to Mike Company, our rear area was Phu Bai, and the Company was being man'ed back up after taking a real ass kicking from Charlie.

I'm looking for the Marines I served with, if anybody knows where the guys in the pictures are, please contact me.

Semper fi, ~Doug Maier

Right before I went to Vietnam, I was my older brother's Best Man in his Wedding.

In the Bush

Showing the difference in size of the M-79 Heat Round, and the 5.56mm round fired by the M-16.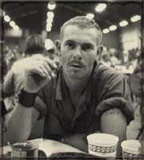 He was called Hillbilly by all. If anyone knows his REAL name PLEASE contact me. Hillbilly was K.I.A. with only 28 days left in country.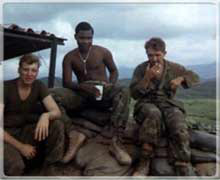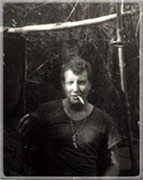 Thiel, Austin and ( ??can't remember?? ) taken at an An Hoa line position. On the far right, Jim Thiel holding hair from one of the 3 female snipers that popped rounds at us on one of the many times we were in the AZ Hills.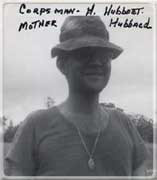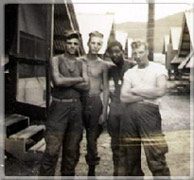 Doc "Mother" Hubbard (left), and Evans, Me, Austin and Thiel.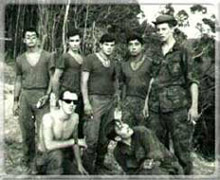 Mike 3 Charlie

Front row, from left, Stafford and Mike McFerrin who was squad leader.
Back row, from left, Philip Oguin, Sullivan, Frank Lito, Ed Morales, Doug Maier.

Marine on the left is Pappy, and one of the best as far as I'm concerned. He saved my life when we were on Bridge Security on an ambush at the base of some mountains next to a grave yard. And Marine on the right (??can't remember??).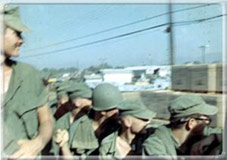 Pappy at left side of picture, we were being trucked somewhere until the road runs out, then it's HUMP TIME.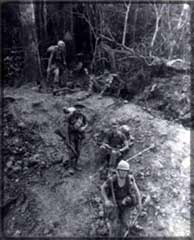 Paul Bazar in front, KIA April 21, '69. Mike McFerrin is third back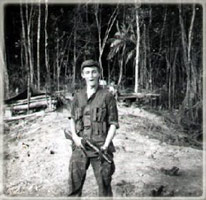 Fire Base Maxwell, and our Bunker position behind me.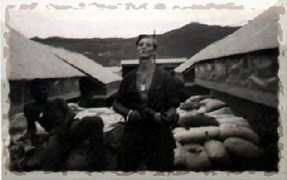 Me acting like "Rambo" in rear area at An Hoa,
Austin is in the back ground with a bunker we used when CHARLIE would say "Hi."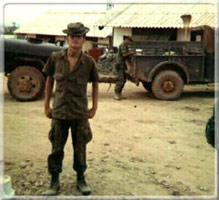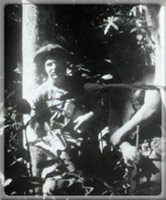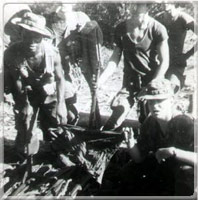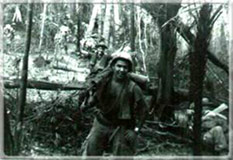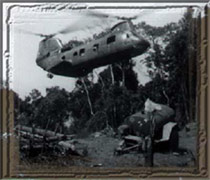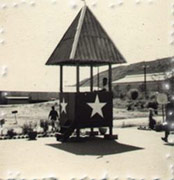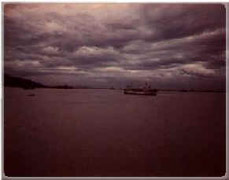 (Background by Redeye)