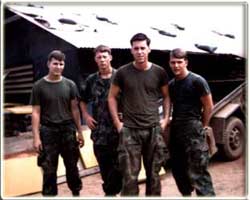 Tom Mullen, third from left
Tom Mullen, HQ 5th Marines Landed in An Hoa on May 1, 1969 was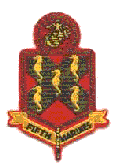 attached to Reg. Hq. Co. 5th Marines. Was on my first Reactionary Force when An Hoa was overrun on May 3, 1969. I didn't get much time to get settled in.

Was on every Reactionary Force action up to September 1st. Was sent to H&S 3/5 September 1st and left about April 20th 1970.
Spent time out at Liberty Bridge and Hill 10. All most of the Reactionary Force action was around 2/11 and 1/5 area in An Hoa area.
Got out of the Marines and became a plumber for about 20 years and now I have been the Plumbing Inspector with the City of Sioux City, Iowa for about 12 years now. ~Semper Fi, Tom Mullen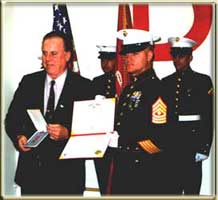 In Nov. 2000, Tom Mullen received his second Bronze Star, 30 years overdue.
News article about the award, click to enlarge.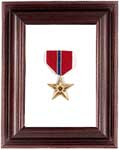 Tom's award was a Gold Star to be fixed to his first Bronze Star
"I was with Reg. Hq. Co. 5th Marines from 5-1-69 to 8-31-69. That was when I received my first Bronze Star. It was received for a Sapper attack on An Hoa back in June 7th, I believe, '69."
Bob Filice's HQ 5th Marines Website
Title graphic and background by Redeye