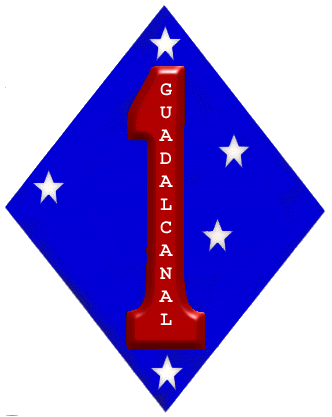 1st Marine Division
VIETNAM WAR
Headquarters Battalion
1st Marine Regiment
5th Marine Regiment
7th Marine Regiment
11th Marine Regiment
1st Field Artillery Group
1st Reconnaissance Battalion
1st Tank Battalion
1st Shore Party Battalion
1st Engineer Battalion
3rd Amphibian Tractor Battalion
1st Medical Battalion
7th Communications Battalion
9th Engineer Battalion
1st Battalion, 13th Marines (Attached)
26th Marine Regiment (Attached)
The 1st Marine Division was first organized in February 1941. During World War II, the Division fought at Guadalcanal, New Britain, Pelelieu and Okinawa. After the war, the Division served two years in North China, then returned to Camp Pendleton. In July 1950, elements of the Division were sent to Korea to help hold the Pusan perimeter, and in September, the 1st Marine Division landed at Inchon. The Division later landed at Wonsan, took part in the bitter fighting at the Chosin Reservoir, and during the stalemate, fought in the Punchbowl area.

The 7th Marines arrived in Vietnam in August 1965. The Division headquarters opened at Chu Lai in October 1965, and by June 1966, the entire Division was in Vietnam. In August 1965, the 7th Marines took part in the first major offensive operation in South Vietnam, Operation STARLIGHT on Quang Ngai Province. During 1966 and 1967, Division operations consisted primarily of offensive sweeps. Operations UNION II and SWIFT, and counter-guerilla operations in the areas of Quang Nam, Quang Tin and Quang Ngai Provinces.
In January 1968, when the North Vietnamese launched their TET Offensive, the 1st and 5th Marines took part in the hard battle to drive the North Vietnamese and Viet Cong from Hue, the old imperial capital. Elements of the Division also took part in Operation PEGASUS, the relief of Khe Sahn, in April. The 5th and 7th Marines fought several sharp battles during Meade River, the largest Marine helo assault of the war in November. By 1969, the war in the 1st Marine Division area of operations was marked by ambushes and small unit actions, with the emphasis on expanding the security of populated areas.
During 1969 and 1970, the Division conducted operations in Happy Valley, Dodge City and the Que Son Mountains and, at the same time increased the number of Combined Action Platoons, to improve security of isolated villages and hamlets by providing rifle squads to work with Regional and Popular Force units. The Division mounted its last battalion size operations in the summer of 1970.
Elements of the 1st Marine Division began leaving Vietnam in October 1970, and by April 1971, the entire Division had returned to Camp Pendleton, California. Twenty-three members of the Division won the Medal of Honor in Vietnam.
CAMPAIGNS AND BATTLE HONORS
Defensive * Counteroffensive * Counteroffensive, Phase II * Counteroffensive, Phase III * TET Counteroffensive * Counteroffensive, Phase IV *Counteroffensive, Phase V * Counteroffensive, Phase VI * TET '69 Counteroffensive Summer-Fall 1969 * Sanctuary Counteroffensive * Counteroffensive, Phase VII * Presidential Unit Citation (1966-67) * Presidential Unit Citation (1967-68) * Vietnamese Cross of Gallantry with Palm * Vietnamese Meritorious Unit (Civil Action).
BATTLE CASUALTIES
Killed in Action--4,668
Wounded in Action--38,563

(Information from Battle Histories, Inc.)
***********************************