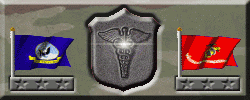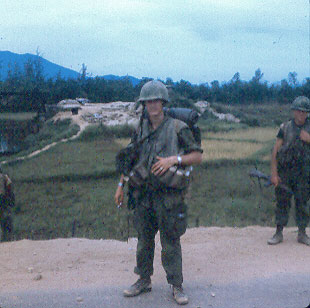 Doc Wood near Hwy. 1
Doc Everett Wood, FMF Corpsman with Mike 3/5
I arrived in Da Nang on Feb. 14, 1968, and was attached to Mike Company, 3/5. I stayed with Mike Company until September ? 1968, and then joined the First Hospital Company in Da Nang around the First Marine Headquarters.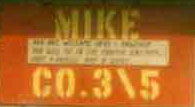 (click pictures to enlarge)

Doc Wood and his M-16
If anyone remembers the names of these M Co. 3/5 Marines, please let us know.

Doc Wood (right) and fellow corpsman
Mortar team (left) and Rocket team (right)
Lt. (left), Sgt. (center), radioman (right)

Sniper
Bomb under bridge
Operation HOUSTON II
May 8-13, 1968
Hill 1192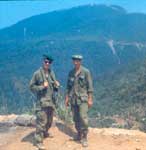 Doc Wood (left) and Doc Mariskanish (KIA 9 May '68)
I do remember the event going up that mountain (Haivan Pass). I remember placing many guys in body bags after several days. It was hell! I will try to convert my slides into pictures as soon as I can and will send them to you and anyone who wants a copy of them. God bless, Doc Wood.

Randy Sterns
KIA 9 May '68
Captain Frank Pacello (left) and Mike 3/5 Marines up near Haivan Pass

Prisoners
Helicopter Crash
The wounded Marines of Mike 3/5 had been safely helped on board this helicopter, then to everyone's horror, the chopper crashed into the trees.

"The first chopper in took only a couple guys and it got blown out of the sky. The second chopper in took quite a few of us. Dave was not on it. Lomax was, and so were some other guys. We got up and almost made it out but the fire got the bird and it came crashing down. I got hurt pretty bad – so did a couple others. We all got out."~Rock Giambrocco

Doc Wood's Navy Commendation Citation for actions on Hill 1192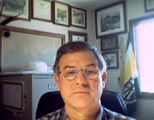 "Doc" Everett Wood
2003
Thank you so much for sharing these, Doc!
3rd Battalion, 5th Marines Reunion 2003
La Grange, Georgia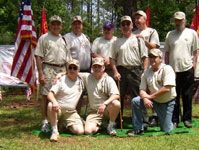 M/3/5 Marines who served together on "Hill 1192", May '68
Front: Jim Blankenheim, "Doc" Everett Wood, Jerry Lomax
Back: Frank Pacello, Art Diabo, Curtis Batten, Rock Giambrocco, Dan Hignight, Brad Reynolds
"Doc" Charles Edward Mariskanish Memorial page
Pfc. Randolph Sterns Memorial page
(FMF Corpsman graphic and background by Redeye)