PFC. RICHARD JOSEPH ANASIEWICZ
Born on Oct. 26, 1945
From NEW BRUNSWICK, NEW JERSEY
Casualty was on July 18, 1966
in QUANG TRI, SOUTH VIETNAM
HOSTILE, GROUND CASUALTY
GUN, SMALL ARMS FIRE

Panel 9E - - Line 31

Pfc. Richard Anasiewicz served with the 3rd Battalion, 5th Marines, Mike Company. He was Killed In Action during Operation HASTINGS and awarded the Silver Star Medal posthumously. His name stands proudly on the Mike 3/5 Wall of Honor alongside the Marines he fought and died with. Semper fi, Brother Marine. We will never forget.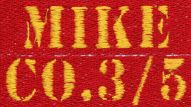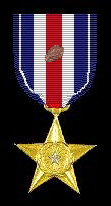 The President of the United States takes pride in presenting the
SILVER STAR MEDAL posthumously to:
PRIVATE FIRST CLASS RICHARD J. ANASIEWICZ
UNITED STATES MARINE CORPS
For service as set forth in the following
CITATION:
For conspicuous gallantry and intrepidity while serving with the First Platoon, Company M, Third Battalion, Fifth Marines in the Republic of Vietnam on 18 July 1966.

During a search and destroy operation in the Quang Tri Province, Private First Class Anasiewicz's platoon came under intense semi-automatic and machine gun fire. He immediately began firing from the hip at an enemy machine gun position, effectively reducing its fire. Then he raced to the aid of two wounded Marines, directing one out of the line of fire and, disregarding his own personal safety, carried the other Marine to a safe location.

Still under intense fire, he went to the aid of another wounded Marine and was moving back with him to his position when he was mortally wounded by a sniper. Private First Class Anasiewicz's unfaltering courage in the face of extreme danger and his devotion to duty upheld the highest traditions of the Marine Corps and the United States Naval Service. He gallantly gave his life for his country.

For the President,

PAUL H. NITZE
SECRETARY OF THE NAVY
You are missed
I'm so sorry you never got to meet your son.
He is a son to be proud of. I hope you are able to see him from heaven.
Linda
*****************************
My Friend Forever
You were and always will be my friend. You will always be remembered.
Your Friend,
Michael Poignonnec
*****************************