LCPL. GARY WILLIAM BARTLOW
Born on Sept. 23, 1947
From MODESTO, CALIFORNIA
Casualty was on July 18, 1966
in QUANG TRI, SOUTH VIETNAM
HOSTILE, GROUND CASUALTY
MULTIPLE FRAGMENTATION WOUNDS
Panel 9E - - Line 31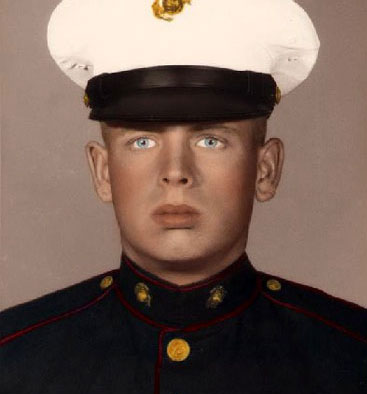 Gary William Bartlow
Picture courtesy of Gary's mother, Patricia Uekert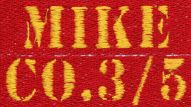 LCpl. Gary William Bartlow served with the 3rd Battalion, 5th Marines, Mike Company. He was Killed In Action during Operation HASTINGS. His name stands proudly on the Mike 3/5 Wall of Honor. Semper fi, Brother Marine. We will never forget.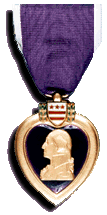 Gary Bartlow
Picture courtesy of Gary's mom, Patricia
The following letter was written by Vernon Ford, M/3/5, to Gary Bartlow's 75-year-old mother, Patricia.
Dearest Mrs. Pat Uekert,

Mother of Gary Bartlow, a friend and Marine of Mike 3rd Bn. 5th Marines, it has been so long ago on the hot and uncertain day of July 18, 1966 for a lot of great and wonderful young Marines, I would like to go back in time with you dearest mother, and let you know your son is not forgotten.

Mike Co. 3/5 was formed Dec. 1965. Most of the young Marines came to Camp Pendleton, CA. right after Christmas. Gary's initial officer, Co. Capt. Pettengill, was a ruff, but fair man who cared about his Marines. Other officers who made up the company were the XO- Lt. Prince, Wpns. Plt.- Lt. Matthys, and of course, the grunts (1st Lt. Keker, 2nd Lt. Murray, and 3rd Lt. Lindblom).

We were a company at first, then during training we tried to out do one another and at the end of the day we were closer than a group could get. I had a friend in first, second, and third Platoon.

Your son and the rest of the unit were close, we trained hard and I can't remember a time that any of our group didn't do what was asked of us. We all went on leave in town together, and a lot of other things a group of new friends would do.

Gary and the rest of 3/5 Mike Co. spent a month of hard jungle training in Okinawa, preparing to form the Special Landing Force operation in Vietnam. Then the Marines and Gary spent another month in the jungles of the Philippines, you see they were getting the unit ready for Vietnam. Now we (Mike Co.) were closer than some families, and when someone got news from home, or if someone was sick, someone was always there. You see, we were your son's family. We talked about our families back home, and if we had the time we would always do things together like a family.

I can remember the first operation that Mike 3/5 and Gary went on; you see he was a warrior. Your son didn't join the Marine Corps just to lose his first firefight, no! He was a fighter for the Marine Corps. On June 18, 1966 Operation DECHOUSE I took place in Song Cau Pheu Yen, Vietnam. You can be very proud of Gary, because like all us young Marines he did his job. The operation lasted about ten days and then we returned to the ship.

The next operation Gary made it to was called NATHAN HALE, in support of the U.S. Army in Vietnam. They needed us to do a job that they couldn't do so Gary, the company, and I went and did it right. This operation took place on June 27, 1966. Once again, you can be proud because Gary did his job right.

Around July 16,1966 Operation DECKHOUSE II took place in Gio Linh Quang Tri, Vietnam it was sort of a warm up for the next operation.

Pat, I know your son was thinking about you because so many others were talking about family the night before the operation. You see, I was a run- away, so I had no family at that point of my life, no mother, no father. You see, the young Marines talked about their mothers, sisters, brothers, or girlfriends. It was a way of keeping our minds off a young Marine we lost that day. You see, we were family and when one of us wasn't around we talked about how it was when that person was there. Gary was also a part of this big family.

The day came for Mike 3/5 to leave DECKHOUSE II. The chopper came to pick us up, as I looked around from the air there was easily a hundred choppers in the air. The word come out that the Landing Zone was hot (with enemy fire), the LZ was called Crow. The operation was called HASTINGS. On that hot day, your son gave his life for me and many more, because they hit the LZ fighting like Marines. As my chopper came in the LZ, North Vietnamese soldiers were firing at me, but Gary and the others covered me so I could get out and help. That was the longest day of my life, July 18, 1966. When night came upon us we got word
that yours and many other Marines did not make it through the day.

I am very proud of Gary Bartlow, he gave it all for his fellow Marines and his country. Yes, I knew Gary as I knew the other Marines. They were friends, and that hot day and night we had time to stop and think of our lost brothers.

Now Pat, the mother of a fine Marine, I know you miss him very much. I don't know if anything I may have said could take the void out of your life, or change anything. I hurt right along with you. You see, I made it home because of young warriors like Gary who
gave it all on that hot day in July. I was only a L/Cpl. We were trained as Marines and lived as Marines.

I wish you the best in life, and when we get to heaven Gary and many of my friends and Gary's friends will all sit around God's greatness and have a great reunion.

Thank you Pat for having a great son, and a great warrior of the U.S. Marine Corps.

SEMPER FI!! Vernon Ford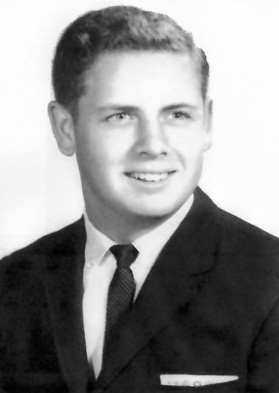 Gary Bartlow
High School Graduation 1965
Picture courtesy of Gary's mom, Patricia
Letter written by Jack Swan, M/3/5, to Gary Bartlow's mother, Patricia
Patricia: Debbe Reynolds sent me the e-mail you sent her. My name is Jack Swan. I arrived in Viet Nam about 4 months after your son was KIA on Operation HASTINGS, 1966. I was with the same company he was in through most of 1967. Although I did not know your son, I think of him as a brother. I remember thinking, the first time I saw a brother Marine fall in combat, that it didn't just stop there. His loved one's back home had to deal with the loss of his memory. Mostly the Mother who cared for him and taught him life's ways. The greatest thing he had in his life was the love you gave him. I was lucky, in that my folks got to see their son come home. My heart is with you in the loss of your son. Stay young Patricia.~Jack

******************************************
ONLY THE GOOD DIE YOUNG
We went in together on the same day - part of a group of 22 called Kings men.
1 man recruited for each year of service SSgt. William King had served.
GARY WAS A GOOD MARINE AND A GOOD FRIEND FOR THE SHORT PERIOD OF TIME WE KNEW EACH OTHER. WE HAD HOPED TO GET TOGETHER AFTER OUR TOURS, BUT IT WAS NOT TO BE. HE WANTED TO BE A CAREER MARINE-I GUESS HE WAS. SEMPER FI ! BROTHER. IT'S TOO BAD SO MANY HAD TO DIE BECAUSE THE POLITICIANS WOULDN'T LET US FIGHT THE WAR ALL THE WAY. Timothy Hubbel

*******************************************
A good friend
Gary and I met in B Co., 3rd Engineer Bn. while in Phu Bai. We became good friends. He was a hell of a guy. Always laughing and smiling and trying to be a pal. It was a sad day for me and the rest of our Engineer platoon when Gary and others died on Operation HASTINGS. RIP Gary.You're not forgotten. Semper Fi.
Terry Weller
Marine buddy
*************************************************************
FROM ANOTHER DAVIS HIGH SCHOOL VIET VET CLASS 65
I SHARED CLASSES WITH GARY DURING OUR HIGH SCHOOL DAYS. I DID NOT LEARN OF HIS DEATH UNTIL I RETURNED FROM VIETNAM JULY 1968. I HAVE NOT VISITED THE WALL, BUT WHEN I DO, I WILL CERTAINLY HONOR HIS PLACE. GONE BUT NOT FORGOTTEN, BROTHER!

ALAN BRUSH

**************************************