2LT. DENNIE DONALD PETERSON
Born on May 17, 1943
From LOS ANGELES, CALIFORNIA
Casualty was on Sept. 6, 1967
in QUANG NAM, SOUTH VIETNAM
HOSTILE, GROUND CASUALTY
GUN, SMALL ARMS FIRE

Panel 26E - - Line 15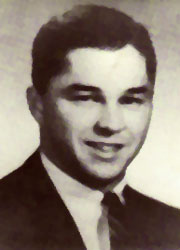 Dennie Petersen
"Dennie always wore a smile and worked best when the going was rough. He was willing to help anybody, anytime and in anyplace."-Major Frank Burke, U.S.M.C (Quote from the funeral by his commanding officer).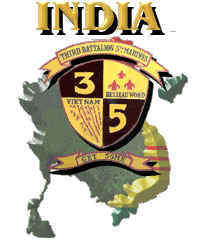 2Lt. Dennie Peterson served with the 3rd Battalion, 5th Marines, India Company. He was Killed In Action on Operation SWIFT. His name stands proudly on the India 3/5 Wall of Honor. We will never forget.

For his extraordinary bravery, 2Lt. Dennie Peterson was awarded the Navy Cross, posthumously.

Citation:

For extraordinary heroism while serving as Artillery Forward Observer with the Second Battalion, Eleventh Marines and attached to Company I, Third Battalion, Fifth Marines, First Marine Division (Reinforced), in Quang Tin Province, Republic of Vietnam.

On 6 September 1967, during Operation SWIFT, the advance of Company I was halted by devastating automatic weapons fire from a massed, entrenched North Vietnamese Army force. Fearlessly exposing himself to enemy fire, Second Lieutenant Peterson moved over the fire-swept terrain to a position from which he could bring supporting arms to bear on the determined enemy force.

Courageously, he moved from one position to another to gain a better vantage point to adjust his fires. Fearing for the life of his radio operator, he took the radio, put it on his back, and moved into contested ground beyond the company perimeter to a position where he could better observe and continue to direct and adjust artillery. His prompt and accurate fires immediately inflicted heavy casualties on the enemy.

Although he was drawing fire from at least five enemy automatic weapons and was painfully wounded, he remained in his unfavorable position for two hours adjusting artillery. After darkness fell the enemy was soundly repulsed, he crawled back to his own lines, and despite his own wounds and the heavy volume of fire, assisted another wounded Marine into the perimeter.

After being treated and with temporary discontinuation of artillery fires, Second Lieutenant Peterson organized groups of Marines and led them through the enemy lines on three occasions recovering casualties and carrying them to protected areas in the company area. Although he was wounded on four separate occasions, he disregarded his painful wounds and continued to direct and coordinate fire and aid wounded Marines at great personal risk. While being treated for his wounds, he was hit by a burst of automatic weapons fire and mortally wounded.

By his calm courage, intrepid fighting spirit and dynamic leadership, Second Lieutenant Peterson served to inspire all who observed him and contributed materially to the accomplishment of his unit's mission. His great personal valor reflected the highest credit upon himself and enhanced the finest traditions of the Marine Corps and the United States Naval Service. He gallantly gave his life for his country.
The people of India Co. 3rd Bn. 5th Marines would like to honor our friend.
Semper Fi, Dennie.
Curtis
**********************************************************
Dennie:

We shared the crab soup my Dad sent me.
In a book "Honor the Warrior," our names appear together.
I will be honored when we dine again.~ Tom Panian
**********************************************************
He was well respected

Denny Peterson was the Artillery Forward Observer for India company. He was a fine young lieutenant who had been with the battalion for a short time, but was really doing a fine job and had gained the respect of the company. Captain Burke really believed in him, and Denny was KIA doing his job on Operation Swift. His FO team was led by a Lance Corporal who knew how to call effective artillery fires and was left as the primary FO for the balance of the operation. Byron Hill

****************************************************

Best Friends

Both our mothers grew up in a small Minnesota town, went through nurses training together and married in the late thirties. When WWII struck, our fathers became Naval officers and served together in aviation units in Florida and the Aleutians. Naturally, Dennie and I grew up together as best friends.

I went off to Vietnam first in '66 as a Navy A-4 pilot aboard the USS Oriskany (CVA-34), and came back in one piece. Then it was Dennie's time. We hit San Francisco hard the night before he left taking no prisoners. I drove him out to Travis, gave him a salute and cautioned him not to be a hero. A month later I handed the American flag to his mother. Louie Nordbye
************************************