[Home][Table of Contents] [What's New] [USMC Picture Pages ] [FMF Corpsmen]
[Combat Wives] [Combat Histories] [Memorials] [Stories, Poems, Memoirs]
[Picture Gallery] [Links] [Guestbook]

Operation SWIFT
4-15 September 1967
This is NOT an official USMC combat operations page, but our personal attempt to recover as much information as we can about the operations 3rd Battalion, 5th Marines participated on in Vietnam. Operation SWIFT cost the 5th Marines dearly, including their beloved chaplain, Father Vincent Capodanno. Information is from remembrances/pics and other related info sent in by Marines and FMF Corpsmen. Feel free to email us with any info/pics/ remembrances.
3/5 Combat After Action Reports
September 1967
Operation SWIFT

(click images to enlarge)

SWIFT Operations Map of Que Son Valley
"This is a copy of the Operations Map for SWIFT that I carried...I always made sure to check with several other people to make sure of my location, so this map is very accurate." ~Fred Riddle, H&S 3/5
Aerial Map Operation SWIFT, 4 Sept. 1967
(courtesy of Rob Whitlow)

General route of M Co. 3/5
(submitted by JD Murray)
This day-to-day mapping should be considered a subjective report, done some thirty-five years later, with an attempt to be as accurate as possible. I took the After Action Reports from 1/5, 3/5, and Task Force X-Ray and used Fred Riddle's map and route in some places, as well as my own recollection to develop the graphics. There are several areas that I just don't remember and have relied on Fred Riddle's map, in some cases, and relied on the official AAR in others. And I have also applied my own opinion when I felt differently than official reports.

Capt. Strichker, Lt. Dunnigan, and Father Capadonno before the beginning of SWIFT
4 September


Liftoff of M Co at Hill 63 into SWIFT

5 September


Left: CP crater on knoll
Right: Lt. Hayden CO M Co.


JD on phone on the grassy knoll


Sgt. Sullivan, Lt. Hayden, JD
Kevin Kelly, 3rd plt. radioman
Radio operators, probably Steve Cottrell and Kevin Kelly
Snipers


NVA Mortar found just outside M Co position


NVA Weapons and our KIAs in background. The RPG on the rifle was located 10-20 meters away from CP,
with dead NVA behind sights ready to fire

NVA KIAs on knoll


NVA Weapons captured on the 4th/5th
This is another knoll where M Co set in defenses on the 8th. The knoll had numerous boobytraps around it. Notice the large rock w/2 other rocks on top! I had walked twice between the two large bolders looking over the area for M Co night position. Tom Barnard shortly thereafter detonated an artillery shell booby trap between those boulders.
9-10 September
This map covers the remaining days of SWIFT. Because it moves into a different area in the Que Son, I have used another map area west of the map for the initial days of SWIFT. I have been unable to find additional information from other sources to validate some of the movements and nighttime locations of all concerned. I have depicted Fred Riddle's map movements as well--they disagree with the 3/5 AAR. I also disagree with 3/5 AAR in some areas as well. The AARs, in my estimation, are put together after the fact and sometimes make gigantic mistakes. I have corrected those mistakes to the best of my knowledge.
The biggest question, in my eyes, was the night of the 11th. AAR has M and H Co. about a click away from the Battalion. I remember distinctly being with all companies when we caught the NVA during their night movement near our position. We had an outpost that was hit with friendly fire that night, and I remember the fighting because it was primarily on the other side of the Battalion perimeter. It was also one of the nights having the entire Battalion together.
11-12 September
13th Sept. saw us march on an objective some 3 clicks away, turn around and go back two clicks to an LZ, AND ONCE HOT, decide to march out at night some 7 clicks over terrain we had not seen before, and arrive at 0700 at Hill 35, and lift off up north followed by 2 days of nothing. The 13th continued till early on the 14th.~JD Murray
********************************************************


(Newsclipping submitted by Frank Jurney)




Frank Jurney, JD Murray, and inspectors after SWIFT on Hill 63


Sgt. Reilly and Cpl. Hatzfield receiving Silver Stars for UNION from LtCol. Rockey
This was after SWIFT, Frank Jurney is taking pic in background
**********************************************
Major Engagements Operation SWIFT
Maps/info above photocopied from "U.S. Marines in Vietnam - Fighting the North Vietnamese 1967" by Major Gary L, Telfer, USMC, Lieutenant Colonel Lane Rogers USMC and V. Keith Fleming, Jr. One of the "U.S. Marines in Vietnam Operational History" Series.
15 September 1967: Operation SWIFT
l Corps, Quang Nam and Quang Tin Provinces; Que Son Valley; Hills 48 and 63; Chau Lam; Dong Son; Tam Ky; Thang Binh; Vinh Huy. SWIFT was to prevent enemy disruptions of the national elections.
MarineUnits: Task Force X-Ray; 3/5th Marines, 1/5Marines, and H 2/5 Marines.
NVA/VC Units: 2nd NVA Division, 3rd NVA Regiment and the 1st Viet Cong Regiment.
4 September 1967
"Battle of Dong Son/Chau Lam."
Companies Delta and Bravo 1/5 encounter heavy resistance near the hamlets of Dong Son and Chau Lam, eight miles east of Thang Binh. As the fighting increases in intensity, companies Mike and Kilo 3/5 are sent in as reinforcements.
Marine Casualties: 54 KIA, 104 WIA. NVA/VC Casualties: 130 KIAs.
5-7 September 1967
Companies Delta and Bravo 1/5 again engage a large enemy force, this time at Vinh Huy, approximately 12 miles southwest of Thang Binh. Marine losses are 35 KIA and 92 WIA. Losses for the for the 1st Viet Cong Regiment are 61 KIAs.
6 September 1967
"Battle of Hill 43"
Companies India and Kilo 3/5 wage a fierce battle for Hill 43, approximately nine miles southwest of Thang Binh. Marines; 34 KIA and 109 WIA. NVA/VC; 88 KIA. SWIFT; Marines; 127 KIA and 362 WIA. NVA/VC; 517 KIA, 8 POWs.
*******************************


Byron Hill
3/5 Forward Observer
After Operation UNION we were reinforced with a couple of artillery officers right out of the Ft. Sill artillery school. One of them, Stan Holmes, was assigned to Kilo but was (WIA) and evacuated the first day on UNION II; then we lost Denny Peterson (KIA) on SWIFT. Denny Peterson was the Artillery Forward Observer for India company. He was a fine young lieutenant who had been with the battalion for a short time, but was really doing a fine job and had gained the respect of the company. Captain Burke really believed in him, and Denny was KIA doing his job on Operation SWIFT. His FO team was led by a Lance Corporal who knew how to call effective artillery fires and was left as the primary FO for the balance of the operation.
During this time period, I was assigned as the Battalion Fire Support Coordinator. As I remember, the operation initially started out as a 1/5 operation, with their Battalion Hqtrs. coordinating all the action. As I remember, 3/5 was requested to insert several small units to reinforce the 1/5 units, until eventually we had several of our units committed. The 3/5 command group was monitoring the action, and only later did our command group enter into the situation.
It came as a surprise and a disappointment when Lt. Col. Webster told us he was being removed as CO. He had filled the really big shoes left behind by Lt. Col. Esslinger. Lt. Col. Webster was well thought of by those of us who worked closely with him.
Don't know the official tally of artillery rounds fired in support of Operation SWIFT, but later I saw one 155 howitzer which had been fired so long in support of Operation SWIFT that the tube had actually overheated and warped. The howitzer had to be scrapped!~Byron Hill
*******************************
Dave Wajda
H&S 3/5, 81s
Swift...it was a real blood bath. Our two 81's that were assigned to India Co. were left at Hill 63 for security, all the others went out. I remember having bunker duty one night when we were told a cruiser was off shore and was going to fire in support of Swift, the shells came right over us, 8-inch shells I think, the sound was unbelievable, like trees flying through the air. A lot of the dead were being brought back by helicopter to the Reg. area, they must have been out on the field for a while because the smell was really bad. When the rest of our guns came back, they told us this was the worst operation they were on, this was from guys who were on Ops Union 1-2, so I knew it had to be bad. Then we heard about Fr. Capodanno.
Our 81 mortars were located across the road about 75 yds. from Father Capodanno's tent. Many times while having gun drill we would see the Father sitting in his rocker or lawn chair by his desk. Once we were burning crappers not too far from our area when Father stopped by us to talk. He spoke with us for about 15 mins. All our hearts were broken when we heard of his death, and how he died. He was one of the guys. Semper Fi,~ Dave
******************************
I'm a 3/5 H&S Co. Veteran Of Vietnam. I served from May 21,1967 to June 1968. I was attached to Mike Co. 1st in 60mm mortars, but during UNION II two men were KIA and me and two other mortar men were wounded by mortar fire. I was assigned to 3.5 Rockets for the remainder of the operation. I later became Mike CO.'s F.O. for 81mm mortars and served on all operations and actions the Co. were involved in until ESSEX when on Nov. 9,1967 I was shot in the leg and taken out to 1st Med. in Danang. They then sent me to Guam at the Naval Hospital. On return to Vietnam I was placed on the 81mm motors and served as a radio operator and ammo carrier until June 1968.





Fred's pictures of captured weapons, POWs and enemy KIAs
****************************************
1stLt. R. J. MARNELL
CO H&S Co.
MY RECOLLECTION OF OPERATION SWIFT
NOT SURE OF THE EXACT DATES, AND I DON'T HAVE ANY PICTURES, BUT I DO VIVIDLY RECALL CERTAIN EVENTS AS FOLLOWS:
WAS EARLY SEPTEMBER, 1967. I WAS IN THE HQ'S TENT ON HILL 63, EARLY MORNING, WITH LT. MOLLER, LISTENING TO THE RADIO MESSAGES GOING BACK AND FORTH ON THE REGIMENTAL RADIO CHANNEL. LT. MOLLER WAS A FELLOW "CAMEL" SMOKER, AND A FEW DAYS BEFORE HAD HIS EARS PINNED BACK BY COL. WEBSTER FOR BUZZING THE HILL 63 C.P. IN A F-8 CRUSADER (MOLLER AT THE TIME WENT BACK TO DANANG TO GET SOME FLIGHT TIME) GREAT DEAL OF TRAFFIC ON THE RADIO BETWEEN THE 1-5 COMMANDING OFFICER AND THE REGIMENTAL OPERATIONS OFFICER.
BEST I CAN RECOLLECT IS THE 1-5 COMMANDING OFFICER WAS IN DEEP SHIT WITH NORTH VIETNAMESE ALL AROUND HIM. WILL NEVER FORGET HIS VOICE, WHILE SOMEWHAT CALM AND COOL, I STILL COULD SENSE A REAL EMERGENCY. AT ONE POINT IN TIME HE SAID HE WAS LEAVING HIS AREA, WHEREVER HE WAS, AND WAS GOING TO TRY TO GO TO THE MOST FORWARD AREA WHERE ALL THE FIGHTING WAS GOING ON IN ORDER TO LEND SOME MORAL SUPPORT TO HIS MARINES. I DISTINCTLY REMEMBER TALK ABOUT IF NO RELIEF WAS COMING REAL FAST HE WAS GOING TO GET OVERRUN. THE REGIMENTAL OPERATIONS OFFICER TOLD HIM STAY "WHERE YOU ARE AT, WE DON'T NEED A DEAD BATTALION COMMANDER," AND HELP WAS ON THE WAY.
SEEMS AT THIS SAME TIME MIKE COMPANY 3-5 WAS BEING HELO'D TO THE BATTLE AREA. MIKE COMPANY C.O. WAS J. D. MURRAY, A GOOD FRIEND OF MINE AS WE WENT THROUGH OCS AND BASIC SCHOOL TOGETHER. LATER IN THE DAY I NOW HEAR THAT MIKE COMPANY HAS LANDED, BUT THERE ARE PROBLEMS AND A LOT OF TALK BETWEEN MURRAY, THE 1-5 COMMANDER, AND THE REGIMENTAL OPS OFFICER. MURRAY IS REPORTING HIS POSITION AND THE 1-5 COMMANDING OFFICER IS SAYING MURRAY DON'T KNOW HOW TO READ A MAP, BECAUSE IF HE DID HE WOULD BE IN THE BATTLE VICINITY AND PROVIDING RELIEF !!!
AS TIME PASSED MURRAY INSISTED HE WAS IN THE RIGHT PLACE, THEN FINALLY THE 1-5 COMMANDING OFFICER COMES ON THE RADIO TO SAY, HE APOLOGIZED AS IT WAS HIS MISTAKE AND THE POSITION HE REPORTED WAS IN ERROR. IN SHORT, MURRAY WAS WHERE HE WAS TOLD TO BE, BUT WAS GIVEN THE WRONG COORDINATES.
LATE IN THE AFTERNOON THE REST OF THE BATTALION IS NOW HELO'D TO THE BATTLE AREA, I GOING WITH THE BATTALION C.P. GROUP HEADED BY COL. WEBSTER. I KEEP LISTENING TO ALL THE TRAFFIC AND NOW AT SOME POINT IN TIME NOW REMEMBER MIKE COMPANY NOW IS IN THE THICK OF IT AND HEAR A BLOW BY BLOW AS MURRAY IS REPORTING HIS SITUATION TO BOTH BATTALION AND REGIMENT. NEXT 48 HOURS ARE FUZZY BUT REMEMBER MOLLER COORDINATING AT NIGHT, FLARE SHIPS AND GUN SHIPS (SPOOKY). TO SUPPORT WHAT WAS NOW A FULL SCALE BATTLE AS THE TRAFFIC BETWEEN COL. WEBSTER MIKE, KILO, AND INDIA COMPANY WAS HOT AND HEAVY. ALWAYS REMEMBER CAPT. BURKE SAYING THINGS LIKE WE ARE SURROUNDED, NVA ALL OVER THE PLACE, BUT WE'LL STILL KICK ASS AND TAKE NAMES.
IN SPITE OF THE "GLOOM AND DOOM" SITUATION I COULD NOT HELP BUT FEEL PRIDE IN THE KILO, LIMA, AND MIKE COMPANY COMMANDERS IN THAT THEY NEVER PANICKED AND WENT ABOUT THEIR BUSINESS. ALSO REMEMBER THAT NIGHT MOLLER HAVING A FEW KIND WORDS FOR A FEW OF THE AIR FORCE FLARE PILOTS AS THEY WERE NOT COMING IN BECAUSE WE WERE ALSO CALLING IN ARTILLERY.
THE FOLLOWING MORNING THE BATTALION HQ'S GROUP MOVED IN FURTHER TO THE BATTLE ZONE AND MY RADIO OPERATORS WERE GETTING ALL THE CASUALTY REPORTS FROM THE COMPANY COMMANDERS' RADIO OPERATORS. OVER THE RADIO. NAMES WERE NEVER MENTIONED, WHAT WAS GIVEN WAS SERIAL NUMBER AND RANK. ALL OF A SUDDEN I SEE ON THE NOTES BEING TAKEN BY ONE OF MY RADIO OPERATORS A MESSAGE FROM MIKE COMPANY WITH A SERIAL NUMBER A RANK OF LT. COMMANDER AND SERVICE NOT USMC, BUT USN. I IMMEDIATELY GET J.D. MURRAY ON THE RADIO AND WITHOUT MENTIONING NAMES ASKED IF THE K.I.A. REPORT WE JUST RECEIVED WAS THE PADRE??? HE CONFIRMED IT AND I IMMEDIATELY INFORMED COL. WEBSTER FATHER CAPODANNO WAS KILLED. WILL NEVER FORGET THE LOOK ON THE COL.'S FACE, AND HE JUST SAID SOMETHING LIKE "OH NO".
FATHER CAPODANNO WAS A "SNEAKY" PRIEST. BY "SNEAKY" I MEAN HE WAS TOLD SEVERAL TIMES THAT IT WAS NOT HIS JOB TO GO ON PATROLS, FIRE SWEEPS, ETC ETC. YET YOU HAD TO WATCH HIM LIKE A HAWK AS IT WAS NOT UNCOMMON TO SEE A GROUP OF MARINES RUNNING TO GET ON A HELICOPTER TO GO TO BATTLE AND ALL OF A SUDDEN THIS FIGURE COMES OUT OF NOWHERE, NO RIFLE, JUST HIS PRIEST GEAR, AND JUMPING IN THE HELICOPTER BEFORE ANYBODY COULD CATCH HIM. HE WANTED TO BE WITH HIS MARINES AND DIDN'T FEEL THAT HIS JOB WAS SIMPLY TO SAY MASS ON SUNDAY'S.
I REMEMBER ONE KIND OF FUNNY INCIDENT SEVERAL WEEKS BEFORE OPERATION SWIFT WHEN WE WERE ON A BATTALION SWEEP, AND THERE WAS FATHER CAPODANNO OUT THERE WITH US. ONE OF MY RADIO OPERATORS WHO MANAGED TO EAT EVERYTHING HE COULD GET HIS HANDS ON, WAS NOT ABLE TO PACK THE RADIO HE WAS CARRYING. WASN'T THE PRC-25 BUT A GIGANTIC DEVICE THAT REGIMENT INSISTED BE CARRIED, BUT NOBODY COULD EVER GET IT TO WORK. ANYWAY, ONE OF MY SGTS. PROCEEDED TO EXPLAIN TO THE RADIO OPERATOR USING SEVERAL DESCRIPTIVE 4 LETTER WORDS BEGINNING WITH "F" THAT UNLESS THE RADIO OPERATOR STOPPED EATING SO MUCH THE RADIO WOULD BE INSERTED DIRECTLY UP A CERTAIN PART OF THE RADIO OPERATOR'S ANATOMY. WHEN WE RETURNED TO THE BATTALION C.P. FATHER CAPODANNO CAME TO SEE ME REQUESTING THAT I COUNSEL THE SGT. ON EXERCISING A BIT MORE DIPLOMACY WHEN TRYING TO GET A POINT ACROSS TO HIS MARINES.
ALSO REMEMBER GENERAL CUSHMAN COMING OUT TO THE BATTLE AREA ONE EARLY MORNING, THEN SOMETIME AROUND 2 P.M. THAT SAME AFTERNOON A HELICOPTER LANDED AND NEXT THING I KNEW WAS COL. WEBSTER GOT ON BOARD AND WE WERE TOLD HE WAS NO LONGER IN COMMAND. TO THIS DAY I NEVER KNEW WHY HE LOST HIS COMMAND. MY WIFE AND I MET COL. WEBSTER IN HAWAII THAT NOVEMBER AS WE WERE BOTH ON OUR R&R. HIS WIFE TOLD ME THAT SOMETHING WAS BOTHERING HIM AND I GUESS I KNEW WHY.
COL. ROCKEY ARRIVED WITHIN THE NEXT FEW DAYS AND I COULDN'T HELP BUT NOT LIKE HIM ON AT FIRST MEET, SIMPLY BECAUSE I WAS A WEBSTER FAN. BUT THE DISLIKE WENT AWAY ASAP OVER THE NEXT FEW DAYS AS HE WAS ONE HELL OF A LEADER. WAS WITH HIM WHEN HE EARNED HIS SILVER STAR. WE CAUGHT A WHOLE CAST OF NVA IN THE OPEN JUST SOUTH OF DANANG AND HE WAS RIGHT THERE WITH THE MORTAR MEN AND RIFLEMEN DIRECTING THE BATTLE. IN SHORT I FEEL PRIVILEGED TO HAVE SERVED UNDER TWO GREAT LEADERS DURING MY VIETNAM TOUR.~BOB MARNELL
******************************
Sgt. Thomas Panian (I/3/5)
Navy Cross Citation
(I/3/5 Citations page)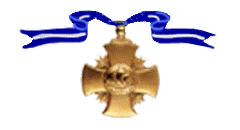 **********************************
Sgt. George "Hap" Hazzard, I/3/5
I was with India company beginning with a rough rider from Chu Lai to Da Nang (just after HASTINGS) UNION I and UNION II, and SWIFT. There were some lesser known, but no less deadly operations in between.
*************************************
Raised in San Antonio, TX. Went to MCRD in Feb. '67, 0311, assigned to I/3/5 in Aug. '67. Was a new guy that barely survived Sept. 6, 1967 during Operation SWIFT. I was next to Curtis Eidson during much of that horrific event, so we share many of the same memories.
*************************************


India 3/5 Mortar crew
JR Webb, Gary Callahan, Bob (Slick) Mowery (arms crossed), Jack (Crazy) Miller, Carl Blankenship (PeeWee)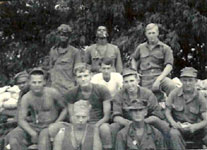 Front: Curtis Eidson (Reb), Billy Bolton (Coonass)
Bradford, Jack Miller (Crazy), Mark Hanley (Slim), Gary Callahan, Carl Blankenship (PeeWee)
Marine in the white shirt is Harvey Beckum (Beck)
Back: Edwards, Johnson, BJ Hillard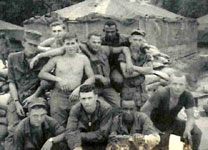 Front: Carl Blankenship (PeeWee), Larry Vaught, Hall, Chuck Youngst,
Mark Handley (Slim) Chuck Strong, Jack Miller (Crazy), ?
Back: J R Webb, Columbus Brooks
*************************************
John Costello, India 3/5
Summer of '67
On Sept. 4, 1967, the Marines of Mike Company were boarding the choppers, something big was up, and here comes the Padre (Father Capodanno). I remember saying to him, "Padre good luck, and be careful." He said something back to us, and took off. He took it upon himself to go out that day. They, his superiors, would have never let him go out there unless he was out with the Battalion command. We knew the restraints that were put on him because there were only two Chaplains for the Fifth Regiment.
Well, after the choppers left, I went to my bunker and fell asleep for an hour or two when somebody woke me up saying, "Mike Company's been wiped out and Farther Capodanno has been killed." Within a few minutes, we were on tanks heading for Mike Co. It took us two days to get to their battle area, so many dead, so many bodies,
That day, Sept. 6, 1967, India Co. found the same enemy force, and we too, were just about wiped out. I got my first Purple Heart on that operation they called SWIFT, and from what I've read they say it was one of the bloodiest battles of the War, but who knows.
I was raised Irish-Catholic, and as you know, the Padre was from Staten Island, New York. About seven years ago, there was a memorial service for him on Staten Island, and I went and met his family and friends. They have a BOULEVARD named after him, and a beautiful monument in a small park area near his home. All I can say is to have known him was a great honor, and to meet someone of that quality in your lifetime is a "gift from God."
*******************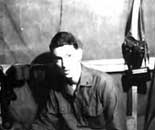 Jerry Bain, India 3/5, radioman
Terrapin 6
*************************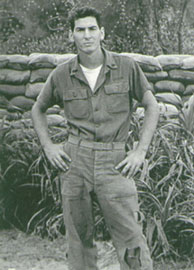 John T. Carota, K/3/5
WIA May 13, '67
KIA Sept. 6, '67
Memorial page
My name is Domenic Carota. My brother John Thomas Carota was WIA on UNION May 13, 1967 with Kilo Company. He was KIA on Swift 9/6/67. My family would appreciate hearing from anyone who knew my brother. Thank you.~Domenic
*********************************************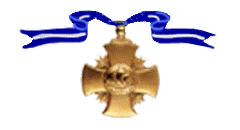 Capt. J. D. Murray, M Co. Commander
Navy Cross Citation
(M Co. 3/5 Citations page)
****************************
MOY, WILLIAM K., III
Silver Star Citation (Synopsis)
The President of the United States takes pleasure in presenting the Silver Star Medal to William K. Moy, III), Corporal, U.S. Marine Corps, for conspicuous gallantry and intrepidity in action while serving with Company M, 3d Battalion, 5th Marines, FIRST Marine Division, during combat operations against the enemy in the Republic of Vietnam on 4 September 1967.

***********************************************************

Fred Tancke, M Co. 3/5
Bronze Star Citation

***************************************************************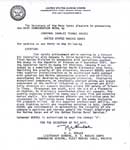 Chuck Goebel, M Co. 3/5 FAC
Navy Commendation Citation
***************************************************************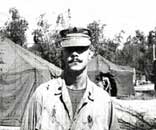 Craig Sullivan, 1st Platoon Sgt. M/3/5
Bronze Star Citation
(M/3/5 Citations page)
My remembrance of the 4th of Sept. 1967
The 4th of September 1967 has been burnt in my memory forever. My Platoon was the point element for this Operation on the 4th of September. On this day we walked straight into HELL, and the ones of us that made it through are truly lucky to be here today.
We lost some damn good Marines and Navy Corpsman, and a very Special Navy Chaplain. We had a lot of good men who became mangled, crippled and some had their minds messed up for the rest of their lives. I have been told that we walked into approximately 2,500 NVA, and we were cut off from the rest of the Company. All I want to say is, this Web Site on Operation Swift has made me reflect back on that day.


"Doc" David Phelps and ARVN, Doc Phelps was KIA the second day of SWIFT
I remember very clearly we were inserted approximately 3 to 4 clicks from our objective, so we had to move out quickly. We were in a staggered column as we moved. 2ndLt. C. E. Ed Combs was the Platoon Commander, and he was with the 1st Squad. I was the Platoon Sergeant, and I was with the Second Squad. We were crossing over the top of a small hill. It was barren of trees or any real cover with the exception of small scrub bushes, several large bomb craters and some large black rocks. At the base of the hill was a large open rice paddy approximately 250 to 300 meters wide.


2nd Lt. C. E. ED Combs, 1st Platoon's Platoon Commander just prior to Operation SWIFT
Cpl.. Bill Vandegriff, the Squad Leader for the 1st Squad, was on the point with L/Cpl.. Jack Swan. As he got out in the rice paddy, Bill hollered back at me and told me that one of the trees in the tree line just got up and moved. I remember very clearly yelling back at him, and told him if it moved again to shoot the son of a bitch.
The tree moved, and Bill shot it. When he fired his rifle, it was like the 4th of July coming in on us. The NVA opened up on us with everything they had, machine guns, small arms, mortars and rockets. They had us dead to right and pinned us down. We fought them throughout the rest of the daylight hours and into the night. They had come into our lines, and we could hear them talking to each other.
L/Cpl. Ron Mercurio was my Radio Operator, and we were standing beside one of the bomb craters when we started receiving fire, we both dove into the crater for cover. A few minutes later, I don't know where he came from, but out of nowhere 1stLt. J. D. Murray, the Company Commander for Mike Company, was kneeling down beside of me. He said, "Your Platoon Commander has been wounded and you have to take over now, he's hurt bad and needs you now." I looked at him and just said, "AYE AYE Sir," and flew out of that damn bomb crater.
I do not know to this day how I got out of that hole with out getting shot. Bullets were flying across the top of it without stopping. The men were scattered all over the area, and it was impossible to get them into any true defensive fighting positions. Everyone was firing their weapons as fast as they could. We could see the NVA moving around in the tree line, and even out in the open rice paddy.
Right after dark, I was able to start pulling my wounded men into one of the bomb craters. L/Cpl.. Richard Guerrero Jr. had been wounded pretty bad and was put in the bomb crater. A few minutes after he was in the bomb crater, one of the men yelled that Guerrero was turning blue. I saw this and had to give him mouth mouth resuscitation, this was not working, so I made a small incision in his throat and took a ball point pen and used the housing of it, and pushed it into his throat. I then started blowing air into him. This worked and he started breathing again.
I went back out to see if I could get anymore of the wounded men into the crater. L/Cpl. William Little and PFC. Nicholson (one of the M-60 Machine Gunners) came with me, and gave me covering fire with the 60 and a M-79. We were able to get two more of the wounded Marines into the crater.
Sergeant Lewis, the Right Guide ,was now the Platoon Sergeant and he came flying into the crater landing on top of the men. Right as he landed, a mortar round landed right outside of the crater and Lewis was hit in several place in his back. He was not killed, but hurt pretty bad. One of the men started taking care of his wounds.
I had called back trying to get some help, but we could not get any. Then I got a call that the 2nd Squad from the 2nd Platoon was trying to get to my location. Sergeant Peters was the Squad Leader, Chaplain Capodonno and Doc Leal was with him. They could not get to us because they were cut off by the NVA, and the Squad was almost wiped out. I did not know this until the next morning.
The NVA had heard one of my troops calling me and then a little bit later on, they were what seemed like right outside of the bomb crater calling me for help. At first we all almost fell for it. One of the men said, "That's not any of our guys calling you Sergeant." We all listened very carefully, and then we could pick up the accent. We were running out of ammo so I had everyone put their grenades in a pile. When we would hear them moving around, we would throw a rock, wait a few minutes, and then throw a grenade. A L/Cpl. came crawling up to the bomb crater, and rolled in. He said he was going to lead us back to the Company lines whenever we could move out.
The NVA started walking mortars in on us again and I was afraid they were going to hit us, so I called for an air strike. When the air support was on station, the Birddog flying overhead asked me how I was going to mark the target. I told him with a White Star Cluster. Then I told the guys in the crater to start praying. I then fired the cluster straight up out of the crater. When the bombs hit, we grabbed the ones that could not walk and started out of the crater. L/Cpl.. Guerrero was a large fellow, and we were having trouble getting him out of the hole. Just as we got him out, the NVA shot him several times with a machine gun and killed him. We carried him as we went and made it to the Company lines.
I'll never forget when we arrived in the Company area, they had put all these wounded Marines in one of the bomb craters. We did not know this at the time. We started receiving incoming rounds and several of us jumped into the crater filled with wound men. We landed on them, and the sounds of their moans and groans will haunt me until I die. The next morning the hillside was covered with dead Marines and NVA Troops.



Left: Sgt. Sullivan coming through a stand of banana trees
Right: NVA Weapons captured on SWIFT by the 1st Platoon



"A good day for us and a Bad Day for Charlie"
Left: Russian 7.62 Anti Aircraft Gun we captured on 4 Sept. 67. Other gear captured is in the background.
Right: Captured AK-47.



Hill 53
Left: Sullivan receiving the Bronze Star from Lt. Col. Rockey
Right: Sullivan receiving Purple Heart medal from Lt. Col. Rockey for wounds received on SWIFT
*************************************************************************************
Jack Swan, 1st Platoon Mike 3/5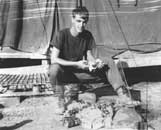 *******************************************************************
Steve Walker/Haygood
Mike 3/5, 1st Platoon
Mar-Nov. 1967

The first or second day of Swift coincided with the national elections. This I remember, for I was "saddled up," and waiting with everyone else for the choppers when Sgt. Sullivan told me to drop my gear and go!!! I was going on incountry R&R. I remember it was the national elections, for when I got to DaNang, me, and about another 8-10 guys from other units were informed that we were quarantined to base because of the elections. We wound up having our own excitement, but that is another story.
The next day, the day of the elections, everyone in I Corps area was getting hit somehow or another. Months later in the U.S., there was speculation that that day of the election in September was actually a "minor test" for the Tet Offensive 5-6 months later.

Part of the explanation for all the heavy contact in our area of I Corps during the Summer and Fall of 1967 was because the NVA were loading up and storing weapons and supplies for Tet.~Steve Walker/Haygood, aka "Bigfoot"
**********************************************
Newsclipping from THE BIRMINGHAM TIMES of Father Capodanno's death 4 September 1967 during Operation SWIFT. Submitted by Frank Jurney, M/3/5. His parents saved all articles they could about Vietnam while he was overseas.
********************************************************************************
LCpl. Al Santos
2nd Plt, 1st Marine Division, Third Battalion, Fifth Marines, Mike 3/5
KIA 4 September 1967
During the summer of 1967, 3/5's CP was on Hill 20-something, somewhere between Tam Ky and Da Nang. This was before we all moved to Thang Bien which was just several miles south of Da Nang. During that period, when 3/5 wasn't in the field, you all supported the perimeter for four 155 Howitzers of Whiskey Battery 2/11. It was during this period I met LCpl. Al Santos. We spent a lot of time just talking. During one of our earlier conversations, I discovered he knew and had been a partner of one of my best friends, a kid that grew up across the hall from me in the same apartment building on Chicago's westside. My intent is to share those few memories about Al, that I can recall. Perhaps in the future someone else can add to this.
Al joined the Corps in '64. He spent some time in Hawaii, prior to shipping out for his first Nam tour. Yes, Al was one of those privileged few who had two tours. He spent his first tour in 2/4 with a good friend of mine, John Daley. After that tour Al returned to Camp Pendleton and was assigned to MCB. He and John spent several months in the MPs, often working the main gate or the brig. I believe in September of '66 Al was blessed with orders back to Nam. I'm not sure if he spent the earlier part of this 2nd tour with 3/5. However, he was with Mike 3/5 from May '67 until his death.
We use to talk a lot about back home nothing more specific then "I can't wait to get the hell out of here type stuff," and about our antics when on liberty etc. He was just a regular guy like the rest of us. The last time we spoke, in late August, we were anxious about going home. We both had about 30 days left on our tour. We were going to be home the first week in October. Al was killed on Operation Swift, 4 Sept '67, three weeks before he was to go home for good after two tours.
Sgt. Mike Hayes
Fox & Whiskey 2/11
(John Daley died in 1972 as a civilian. The result of Nam injuries)
**********************************
[ Operation SWIFT KIAs ] [ Air Strikes in Support of Operation SWIFT ]
************************************************
[Home][Table of Contents] [What's New] [USMC Picture Pages ] [FMF Corpsmen]
[Combat Wives] [Combat Histories] [Memorials] [Stories, Poems, Memoirs]
[Picture Gallery] [Links] [Guestbook]