L/CPL. THOMAS WILLIAM FISHER
Born on Dec. 21, 1946
From ALLENTOWN, PENNSYLVANIA
Casualty was on Sept. 4, 1967
in QUANG TIN, SOUTH VIETNAM
HOSTILE, GROUND CASUALTY
GUN, SMALL ARMS FIRE

Panel 25E - - Line 99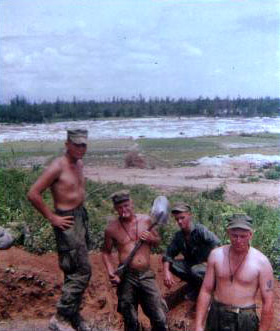 Melendez (far left), Pete Schrader, Jack Swan and Thomas Fisher (far right)
(Picture courtesy of Nick Nicholson, M/3/5)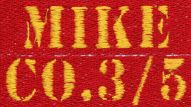 L/Cpl. Thomas Fisher served with the 3rd Battalion, 5th Marines, Mike Company. He was Killed in Action on the first day of Operation SWIFT, and awarded the Navy Cross Medal posthumously. His name stands proudly on the Mike 3/5 Wall of Honor. Semper fi, Brother Marine. We will never forget.



Heroes of M Co 3/5 Vietnam
I was LCpl. Fisher's commanding officer on Sept. 4, 1967. Each of us who fought for M Co. that day owe each of our fallen comrades our life. There is not a day that goes by when each of us thinks of the courageous Marines and Sailors who gave their lives for us and their country 39 years ago. As Commanding Officer, I know I am alive today because of heroes like LCpl. Thomas W. Fisher. We gather yearly in LaGrange, Ga. to celebrate our 3rd Bn 5th Marines and our fallen comrades. At the Memorial Walkway outside the Marine Corps Museum, we of M Co. have 9 bricks with names of all who gave their lives on Operation Swift in Sept 1967.~JD Murray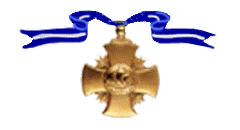 LCpl. Thomas W. Fisher
Navy Cross Citation
For extraordinary heroism while serving as a Fire Team Leader with Company M, Third Battalion, Fifth Marines, First Marine Division (Reinforced), in the Republic of Vietnam on 4 September 1967. While advancing toward Hill 63 in Quang Tin Province during Operation SWIFT, Lance Corporal Fisher's platoon came under heavy mortar, machine-gun and small-arms fire from well entrenched elements of the North Vietnamese Army and was temporarily pinned down.

In the initial moments of the vicious attack, he fearlessly exposed himself to enemy fire to encourage and direct his fire team and observe enemy positions. Pinpointing an enemy automatic weapon, he directed accurate rifle fire into the position, silencing the weapon. When another automatic weapon immediately opened fire on his team's position, he boldly stood up in full view of the enemy and quieted the weapon with a rapid burst of rifle fire before an enemy round damaged his rifle and wounded him in the arm.

Then despite the painful wound and lack of a weapon, Lance Corporal Fisher daringly ran through a barrage of enemy fire to assist a companion fire team, pinned down in an extremely hazardous position. Upon learning that a seriously wounded Marine was lying in an exposed area approximately forty meters from the left flank, he courageously braved concentrated fire in an attempt to rescue the disabled man.

Undaunted by painful wounds, Lance Corporal Fisher crawled forward, bravely continuing to advance until he was wounded again. Even then, when a Marine reached his side to assist him, he refused aid, urging the man to aid the wounded man whom he so courageously tried to save.

Although he ultimately succumbed to his multiple wounds, he inspired all who observed him to heroic endeavor in repulsing the enemy attack. By his extraordinary courage, bold initiative and selfless devotion to duty, Lance Corporal Fisher upheld the highest traditions of the Marine Corps and the United States Naval Service. He gallantly gave his life for his country.
A Good Marine
LCpl. Thomas Fisher was like all the rest of guys in the Platoon. He was young, full of himself, aggressive, and willing to do whatever it took to get the job done. LCpl. Fisher was not afraid to step-up to the plate and take charge of his Fire Team. He was a Team Player and was well liked by all the men of the Platoon. Fisher was a good Marine, when we were on that hill on the 4th of September 1967 he gave his all doing his duty as a Marine.-MSgt. Craig Sullivan
Letter from MSgt. Craig Sullivan to Tom Fisher's sister-in-law, Cheryl

Dear Cheryl,

I was Tom's Platoon Sergeant while he was in Vietnam. I would just like to share with you some of my memories of Tom.

First let me say that Tom was an excellent Marine. I could always depend on him, and he was well liked by all that knew him. Tom cared about what he was doing, and always tried his best to do the right thing.

During the short time Tom was with the 1st Platoon, he proved himself to be an honest and unselfish person. He was always willing to help out wherever he could, and always set high standards for himself and his Fire Team.

Tom was like all the rest of the young Marines, when we were not in the Bush he like to cut up and have fun with his buddies. He would pick at his buddies, play cards, watch a movie and go to the Enlisted Club.

When it came time to go out on a patrol, ambush or go out on an Operation, Tom was strictly business. He always put his men first, he was a team player and did his best to protect his men from harm.

There is no way I could ever express his Heroic Actions on 4 September 1967. Tom was a true Hero, he lay down his life to save the men of his Fire Team and his personal sacrifice saved countless lives in the Platoon. He was fearless in his actions, and he went above and beyond the call of duty to protect his men.

I know that the sacrifice Tom made has caused heartache for his loved ones, and I know it still hurts his family to this day, it always will, but Cheryl, his family can be truly be proud of him. Tom was a true Marine. He believed in what he was doing, he loved his Corps and his Country.

I hope that I have given you something that you and his family can always remember about Tom. I, for one, will never forget him, and I will share his story so his memory doesn't die.

Semper Fi
Craig Sullivan
Master Sergeant USMC Ret.

*********************************
Friend and Brother Marine

Tom and myself grew up together in Allentown, PA. We went to school and scouts together. I was also in Viet Nam when Tom was Killed in Action. I was with the Third Marine Div. up in Phu Bai. I didn't really know how Tom got killed until I read the comments from his brother Marines. Tom would always put his family and friends before himself. He was a very loyal person. I am very proud to call Tom my friend. May our hero rest in peace. Semper fi~ Floyd Beitler

*********************************
"A fallen Hero"

Tom, God bless you, and rest in peace~Bob Filice, Vietnam 5th Marines, 6/67-7/68

*****************************************
My Friend

He was a good guy and school mate and I proudly to call him friend and brother. I was was on my 1st tour w/1st ForceRecon when M 3/5 was on Op Swift. It was a bad week. Semper Fi ... Rick \"Rabbi\" Rabenold

**********************************************