PFC James Kenneth Hoyez served with the 3rd Battalion, 27th Marines and the 3rd Battalion, 5th Marines, M Company. He was awarded the Silver Star, posthumously, for actions during combat operations against the enemy in the Republic of Vietnam on 11 September 1968 while serving with M Co. 3/5. His name stands proudly on the Mike 3/5 Wall of Honor alongside the Marines he fought and died with. Semper fi, Brother Marine. We will never forget.
******************************************************
Pictures and information courtesy of Candy Hoyez Marold
(click images to enlarge)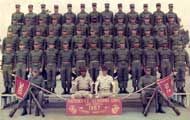 Boot Camp, San Diego
Jim Hoyez is in the 2nd row down....3rd in from the left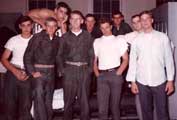 Jim with EMI squad
Jim and guys in barracks
Jim and his '55 Chevy
Jim and Mom at airport, leaving for Vietnam
Some of these pictures will give you an idea of what Jim was like as a little boy. I remember playing cowboy and Indians a lot with him). He loved the outdoors and loved to go fishing and hunting. I remember many times going out in the ocean salmon fishing with Mom and Dad. They would put Jim and me under the bough of this old wooden boat, where we munched away on chicken and potato salad. I remember our Mom would always have to bait our Dad's hook, because he was sea-sick all of the time! (I was told that my first trip in the ocean was when I was 3 days old....stuffed under the bough! I can imagine that was probably the same for Jim!).
Jim was a very active child....always busy doing something. He loved sports, especially baseball. And Jim was truly a "big" brother to his siblings and loved us all.
It has helped me tremendously to be able to connect with BJ, Mike Alden and others. My emotions were so raw when I heard there were Marines out there that had served with Jim in Vietnam and were trying to get in touch with Jim's family. WOW .... after 43+ years....I did not think we would ever get more information regarding Jim. This is wonderful!!! I just can't believe after all these years, that there are people out there who really care about Jim and his short life story.~Candy Hoyez Marold
*******************************************
BJ Jones and James Hoyez
(Submitted by Mike Alden)



James Hoyez (left) and Bruce "BJ" Jones
(pictures courtesy of Candy Hoyez Marold and BJ Jones)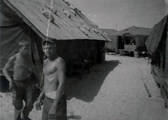 BJ Jones (left) and James Hoyez, 3/27 Battalion area
(picture courtesy of Candy Hoyez Marold)
B.J. Jones and James Hoyez came into "M" Co. 3/5 two weeks prior to Sept 11, 1968. These two Marines were transfered from 3/27, as that unit was going stateside. They both had 4 months in Nam. Not enough time incountry to go home with 3/27. Jim Hoyez and B.J. were in "M" Co. for only two weeks, 1st squad, third fire team. On Sept. 11th lead elements of 2nd platoon were crossing through a rice paddy when they were ambushed by N.V.A. regulars, causing the lead elements to be K.I.A. Most Marines from 1st squad went into the kill zone under heavy enemy fire to recover the wounded and dead. James Hoyez was one who went out and was killed, BJ was grievously wounded.
We in "M" Co. 3/5 honor James Hoyez, and BJ, and all the other Marines who sacrificed so much on Sept. 11, 1968 to save their fellow Marines. James' actions were selfless acts that remain in our minds and hearts as long as we live.~Mike Alden
********************************************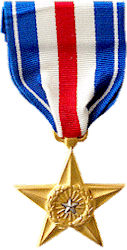 Pfc. James K. Hoyez Silver Star Award


James Hoyez' Silver Star Award and Medal presented to his mother, Patricia Peacock