PFC. JOHN WAYNE LOVE
Born on Sept. 23, 1946
From DAYTON, OHIO
Casualty was on May 13, 1967
in QUANG TIN, SOUTH VIETNAM

Panel 19E - - Line 109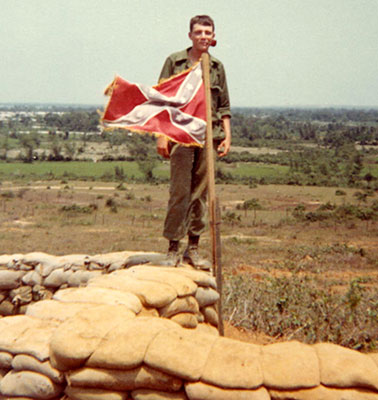 John Wayne Love, 1967
(picture courtesy of Jim Cravey)

Pfc. John Wayne Love
served in Vietnam with the 3rd Battalion, 5th Marines, Mike Company, 2nd platoon. He was Killed In Action on Operation UNION. His name stands proudly on the
Mike 3/5 Wall of Honor
alongside his fellow Marines and FMF Corpsmen. Semper fi, Brother Marine, we will never forget.

I was his Fire Team Leader
My association with Pfc. Love was in the line of duty, and in a personal relationship, which I never meant to during my tour in the Nam. However, John had gotten married after boot camp to a young girl from Xenia, Ohio before going to Nam, and he was assigned to my fire team. When he would get letters from home, he would be happy like the rest of us when we got mail, but the happiness would wear off of John, and then he would get sad and it started to affect him during his duties in that he would not keep his mind off of what was going on back home.
I talked to him a lot about keeping his mind on the tasks at hand, and not let the home happenings affect his judgment. It was very hard for him, and I tried hard to make up and cover him night and day.
I got re-assigned in April, '67, and I later heard he was KIA. I think if I had stayed with him I might have been able to watch over him more, who knows. This is one thing that has been hard to forget from the war.
I hope his family was/is proud of him because he was a good MARINE, he was just caught in the wrong place at the wrong time in his young life.
Sincerely,
Jim Cravey
Fire Team leader prior to his death
A True, Faithful Marine
I just came across this Memorial page for John Love. I was in boot camp with John. In fact we went through everything together. After all, how do you separate Love and Lovejoy. We ended up with M 3/5, 2nd platoon. I was in 2nd squad and John was in another. We hung out together, but until today I did not know just what happened to John. So thanks for the info. I do know that John missed Britta, his new bride greatly. I also know that John was a true, faithful Marine.
Semper Fi, John. I have not forgotten you.
Steve Lovejoy
8 Feb. 2002