Operation UNION and UNION II
Que Son area, Republic of Vietnam, 25 April to 5 June 1967
This is not an official USMC combat operations page, but my personal attempt to recover as much info as I can about the operations participated in by the 3rd Battalion, 5th Marines in Vietnam. I will be posting recollections and pictures (when available) from Marines and FMF Corpsmen who participated in Operation UNION and UNION II. Comments are from informal emails, phone calls, and other correspondence to Brad and I. All related pictures and information is greatly appreciated.~DR
Throughout this period, the 5th Marines (Reinforced) was assigned the mission of destroying the enemy forces, their supplies and equipment. With the initiation of a heavy engagement by a Marine rifle company in the vicinity of La Nga (2), the 5th Marines deployed to exploit the contact. Unable to disengage while being subjected to relentless pressure, the 21st North Vietnamese Regiment finally made its stand at the hamlet of Phouc Duc (4).
For four days commencing 12 May, 5th Marines attacked the fortified enemy positions. Valiantly withstanding heavy enemy mortar barrages and repelling fierce enemy counterattacks, the Marines shattered the entrenched enemy. Operation UNION II was launched on 26 May with a helicopter-borne assault to destroy the withdrawing remnants of the 21st North Vietnamese Regiment.
UNION and UNION II inflicted over three thousand enemy casualties and eliminated the 2nd North Vietnamese Army Division as a combat force to be reckoned with for many months. The entire 5th Regiment received the Presidential Unit Citation awarded by President Johnson. ( Source of information: "United States Marines" published by the United States Marine Corps Division of Information, Feb. 1969)

[Operation UNION][ Operation UNION II ] [ Operation UNION and UNION II KIAs ]
Left: Action of 21-25 April 1967
Right: Battle of Hill 110, 1st Bn., 5th Marines and 1st Bn., 3rd Marines, 10 May 1967
Maps photocopied from "U.S. Marines in Vietnam - Fighting the North Vietnamese 1967" by Major Gary L, Telfer, USMC, Lieutenant Colonel Lane Rogers USMC and V. Keith Fleming, Jr. One of the "U.S. Marines in Vietnam Operational History" Series.
Operation UNION
3/5 Battalion staging area
The first photos of the first med evac's at the start of Operation UNION (that was when the M-16's didn't work!). The fighting was so heavy and intense that it was 4 days before any wounded could be brought out. Gen. Westmoreland took one look, and gave up his helicopter to be used for evac's. "Doc" Vic Perez
Arrival of first casualties
(click to enlarge)

3RD BN. 5TH MARINES Commander Lt. Col. D.E. Esslinger

Lt. Col. Esslinger's Silver Star Citation on the H&S 3/5 site
Lt. Col. C.B. Webster took command 28 MAY 67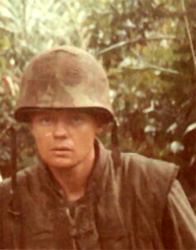 Capt. James R. McElroy, Jr.
M Co. 3/5
I served with "M" Co. 3rd Battalion, 5th Marines from 15 Dec 66 to 24 June 67. Participated in Operations SPOIL, DESOTO, UNION (hospitalized 13-21 May 67), UNION II, and ADAIR (until transferred to 2d Combined Action Group, III MAF). Had an additional tour as an advisor to VN Marine Corps from 9 Dec 70 to 1 Dec 71.

Capt. J.R. McElroy's Silver Star citation on Mike 3/5 site
I received this citation for being a "supervisor." I was older and had been in the Corps longer.
My utmost respect goes to the "fighters and warriors." I was humbled to be with such men.~JR McElroy
"Denny"
M/3/5, Dec 66-Jun 67
Denny Dinota joined the Marine Corps at age seventeen. Here he was, in combat for the first time as a twenty-five year old Staff Sergeant. He had missed going to combat as a rifleman. There just hadn't been a war and he couldn't do anything about it. He was with Mike Company, 3rd Battalion, 5th Marines for six months. Here are some of my memories of Denny.
In his first large operation, Operation DESOTO, Staff Sergeant Dinota distinguished himself as a platoon commander by ensuring the destruction of a series of six mutually supporting enemy bunkers connected by a number of trenches. While sprinting over open terrain to direct fires of machine guns and rocket launchers, he marked enemy positions for air and artillery. His skills were obvious. He knew how to look out for his men and he could lead; and, his knowledge of infantry weapons, support arms, offensive and defensive tactics, and map reading was superior.
Denny received a meritorious promotion to Gunnery Sergeant just prior to to Operations UNION and UNION II and became Company Gunnery Sergeant. Additionally, he served as Company Executive Officer in the field. During Operation UNION, Denny was continually picking fragments from his red, largely swollen left arm. It was obviously infected. He wouldn't turn himself in and wasn't about to leave in spite of the Battalion Commander's expressed concern to me. It seemed combat to him was both a mental and physical challenge. He fought aggressively, but with control. Denny constantly checked lines at night for security. He was keenly aware of ammo, water and supply requirements and kept up with them at all times. On the move, his major effort was to detect ambushes or surprises.
In mid May after an all day encounter with NVA forces, the company set up nighttime defensive positions. At dusk and into darkness, Gunny Dinota had the right flank of the company lines moved back and new positions dug in. At midnight when the company again came under intense NVA mortars, the bugles sounded and a ground attack followed. The main thrust of the NVA ground attack was where Denny had moved the lines and the enemy advanced right into our machine guns, rifles and M-79s firing down their flank. The NVA assault met with disaster. Several days later, Gunny Dinota became aware of two Marines (found to be mortally wounded) in front of the company perimeter in danger of being captured by the NVA. Amid mortars and small arms fire, he quickly organized and led a squad along a trench through an exposed rice paddy. From there the Marines and their weapons were evacuated back to the company perimeter without a casualty.
Throughout these operations Denny possessed a unique ability to quickly and accurately diagnose the strength, disposition and size of an enemy force. He was a superb leader who looked out for his men.
These are a few of my memories of Denny. After Denny was transferred from Mike Company, he received a Battlefield Commission in August. J. R. McElroy, Jr.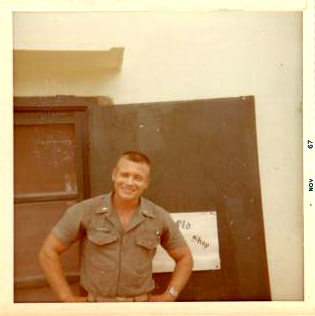 Denny Dinota
Plt. Sgt., Plt. Cmdr., Co. GySgt.
M Co
I served with Mike Company from about Dec. '66 through Operation DESOTO - end of Jan. through Feb. '67, and through Operations UNION and UNION II spring and summer of '67. Transferred out after ADAIR to DaNang area the end of June early July (?)
I was platoon sergeant and platoon commander of 2nd platoon (and another platoon for a short while), and was the company gunny during UNION and UNION II. During UNION and UNION II 3/5 engaged in three pretty big battles. Mike Company was up front in all of them.
May 12-13
On May 12-13, we got what you might call Banzai-ed after an all day fight. We were out-numbered by several hundred. The NVA did manage to break through our line, but died for their efforts. During times like that you don't see officers and staff getting up running about the area giving directions and displaying leadership and all that stuff. You couldn't stick your little finger in the air without getting it shot off. The skinny kids in the fighting holes did what they were trained to do, and did it.
My point man was the first to come upon what was left of Fox 2/1. He first came up on a Marine machine gun squad still around their gun. Because they still had their gun means to me that they fought until they died, and the enemy never got the gun. About 10 yards further, we came upon the rest of the company. They were on line, halfway across a rice paddy, dead. Most of them anyway. Very few emergency evacs. Officers still had their radio hand sets to their ears. All very surreal.
During that time earlier in the day as we were losing people we received replacements from the rear. They were cooks, bakers and candle stick makers who probably earlier in the day were fat and happy and getting a sun tan. Boy, were they in for "It." Anyway, when the sun came up in the morning we were all in a daze.
I didn't count the dead NVA, but the rumored number was 167 that they left on the field. We don't know how many they managed to take with them.
Combat experience is all relative to each individuals own experience. During January and February we had been in some pretty good scraps. I knew I had experienced combat. I could have left the war and felt satisfied. The company had seen the elephant. On May 12-13 and the rest of Union I realized that I (we) hadn't seen shit.
And it never stopped for six weeks.
About a week after Union we were still in the field on yet another operation. I was standing at the bottom of a hill when a company runner came running down and with excitement told me that I was getting transferred. I felt bad about leaving, but at the same time I couldn't believe that I just might get out alive. As I started up the hill to the C.P. Bill Vandegriff stopped me to tell me thanks. I'll never forget that. Coming from a man like Vandegriff it was like getting the Medal of Honor.
There is no way to describe what goes on, and everybody while going through the same experience remembers it differently. Strange life we have here. Denny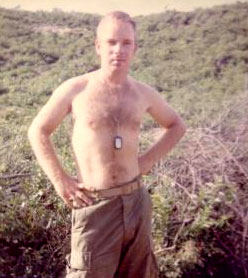 Frank Jurney, M/3/5
Arrived in RVN-Chu Lai Nov. 66- assigned M/3/5 status 03 infantry Nov. to May -I participated in all operations and duties of a front line Marine. May to 2nd week of Dec. I was picked by Captain McElroy to be a noncom assistant -job break down in the rear I was driver-rear secured zones. I also participated in all operations that M/3/5 was involved in. After Skipper Mac tour I remained on the same job.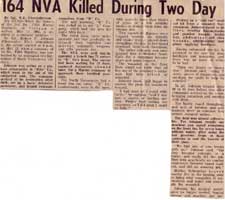 (click to enlarge)
12, 13 May Sea Tiger Article
Courtesy of Frank Jurney, M/3/5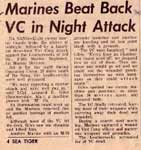 (click to enlarge)
Sea Tiger article courtesy of Frank Jurney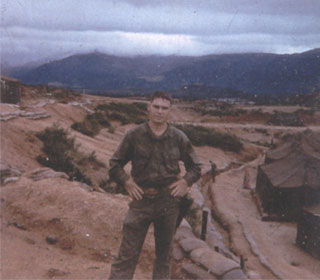 Kevin Kelly, 3rd platoon, Mike 3/5
1 May 1967
About 10-10:30 a.m. on May 1, 1967, I was shot while on an operation. I was carrying a radio for Lt. Johnson of the 3rd Platoon. Around 11 a.m. I was picked up with some other Marines and medevaced to a field hospital where they removed the bullet and tended to me and others.
Just after dark, two helicopters came to take us to the hospital ship, the USS Sanctuary. The helicopter I was on was equipped to hold stretchers, and was loaded with all Marines on stretchers. The other helicopter took Marines on stretchers, and also those who could walk.
A short while after we took off, I saw tracers going up and our window gunners firing down. I also saw the muzzle flashes from the gunner on the other chopper, so I know they also received fire. This lasted only a short time. We continued out over the ocean to the Sanctuary. The helicopter I was on landed on the Sanctuary first. While we were being unloaded, the other helicopter circled. Before the helicopter I was on took off, the other one crashed into the sea.
A few days later, some of those from that helicopter were recovered from the ocean by sailors from the Sanctuary. I always thought that the details of that tragedy had been passed on to relatives. I did not know it was listed as mechanical failure till I saw it on your page (May 1, 1967 Memorial page). I believe that it was due to enemy fire. Kevin Kelly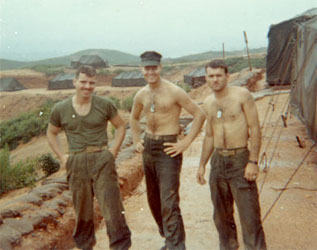 Dennis "Ski" Tylinski, Roger Gaughan, Bob S.
M/3/5 3rd Platoon
Roger Gaughan (center) was one of the wounded Marines killed in the helicopter crash 1 May '67.
Picture courtesy of Dennis Tylinski.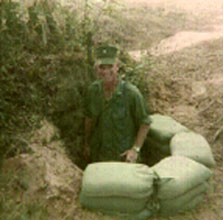 Byron Hill
M/3/5
Served as Forward Observer with Mighty Mike from March through September 1967. Then served with 3/5 Hdqtrs. until January 1968. Was proud to serve with Captain McElroy; Gunny Denny Dinota and a bunch of other great Marines during Operation UNION, UNION II; COCHISE; SWIFT; and several smaller operations. Semper Fi, Byron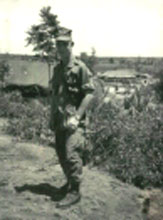 Outside our tent on Hill 65.
Hill 65 was the base camp we established at the end of Operation UNION.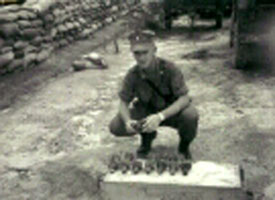 Some mortar fins which the bad guys had tossed at us on one of the operations.

Byron Hill Silver Star Citation
(posted on the Mike 3/5 website)
"Doc" Dan Link
FMF Corpsman M/3/5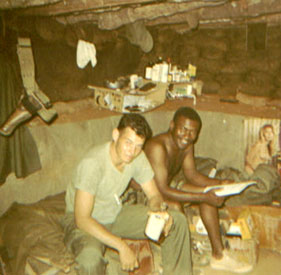 Doc Dan Link (left)
How the hell are all you jarheads after 34 years?? I'm like the the rest of you guys, I can't remember names or faces. If anyone remembers me, please give me an email. I think I remember Bowers, not sure. I was on Operation DESOTO, UNION I/II, and patched a lot of you grunts up.
I remember an ambush I went on just outside of Hill 69. I carried a 12-gauge shotgun and accidentally shot it off while trying to remove a rock from under my butt. We had just set in and I had given off our position by discharging the shotgun. The squad leader called in to get permission to return to base but was refused because we had just got out there. The rest of the night was a little on edge. Give me a shout. When I can scan my pictures, I will. DOC (Dan) Link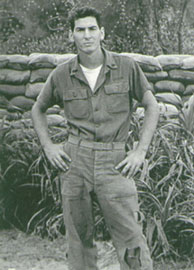 John T. Carota, K/3/5
WIA May 13, '67
KIA Sept. 6, '67
Memorial page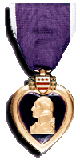 Hello 3/5. My name is Domenic Carota. My brother John Thomas Carota was WIA on Union May 13, 1967 with Kilo Company. He was KIA on Swift 9/6/67. My family would appreciate hearing from anyone who knew my brother. Thank you.~Domenic
LCpl. Christopher K. Mosher, K/3/5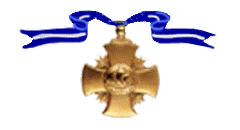 Navy Cross Citation
13 May 1967
(3/5 Citations page)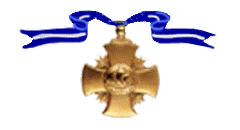 Cpl. Lawrence B. Caine III, India 3/5
Navy Cross Citation
(3/5 Citations page)
13 May 1967
Richard Campos
K/3/5
Served with Kilo 3/5 and know for sure that Kilo Company was there though no mention has been made. I don't remember much other than a lot of fighting, a lifer hiding behind a rock during a firefight, a sniper bullet that traveled between myself and another Brother at one time (we both heard it zoom between us - can't remember who he is), and loading bodies onto choppers.

Corporal Melecio Ortiz, India 3/5
Silver Star Citation (posthumously)
(3/5 Citations page)
Hank Oliver
H&S and India 3/5
I don't remember a whole lot about UNION. I was with H&S then and was keeping track on casualties. I was wounded about 2 weeks or less after it commenced. Col. Esslinger and I were wounded on the same blast. Ran into Col. Esslinger at PI after I returned in '68, I assume he may have been medically retired, he wasn't there long. Helluva guy, always liked him.
Semper Fi,
Hank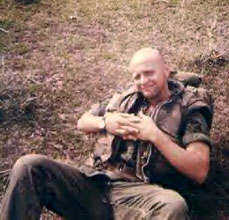 Frank E. Clark
Mike 3/5
I was with Mike Co. from Dec. 1966 until Nov. 1967. I was a Sgt. serving as Machine Gun Section Leader, Weapons Plt. Sgt. and 2nd Platoon Sgt. I was on Operation DeSoto, Union I, Union II and several others. In Nov. ' 67, I was transferred to Security Platoon, Hqs. Co., Hqs. Bn. providing security around the Command Bunker at Freedom Hill. I rotated back to the states in Jan '68.
SEMPER FI,
Frank
Picture page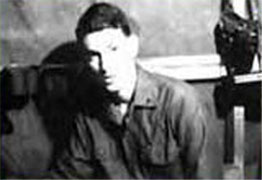 Jerry Bain
India 3/5
Hey! fellow UNION Brothers, this is Terrapin India here. Like this site a lot. Hope some India UNION guys check in along with our brothers from Mike and the rest of the Bn. This is where I cut my teeth on in the Nam was UNION and pow! we was out on UNION II. Was incountry from March '67 to April '68. Company radioman after UNION II. Thank God for that. Great site, and I'll be checking in on it often.
Terrapin India Out!
Jerry Bain
Picture page
George "Hap" Hazzard
India 3/5
I was with India company beginning with a rough rider from Chu Lai to Da Nang (just after HASTINGS) UNION I and UNION II, and SWIFT. There were some lesser known, but no less deadly operations in between.~Sgt. George "Hap" Hazzard, I/3/5
Ted "Randy" Randolph
H&S 3/5
My name is Ted Randolph, but everyone in the Nam called me Randy. I was with 3/5 H and S Company from March '67 to April '68, 81mm platoon.. I was on UNION and UNION II, ADAIR, CALHOUN, and a bunch more. I would like to get in touch with some of the guys.
Semper Fi,
Ted "Randy" Randolph
DAVE WAJDA
H&S 3/5
I was a 3/5 Marine 81's from 3/67-3/68. Ops include UNION-UNION II, COCHISE, PIKE, and ADAIR. Looking to hear from our fellow brothers.
Semper Fi,
Dave Wajda
[Operation UNION][ Operation UNION II ] [ Operation UNION and UNION II KIAs ]
Presidential Unit Citation to 5th Marine Regiment
3rd Bn. 5th Marines website
H&S and Mike 3/5 Wall of Honor
India 3/5 Wall of Honor
Kilo 3/5 Wall of Honor
Lima 3/5 Wall of Honor

LAWRENCE OF VIETNAM: CAP DELTA 4 EXPERIENCES
By Stephen Markley

The NVA and VC thought they controlled the Que Son
Valley. The U.S. 1st Marine Division had other ideas~by Eric Hammel

Operation UNION and UNION II page courtesy of Debbe Reynolds, USMC Combat Wife
Navy Cross graphic by Vic Vilionis, 7th Marines
Background by Redeye

[Home] [Intro] [Table of Contents] [What's New] [My Marines] [FMF Corpsmen] [Combat Wives]
[Combat Histories] [Memorials] [Stories, Poems, Memoirs] [Reunions][Picture Gallery] [Links] [Guestbook]