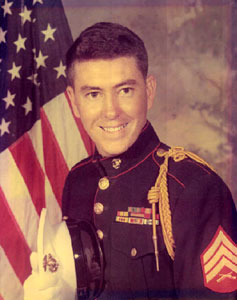 Jerry Bain just before leaving for his second tour in Vietnam, April 1970

Jerry Bain, India 3/5 This is Terrapin India here. Was incountry from March '67 to April '68. Company radioman after UNION II. Thank God for that. The operation I cut my teeth on in the Nam was UNION I, and pow! we was out on UNION II.

Was also on DESOTO, and COCHISE, SWIFT, SHELBYVILLE, ESSEX, AUBURN, and HOUSTON I.

Terrapin India Out!
Jerry Bain
TERRAPIN INDIA 6
(click to enlarge)
Curtis Eidson and Jerry, Vietnam 1967
(click to enlarge)
Curtis and Jerry, Spring 1999
Happy Birthday Jerry and Curtis!
Jerry served with India 3/5 much of the same time as Curtis Eidson. He and Curtis hadn't heard from each other until March '99, when they found each other via the Internet. Brad and I had only found a handful of our 3/5 guys, but combined with those that Ed McCurry already knew of, we had enough information and people that Ed put up our Mike and H&S 3/5 site. Curtis in Georgia was also busy locating India 3/5 guys, and Ken Miller (M/3/9) was sending us email from Boston on every 5th Marine he came across.

In the middle of all this excitement, Brenda Eidson let us know that it was Curtis' birthday. We sent him birthday greetings, and then we received an email from Ken, who unknowingly, was about to give Curtis the best birthday present ever. Ken had found another India 3/5 Marine, but this time it was one of Curtis' friends in Vietnam, Jerry Bain. Well, Curtis and Jerry were ecstatic to say the least, and before long, Jerry was on his way to Georgia to reunite with his friend after 30 years. Turns out Jerry's birthday is also in March. Thank you, Ken!~DR

(click to enlarge)
Jerry and Karen Bain
May 2000

(click to enlarge)
Together again after more than 30 years!
Eddie Garcia, Jerry Bain, Doc Ron Parlee
(Doc Parlee passed away 4/13/2001)
(click to enlarge)
3/5 Reunion 2000, La Grange, Georgia
Front row: Dennis Tenety (I/3/5), Ed McCurry (H&S 3/5), Jim Blankenheim (H&S, I and M/3/5), Mike Wilson (H&S 3/5), Doc Ron Parlee (I/3/5), Eddie Garcia (I/3/5), Hank Oliver (I/3/5).
Back row: John Gunderson (I/3/5), Jerry Lomax (M/3/5), Brad Reynolds (M/3/5), Jerry Bain (I/3/5), Curtis Eidson (I/3/5), John Costello (I/3/5), Rod Johnson (I/3/5), Howard Rainer (I/3/5).
Standing: Babe Peterson and Bob Morris (I/3/5).

(click to enlarge)
3/5 Reunion 2001, La Grange, Georgia
India 3/5
Front: Bob "Slick" Mowery, Ted Duckworth, Mike Mannell, Bill Pruett, Eddie Garcia, Richard Hodgdon.
Back: Marko Whitely, Rock Giambrocco, Curtis Eidson, John "Gunny" Gunderson, Jerry Bain, Mark Rader, Hank Oliver, and Jim Blankenheim.

(click to enlarge)

226th USMC Birthday in DC
Nov. 10, 11, 2001

Left: AWESOME STILL!!!!!!!!!!! THE MARINES KNOW HOW TO PUT ON A SHOW.
Center: This is me with the big shots, Commandant Jones and the Secretary of the Marine Corps, Mr. England.
Right: Brenda Eidson and Karen with Sam Elliott on VAeterans Day at The Wall.

India 3/5 Website

Operation DESOTO

Operation UNION

Operation UNION II

Operation COCHISE

Operation SWIFT

Operation SHELBYVILLE

Operation ESSEX

Operation AUBURN

Operation ALAMO

Billy Bolton Memorial

Robert Peterson Memorial

Capt. Henry Kolakowski Memorial

Lt. John Corr Memorial

Doc Ron Parlee Memorial

(Background by Redeye)
(India 3/5 graphic by Vic Vilionis)