Operation DESOTO
Jan-April 1967
This is not an official USMC combat operations page, but our attempt to recover as much info as wecan about the operations participated in by the 3rd Battalion, 5th Marines in Vietnam. We will be posting recollections and pictures from Marines and FMF Corpsmen who participated in Operation DESOTO.
***********************************************
Area of Action Operation DESOTO
27-30 January 1967
Operations in the Que Son Basin brought an increase in the base and logistics structure in the area. Here, a Marine CH-46 lands on a newly constructed helicopter platform surrounded by the sand-bagged bunkers at the fortified hilltop position of Nui Dang. Department of Defense Photo (USMC) A42162.

(click to enlarge)
Duc Pho and Vicinity, January 1967
Operation DESOTO occurred as the 1st Marine Division prepared to issue the M-16 rifle to its infantrymen. MajGen. Herman Nickerson, Jr., used a 21 February visit to Operation DESOTO to discuss the weapon with one of the few 1st Division to have one.
Maps/picture and caption photocopied from "U.S. Marines in Vietnam - Fighting the North Vietnamese 1967" by Major Gary L, Telfer, USMC, Lieutenant Colonel Lane Rogers USMC and V. Keith Fleming, Jr. One of the "U.S. Marines in Vietnam Operational History" Series.
******************************************************************************
OPERATION DESOTO
3rd Battalion, 5th Marines

J.R. McElroy
I served with "M" Co. 3rd Battalion, 5th Marines from 15 Dec 66 to 24 June 67. Participated in Operations SPOIL, DESOTO, UNION (hospitalized 13-21 May 67), UNION II, and ADAIR (until transferred to 2nd Combined Action Group, III MAF). Had an additional tour as an advisor to VN Marine Corps from 9 Dec 70 to 1 Dec 71.
During Operation DESOTO most of Mike's action was against insurgent Viet Cong forces which utilized bunker complexes, hedgerows for fighting positions, open rice paddies approaching their defensive positions; and well-constructed cave hill sites for logistical support and living areas. Mike Company's action was in Duc Pho and the immediate surrounding area.

Artillery smoke rounds were successfully used in crossing a large rice paddy against heavy VC resistance. SSgt. Dinota, plt cmdr., was especially creative at ensuring trench-connected bunker complexes were eliminated. The Marines out front and in frontline foxholes fought with valor, and made Marines throughout the ages proud.
*************************************************************
Denny Dinota
Plt. Sgt, Plt. Cmdr, Co. GySgt.
M Co. 3/5

Gen. Herman Nickerson decorating GySgt. Dennis Dinota with the Silver Star
I received the Silver Star for actions during DESOTO, early '67. DESOTO was a daily bitch. No real big battles, just a daily grind of low casualties, but every day.
****************************************************************************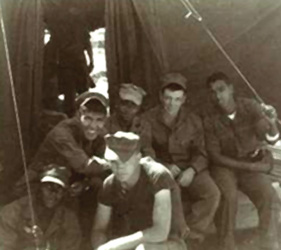 Bill Vandegriff (back, far left) and M Co. 3/5 Marines
"The Lesson"
Bill Vandergrift, M Co. 3/5
While on Op DESOTO, I was to take part in a reactionary force in case one of our ambushes got into trouble. On this night, you couldn't see five feet in front of you. When it got dark over there, it was dark like a tomb. Our ambush went out just after the sun went down, I believe. I was with 1st squad, 1st plt. We were told to be ready to go at a moment's notice. Being in someone else's sand box, you play when they want to play. This night was play time, so the game was on. Charlie hit the ambush with grenades and small arms fire, the call came in for help. "Move out!" came down the line, "Be ready to haul ass!"
We had been told not to take our gear off other than our packs. Trying to sleep with one's gear on is quite uncomfortable, so I took mine off and laid it next to me. When the word came to haul ass, I had a hell of time finding my gear in the damn dark! Our brothers were in trouble, and here I am looking for my web gear! It only took a very short time for me to find the gear, but it seemed like an eternity feeling on the ground for the gear.
When I got to the CP, Gunny Dinota was madder then hell. The way he was hollering, someone was in big trouble, that someone was me. The next thing I saw was these pretty little stars, Gunny D had whacked me alongside the head, damn he could hit hard. My first thought was how dare him lay a hand on me, and him being a staff NCO to boot! For the next two days I felt like putting a bullet in him, who would have known in a firefight. As soon as I got over being mad and had time to think about what had happened, I knew he was right in his actions.
The lesson of that night taught me to be ready at all times for anything. A lesson like that stays with you, it served me well in the next ten months! Thanks Gunny, you sure saved my dumb ass!!
***************************************************
"Doc" Dan Link
FMF Corpsman, M Co. 3/5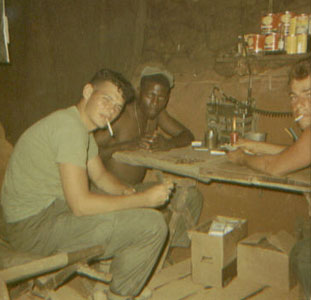 Doc Dan Link (left front)
Pictures taken by "Doc" Jim Clarke of "Doc" Dan Link receiving the Silver Star.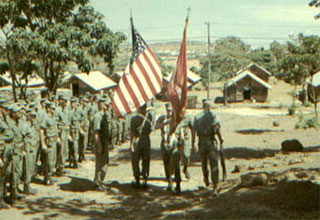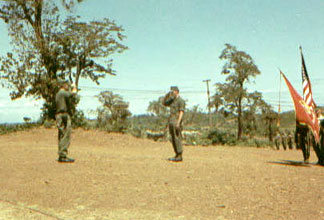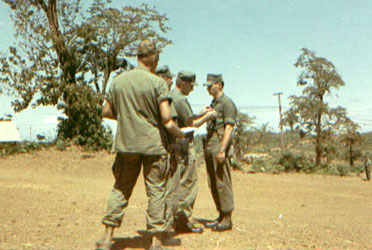 The award was given while he was at 7th Comm. Battalion several months after the fact. He was put up for the star in Operation DESOTO, Feb. 15, 67. Dan came out of the bush on UNION II. He and I grew up together in NJ from kindergarten, joined the Navy on the buddy system, went through Corps school together and wound up in the Nam at the same time. He went with the grunts, and I went to a MASH unit.
Picture taken same day Doc Link received the Silver Star.
Semper Fi, Doc Jim Clarke
***************************************************







Pictures taken in Duc Pho area, Jan. '67
(click images to enlarge)
***************************************************************************
Kevin Kelly, M Co. 3/5, 3rd platoon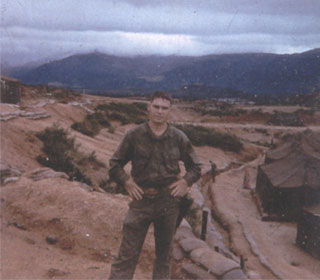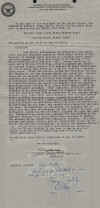 (click to enlarge)
Kevin Kelly Bronze Star citation
******************************************************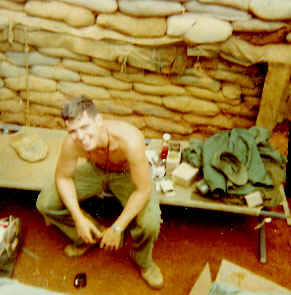 Dennis "Ski" Tylinski, 3rd Platoon M Co. 3/5
********************************************************
Killed In Action on Operation DESOTO
M Co. 3/5
Feb. 1, 1967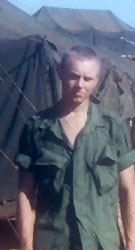 CPL. RICHARD P. MC STRAVICK, JR.
Casualty was on Feb. 1, 1967
In QUANG NGAI, SOUTH VIETNAM
HOSTILE, GROUND CASUALTY
GUN, SMALL ARMS FIRE
Panel 14E - Line 104
Memorial page
**********************************
Feb. 15, 1967
LCPL. THOMAS TAMILIO
Born on Feb. 12, 1947
From HARTSDALE, NEW YORK
Casualty was on Feb. 15, 1967
in QUANG NGAI, SOUTH VIETNAM
HOSTILE, GROUND CASUALTY
GUN, SMALL ARMS FIRE
Panel 15E - - Line 37
Memorial page
PVT. JOSEPH MICHAEL CASSERLY
Born on Aug. 14, 1946
From ST PAUL, MINNESOTA
Casualty was on Feb. 15, 1967
in QUANG NGAI, SOUTH VIETNAM
HOSTILE, GROUND CASUALTY
GUN, SMALL ARMS FIRE
Panel 15E - - Line 31
Memorial page
*********************
Feb. 16, 1967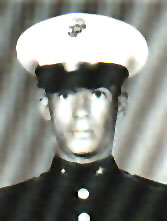 PFC. KENNETH CARL TITSWORTH
Born on Jan. 25, 1948
From SAN JOSE, CALIFORNIA
Casualty was on Feb. 16, 1967
in QUANG NGAI, SOUTH VIETNAM
HOSTILE, GROUND CASUALTY
GUN, SMALL ARMS FIRE
Panel 15E - - Line 52
Memorial page
PFC. STEPHEN ZBIGNIEW BORCZYK
Born on Oct. 30, 1947
From CHICAGO, ILLINOIS
Casualty was on Feb. 16, 1967
in QUANG NGAI, SOUTH VIETNAM
HOSTILE, GROUND CASUALTY
GUN, SMALL ARMS FIRE
Panel 15E - - Line 39
Memorial page
***************************
Feb. 21, 1967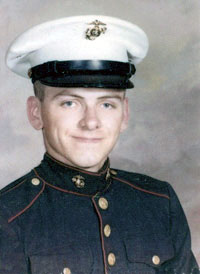 PFC. JOHN DONALD OSSMEN
Casualty was on Feb. 21, 1967
In QUANG NGAI, SOUTH VIETNAM
HOSTILE, GROUND CASUALTY
GUN, SMALL ARMS FIRE
Panel 15E - Line 71
Memorial page
*********************
Feb. 26, 1967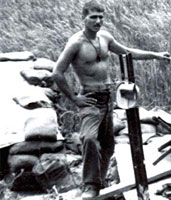 CPL. LEONARD RAY SAINT CLAIR
Born on July 8, 1946
From BEAUMONT, TEXAS
Casualty was on Feb. 26, 1967
in QUANG NAM, SOUTH VIETNAM
HOSTILE, GROUND CASUALTY
GUN, SMALL ARMS FIRE
Panel 15E - - Line 101
Memorial page
*************************
See also:
3rd Battalion, 5th Marines website
Denny Dinota's Silver Star Citation
(on the M/3/5 site)
FMF Corpsman Dan Link's Silver Star Citation
(on the M/3/5 site)
**************************