SGT. LAWRENCE DAVID PETERS
Born on Sept. 16, 1946
From BINGHAMTON, NEW YORK
Casualty was on Sept. 4, 1967
in QUANG TIN, SOUTH VIETNAM

Panel 25E - - Line 108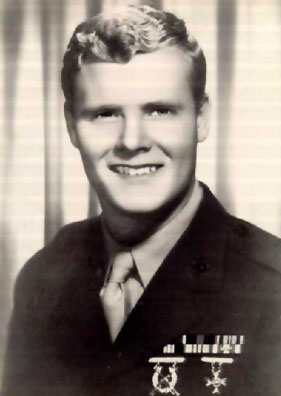 Lawrence Peters
Sgt. Lawrence Peters served with the 3rd Battalion, 5th Marines, Mike Company. He was Killed in Action on the first day of Operation SWIFT, and awarded the Medal of Honor posthumously. Sgt. Peter's name stands proudly on the Mike 3/5 Wall of Honor. Semper fi, Brother Marine. We will never forget.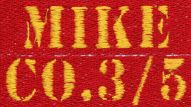 Brave Marine
Sgt Peters was a squad leader with the 2nd platoon, M Co. 3/5 on 4 Sept 67 and I was his Company Commander. I did not know Sgt. Peters well but can attest to his bravery on that day. I had been in country for 15 months primarily with M Co. and the battle on the 4th (in my opinion) was as fierce as any battle fought by Marines in ANY war. All of us who survived that day owe our lives to Sgt Peters and the other heroes who gave their lives that day in the Queson Valley. There are 9 bricks in the Marine Corps Memorial Park Walkway dedicated to the Marines of M Co. 3/5 who courageously gave their lives for us on Swift. Semper Fi~ JD Murray


(Sgt. Peters Medal of Honor graphic by Vic Vilionis, 7th Marines)
Medal of Honor Citation
LAWRENCE DAVID PETERS
Sergeant, U.S. Marine Corps
Company M, 3d Battalion, 5th Marines, 1st Marine Division.
Place and Date: Quang Tin Province, Republic of Vietnam, 4 September 1967
For conspicuous gallantry and intrepidity at the risk of his life above and beyond the call of duty while serving as a squad leader with Company M. During Operation SWIFT, the marines of the 2d Platoon of Company M were struck by intense mortar, machinegun, and small arms fire from an entrenched enemy force. As the company rallied its forces, Sgt. Peters maneuvered his squad in an assault on any enemy defended knoll.
Disregarding his safety, as enemy rounds hit all about him, he stood in the open, pointing out enemy positions until he was painfully wounded in the leg. Disregarding his wound, he moved forward and continued to lead his men. As the enemy fire increased in accuracy and volume, his squad lost its momentum and was temporarily pinned down. Exposing himself to devastating enemy fire, he consolidated his position to render more effective fire.
While directing the base of fire, he was wounded a second time in the face and neck from an exploding mortar round. As the enemy attempted to infiltrate the position of an adjacent platoon, Sgt. Peters stood erect in the full view of the enemy firing burst after burst forcing them to disclose their camouflaged positions.
Sgt. Peters steadfastly continued to direct his squad in spite of 2 additional wounds, persisted in his efforts to encourage and supervise his men until he lost consciousness and succumbed. Inspired by his selfless actions, the squad regained fire superiority and once again carried the assault to the enemy.
By his outstanding valor, indomitable fighting spirit and tenacious determination in the face of overwhelming odds, Sgt. Peters upheld the highest traditions of the Marine Corps and the U.S. Naval Service. He gallantly gave his life for his country.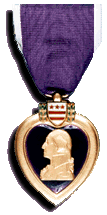 A Fallen Hero
Larry, God bless you, and rest in peace.~Bob Filice, 5th Marines 6/67-/7/68