Reunion in Philadelphia
8-12 November 2002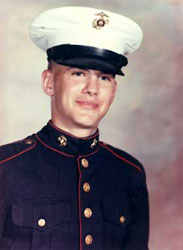 Michael Callahan
On 9 November 1967, a young radio operator with the 3rd Battalion, 5th Marines, M Co. was Killed In Action on Operation ESSEX...his name was Michael Callahan. Thirty-five years later, Michael's sisters, Dierdre and Sheila, and several of the Marines who served with Michael and were on Operation ESSEX when he was killed, met up for the first time at a Celebration of Michael Callahan's Life in Philadelphia on the anniversary date in 2002. Kevin and Merry Kelly found Deirdre, with a "push" from Chuck Goebel that started the search. The Callahan sisters invited these Marines to attend a very special Memorial to Michael...it was an incredible reunion that celebrated the brief, and as Dierdre says, "irreverant life" of a young man who blessed the lives of all who knew him.
The Marines who came to honor Michael Callahan and his family and friends were: JD Murray (Michael's former CO) and wife, Beth; Kevin Kelly (radioman who trained Michael) and wife, Merry (their son-in-law, active duty Marine, Rich Medal, also); Frank Jurney (fellow radioman); Chuck Goebel (FAC), Chuck Cummings (squad leader, 3rd platoon); Steve Cottrell (company radioman) and wife, Nancy; Jack Swan (1st platoon, point man); Bill Vandegriff (squad leader, 1st platoon); Brad Reynolds (1st platoon/wpns/rockets) and wife, Debbe; Terry Otell (1st platoon, radioman).
Michael Callahan Memorial page
(click pictures to enlarge)
Pictures courtesy of JD and Beth Murray, Terry Otell, Jack Swan, Steve and Nancy Cottrell, Kevin and Merry Kelly, captions by Debbe Reynolds.

***********************************************************************************************
8 November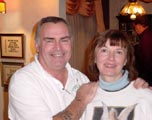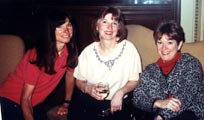 Kevin and Merry Kelly
Nancy Cottrell, Merry Kelly, Beth Murray


Nancy and Steve Cottrell with Dierdre Callahan and Sheila Callahan Thompson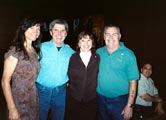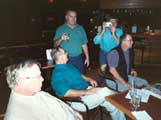 Nancy and Steve Cottrell, Merry and Kevin Kelly
Rich Medal (Kelly's son-in-law, 6th Marines), Beth Murray, Chuck Cummings
Frank Jurney, JD Murray, Kevin Kelly, Steve Cottrell, Terry Otell
Chuck Goebel, Frank Jurney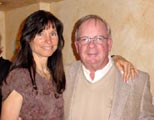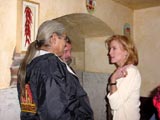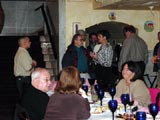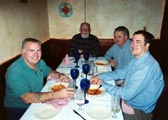 Dinner and reunion with Dierdre and Sheila and their family and friends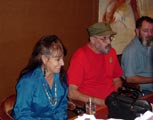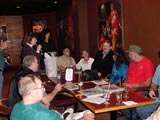 Kicking back at the hotel lounge
9 November morning
Michael Callahan's Memorial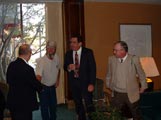 JD Murray, Jack Swan, Chuck Goebel, Frank Jurney getting ready for the Memorial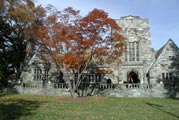 Michael's Memorial was held at the beautiful Merion Tribute House
Dierdre and Sheila put together a beautiful Memorial service including a huge screen slide show using family pictures, and pictures of our M/3/5 Marines who served with Michael, along with specially selected background music reflecting life with Michael before and during Vietnam...it was a tribute that touched the hearts of all in attendance.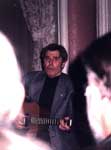 Steve Cottrell sang and played "Last Night I Had The Strangest Dream," a very touching song to end the ceremony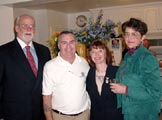 Kevin and Merry with Sheila and husband, Kit, a neurosurgeon and Past Commander of his local American Legion Post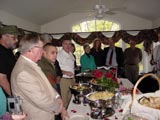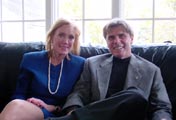 Buffet at Dierdre Callahan's after the Memorial
After Michael's Memorial, the Callahan sisters invited all to a fabulous buffet, and surprised us with a beautiful USMC Birthday cake! Michael Callahan's nephew, Michael cut the cake...Oldest Marine JD Murray received the first piece of cake from Youngest Marine Rich Medal (6th Marines).
9 November evening
Dinner with Jim Kirschke (3/5 and 2/5)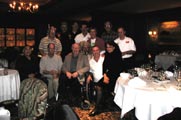 Jim Kirschke, author of "Not Going Home Alone," invited the M Co 3/5 attendees to visit and dine with his 2/5 and 3/5 Marines
who were having a reunion that evening, we each received a copy of Jim's most excellent book.

JD and Beth Murray, Steve and Nancy Cottrell, Debbe Reynolds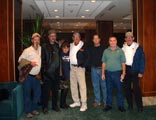 Jack Swan, Brad and Debbe Reynolds, Bill Vandegriff, Terry Otell, Kevin Kelly, Chuck Goebel
Heading out to celebrate the 227th USMC Birthday at "Cookies Tavern"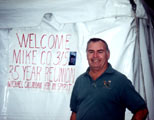 Celebrating the USMC Birthday in South Philly, an annual party sponsored by "Cookies Tavern"
Kevin and Merry Kelly, Terry Otell, Chuck Goebel, Chuck Cummings, Jack Swan, Bill Vandegriff, Brad and Debbe Reynolds
(Merry Kelly wrote the "Welcome Mike Co. 3/5" sign for us)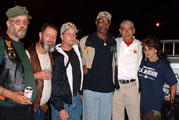 We "found" another 3/5 Marine, Richard Bright (center), by the 3/5 patch he had on his jacket.
11 November
Veterans Day
On the morning of the 11th, everyone in our group began their return home except Brad and I. We had made plans with Richard Bright (H&S 3/5 '69-7) to attend the service planned at the Vietnam Veterans Memorial in South Philly. It was pouring rain, but many turned out to honor the 630 Philadelphians killed in Vietnam. After the ceremony, we walked to the Korean War Memorial...a beautiful tribute to Philadelphians who gave their all in the Korean War. Both memorials are close to where the original Tun Tavern stood. Richard also took us to "Jim's Steaks" for our first-ever Philly Cheese Steak Sandwiches...mmmmmmmmm!
11 November evening
Back at the hotel, Brad and I were honored to meet up with Dave Engler, one of our WWII Marines, on our last night. After 3 years of emails, it was great to finally meet up. We toasted all our Marines, past, and those who are now in harm's way defending our freedom. It was a great finale to this awesome Reunion in Philadelphia!

Brad with WWII Dave Engler (3rd MarDiv)... great to finally meet Dave after being internet friends the last few years!
********************************