Operation ALLEN BROOK
4 May to 6 June 1968
This is not an official USMC combat operations page, but our personal attempt to recover as much info as we can about the operations participated in by the 3rd Battalion, 5th Marines in Vietnam. We will be posting recollections and pictures (when available) from Marines and FMF Corpsmen who participated in Operation ALLEN BROOK. Comments are from informal emails, phone calls, and other correspondence. All related pictures and information are greatly appreciated.
Operation ALLEN BROOK initially began on 4 May 1968 as a 7th Marines Search and Destroy operation. On 17 May 1968, 27th Marines assumed operational control. On 18 May 1968, 3rd Battalion 5th Marines were committed until 31 May, and on 26 May 1968 the 1st Battalion, 26th Marines were committed.
(click images to enlarge)
Operation ALLENBROOK
7th Marines Combat After Action Report
4-17 May 1968
Operation ALLENBROOK
27th Marines Combat After Action Report
17 May to 6 June 1968










































3rd Battalion, 5th Marines Combat After Action Report
1-7 May 1968 Operation HOUSTON (Phase II)
18-31 May 1968 Operation ALLEN BROOK
(submitted by John Gundersen, I/3/5)
********************************************************
Submitted by John Gundersen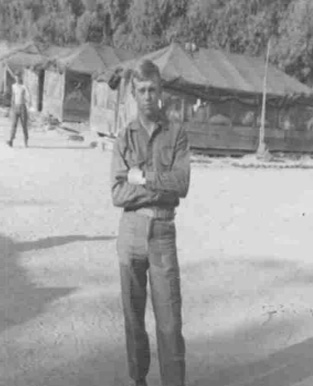 John Gundersen, India 3/5
On Operation ALLENBROOK, India and Mike companies were passing each other and I heard a voice say, "Gundersen." I turned and saw my friend, Jef Goss (M/3/5) sitting against a tree with his radio. I stopped and talked with him for a few minutes. I told him I had just gotten a Purple Heart. Of course, he was concerned for my well being. Then he told me that he had gotten his third. That should have been his ticket home. Three Purple Hearts and you were homeward bound. He told me that he was staying because he was needed there. I jokingly said, "Let me have two and I'll go home." He looked at me and said he would like to.
I ran to catch up to my squad after a quick prayer with Jef. A few minutes later, Mike Co. came through our nighttime positions on the old Railroad bed. I waved at Jef as they passed and disappeared into a small vaillage. Moments later I heard some sniper shots, then silence...then more shots, then silence. More shots, then silence for the rest of the night.
Early next morning, they came back out of the treeline and back through our perimeter. I didn't see Jef. I looked and looked, and finally asked a Marine where Goss was. He got a sick look on his face and told me Jef was shot while trying to retrieve a fallen Marine. The sick look came on to me. I was sick with grief. My friend and mentor was dead.
I was wounded the night that Bickel, Thomas, Petersen,and Tomazewski were killed. It was really weird. We were set in for the evening, and Cpl.Thomas and Petersen had about 21 days left incountry between them, so they were set up inside the perimeter with the Platoon CP so they wouldn't be on the perimeter line. We weren't being attacked or anything, but about 5:00 am, you could hear four mortar tubes about 500 meters to the south. Seconds later, the first one exploded about 10 feet behind my position. A piece of shrapnel hit me in the arm, and shredded my pack and all of its contents. Before I could even duck, the other three hit nearby. Right in the middle of the CP. Then it was quiet for the rest of the night. I was surprized, when I went to the corpsman to check my arm that four men were KIA and 9 were wounded. It seemed like they saw us set in, and took the entire night to set there mortars on our grid. It was the only time I saw such accuracy with mortars. They were good... I'm sorry to say.
*********************************
Submitted by Art Green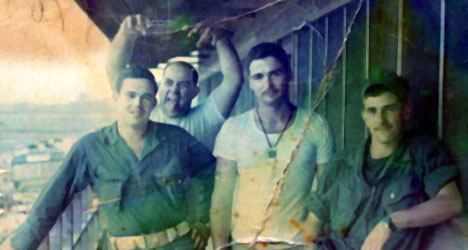 Platoon Sgt. A.W. Green, India 3/5 (white shirt)
We were on a search and destroy operation, our sister company ran into a bunker complex of North Vietnamese Regulars. They took casualties and had Marines pinned down in trenches between their position and ours. They contacted us on the radio for help, and we responded. Some of our men lay down covering fire while we crawled up the trench to get our guys. Pfc. Dwight Carroll was close to the pinned down men when enemy fire became heavy from the bunkers. Pfc. Carroll was moving towards the wounded Marines, very close to the enemy bunkers when booby traps and land mines detonated, killing him and men of the other company I did not know. Dan Neuenschwander was KIA when we got hit at night guarding a bridge on Highway 1.
************************************************************************
3rd Battalion, 5th Marines Killed In Action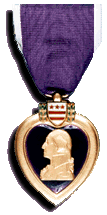 15 May 1968
PFC. DAN LEE NEUENSCHWANDER
I/3/5
Born on Oct. 3, 1945
From FESSENDEN, NORTH DAKOTA
Casualty was on May 15, 1968
in THUA THIEN, SOUTH VIETNAM
Panel 60E - - Line 27
************
PFC. DAVID RICHARD BINNS
I/3/5
Born on Sept. 18, 1949
From RESEDA, CALIFORNIA
Casualty was on May 15, 1968
in THUA THIEN, SOUTH VIETNAM
Panel 60E - - Line 19
****************
21 May 1968
CPL. GREGORY WAYNE THOMAS
I/3/5
Born on Aug. 28, 1947
From KINGS MOUNTAIN, NORTH CAROLINA
Casualty was on May 21, 1968
in QUANG NAM, SOUTH VIETNAM
Panel 65E - - Line 2
****************
HN ZBIGNIEW JOHN TOMASZEWSKI
I/3/5
Born on June 2, 1948
From CHICAGO, ILLINOIS
Casualty was on May 21, 1968
in QUANG NAM, SOUTH VIETNAM
Panel 65E - - Line 3
********************

2Lt. William Gray Ross and his radioman, Albert Petersen (front)
LCPL. ALBERT EUGENE PETERSON
I/3/5
Born on Mar. 30, 1947
From MILFORD, NEW YORK
Casualty was on May 21, 1968
in QUANG NAM, SOUTH VIETNAM
Panel 64E - - Line 17
***************************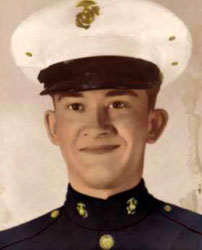 SSGT. JIMBOB BICKLE
I/3/5
Born on Dec. 27, 1934
From HELENDALE, CALIFORNIA
Casualty was on May 21, 1968
in QUANG NAM, SOUTH VIETNAM
Panel 64E - - Line 11
Memorial page
*****************************
24 May 1968
PFC. DWIGHT WAYNE CARROLL
I/3/5
Born on Dec. 19, 1948
From SPRINGFIELD, TENNESSEE
Casualty was on May 24, 1968
in QUANG NAM, SOUTH VIETNAM
Panel 67E - - Line 6
Pfc. Carroll gave his life trying to save his fellow Marines and is truly a hero.
May he be with God, I hope somehow his family sees this and knows how he died.~Sgt. A.W. Green, India 3/5
************************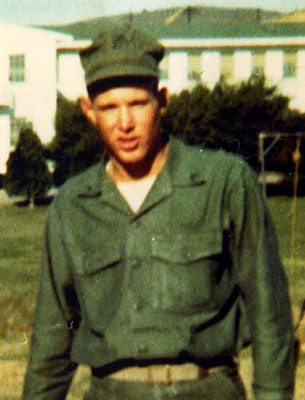 LCPL. JEFFERY ALAN GOSS
M/3/5
Born on Oct. 6, 1948
From OREM, UTAH
Casualty was on May 24, 1968
in QUANG NAM, SOUTH VIETNAM
HOSTILE, GROUND CASUALTY
GUN, SMALL ARMS FIRE
Panel 68E - - Line 4
Memorial page


******************************************

[Home] [Table of Contents] [What's New] [USMC Picture Pages] [FMF Corpsmen] [Combat Wives]
[Combat Histories] [Memorials] [Stories, Poems, Memoirs] [Picture Gallery] [Links] [Guestbook]