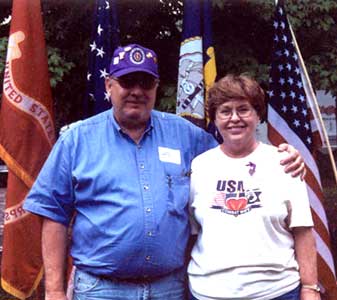 Curtis and Ella Batten
3/5 Reunion, May 2003
Sweet Ella
To Curtis & Ella Batten
In years gone by I ventured across a sea
to a terrible place.
I saw men die horrible deaths
and saved maybe one or two.
I surrounded myself with so few friends
afraid that they would die.
And when I returned our paths rarely crossed
except for maybe one or two.
One friend meant so much to me but returned to
an unhappy life.
Maybe bad luck or poor choices made
who am I to say?
Then he found a magical spouse who saved
my combat friend.
I met Sweet Ella in the Georgia sun and saw
love in her peaceful face.
Ella lifted us both from a life of gloom and brought
us together again.
Our War is now over and thanks to Ella
I still have my dearest friend.
Rocco E. Giambrocco
Copyright ©2004 Rocco Giambrocco
This poem won the 2003 Publishers' Award from the International Society of poetry.