In Memory of Vicente Aguilar, Jr.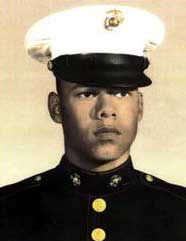 Vicente Aguilar, Jr.

Vicente Aguilar Jr., served with the 3rd Marine Division, 2nd Battalion, 4th Marines, Company G in Vietnam. In April-May 1968, the Marines of G/2/4 came up against the 320th North Vietnamese Army Division.

The fierce fighting that ensued was one of the most costly USMC battles in Vietnam in casualties and wounded Marines. Vicente Aguilar, Jr. was awarded the Silver Star for his heroic actions on behalf of his fellow Marines, although severely wounded himself.

On behalf of Vicente's family, friends, and fellow Marines, I am honored to display Vicente's Silver Star Citation. God bless you forever, Brother Marine.~DR
Vicente Aguilar, Jr.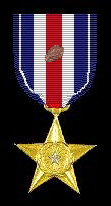 Vicente Aguilar's Silver Star Citation
The President of the United States takes pleasure in presenting the

SILVER STAR MEDAL to:

PRIVATE FIRST CLASS VICENTE AGUILAR, JR.,

UNITED STATES MARINE CORPS,

for service as set forth in the following

CITATION:

For conspicuous gallantry and intrepidity in action while serving as a Machine Gun Team Leader with Company G, Second Battalion, Fourth Marines, Ninth Marine Amphibious Brigade in connection with operations against the enemy in the Republic of Vietnam.

On 1 May 1968, Company G was attacking a numerically superior North Vietnamese Army force occupying the village of Dai Do in Quang Tri Province when the Marines came under a heavy volume of hostile artillery, mortar and automatic weapons fire and sustained numerous casualties.

Reacting quickly, Private First Class AGUILAR moved through the hazardous area to a dangerously exposed position, and directed accurate suppressive machine gun fire against the enemy, enabling his platoon to regroup and evacuate its casualties.

Observing four hostile soldiers crawling down a path toward his platoon, he immediately took them under fire, killing all of them. Having nearly exhausted his ammunition supply, Private First Class AGUILAR fearlessly moved about the hazardous area and rapidly collected additional ammunition for his weapon. Noticing a North Vietnamese soldier attempting to envelop his gun position, he killed the man and seized his weapon.

As he returned to his position, he alertly observed two injured Marines lying 100 meters to his front. With complete disregard for his own safety, he crossed the fire-swept area to aid his wounded comrades. Although they had succumbed to their wounds, he resolutely carried one casualty to his perimeter, and started moving toward the other one when his unit resumed its attack.

Moving forward, the platoon received heavy automatic weapons fire from an enemy bunker. Realizing the seriousness of the situation, Private First Class AGUILAR unhesitatingly maneuvered toward the hostile emplacement and destroyed it with a hand grenade, killing three enemy soldiers. Continuing his determined efforts, he again exposed himself to the intense enemy fire, and while obtaining additional machine gun ammunition, was seriously wounded.

By this courage, gallant actions and selfless devotion to duty at great personal risk, Private First Class AGUILAR upheld the highest traditions of the Marine Corps and of the United States Naval Service.
FOR THE PRESIDENT,
H.W. BUSE, JR.
LIEUTENANT GENERAL, US. MARINE CORPS
COMMANDING GENERAL, FLEET MARINE FORCE, PACIFIC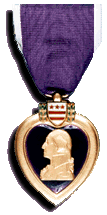 16 November 1993
Vicente was coming home to his country home in Harper, Texas early on the morning of November 16, 1993. The country road was curvy, and it had just started to rain. His car slipped off the road, overturned, and he was killed immediately. Thanks to the Lord, his days of suffering were over.

I spent 13 years with this amazing hero, listened to his stories, took care of him the best I could, and loved him through to his soul. He was only 45 when he lost his last life, as he said many times, "The cat has 13 lives, I've seen many more than that.~Mardi Gonyea Nicklin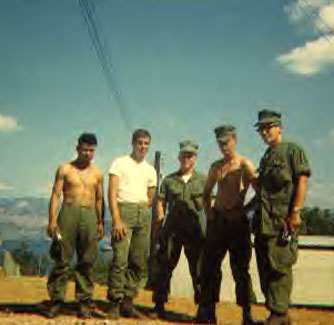 Vicente (left) and Golf Co. 2/4 Marines
With Love and Admiration
When my big brother joined the Corps,
They got a man, a true Marine.
Unlike some men I've met since or ever seen.
He loved life and all living things.
He never hurt or killed anything or anyone,
Except for food or in defense of his life,
Family, his country or fellow Marines.
I loved my big brother,
And now I wished we'd had more in common.
He always defended me, and all others
Who were disabled, he treated with
Respect and compassion.
He was the only man alive who could
Adjust my attitude.
But, he always did it nicely, he was never mad or rude.
In memory of my big brother, Vince.
~Leo Aguilar~

Vicente wrote the following poem in December 1989.
He was going through a particularly hard time with PTSD.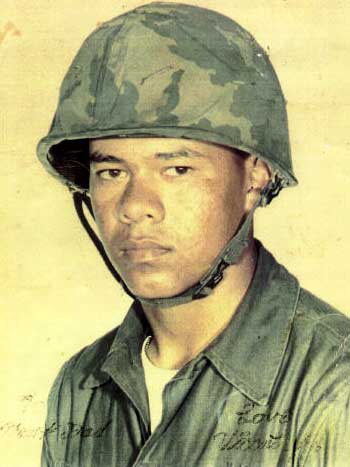 Ode to PTSD

Daddy, Daddy why are you crying?
Is it something that we've done?
It's things from way back in my past
Things that I cannot tell you son.

Daddy, Daddy why are you angry?
Are you hurt, or is it something what we've done to you?
Yes my sons, I am hurt, but it's not anything you've done.
It's things from my past that make me sad, and angry too.

Daddy, Daddy why are you leaving?
My sons asked me. crying.
I'm leaving 'cause I love you so.
I don't want you to see me dying.

Daddy, if you're sick we can take you to the doctor.
I know if you are feeling ill, he'll make you feel better.
It's not that kind of sick, my sons, it's something worse, I fear
But, it doesn't matter where I go, I'll love you guys forever.

My sons don't understand that I'm already dead.
That I don't call this living, of man I'm just a shell
They just know that I cannot work or play with them.
My family, my being in my life, shot all to hell.

If the good Lord should take me, while I'm here in bed.
It's something I look forward to, it's not a thing I dread.
I've hurt my wife, kids, and even my Father and Mother.
If the good Lord would take me, then I could hurt no other.
~~~~~~~
Times may come and times may go,
But PTSD goes on and on.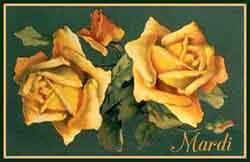 In this life..
THERE ARE MANY, many
thorns...one would think,

to a rose,
BUT...NOT IN TEXAS

It is the symbol
of texas pride...that yellow rose
it is there where in
my life, i always wanted to live

it is in texas
where my spirit grew
and where his soul did live
i got to share it with him,
for this i am so proud
because i asked him to take me...

that he did
when he left the world
and in texas he died
his texas heart, his marine corpS pride

now...in texas
his family will have the opportunity
To see him every single day
because a friend of mine..
has honored him so special now.

please, take this texas rose
dear sweet usmc wife friend
and know, you will be thanked endlessly

by not only vicente's family,
but by your new
adopted friend.
~mardi gonyea nicklin ~
26 march 2000
[Home] [Intro] [Table of Contents] [What's New] [My Marines] [FMF Corpsmen] [Combat Wives]
[Combat Histories] [Memorials] [Stories, Poems, Memoirs] [Reunions] [Special Tributes]
[Picture Gallery] [Links] [Guestbook] [Message Forum]
(Pictures of Vicente courtesy of Leo Aguilar, and Mardi Gonyea Nicklin )
(Enhanced picture of Vicente made with love by Jude Ribbing)