IN MEMORY OF DENNY DINOTA
M Co. 3/5 1967
Passed away 16 June 2003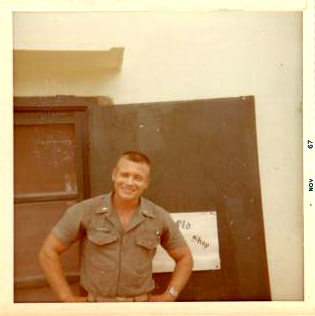 Gunny Denny Dinota, M Co. 3/5
(picture courtesy of Frank Jurney, M/3/5)
Denny Dinota, GySgt. M Co. 3/5 I served with Mike Company from about Dec. '66 through Operation DESOTO - end of Jan. through Feb. '67, and through Operations UNION and UNION II spring and summer of '67. Transfered out after ADAIR to DaNang area the end of June early July (?). I was platoon sergeant and platoon commander of 2nd platoon (and another platoon for a short while), and was the company gunny during UNION and UNION II. During UNION and UNION II, 3/5 engaged in three pretty big battles. Mike Company was up front in all of them.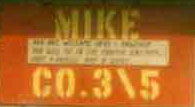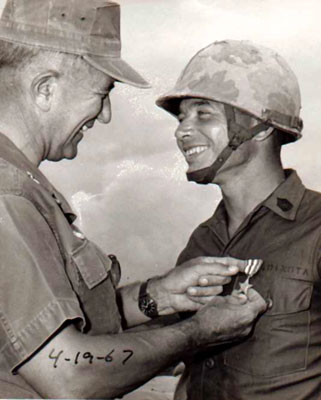 Gen. Herman Nickerson decorating GySgt. Dennis Dinota with the Silver Star for Operation DESOTO

The President of the United States takes pride in presenting the
SILVER STAR MEDAL to

STAFF SERGEANT DENNIS T. DINOTA
UNITED STATES MARINE CORPS

for service as set forth In the following

CITATION:
For conspicuous gallantry and intrepidity in action while servings as a Platoon Commander with Company M, Third Battalion, Fifth Marines, First Marine Division in connection with operations against insurgent communist (Viet Cong) forces in the Republic of Vietnam.

On 1 February 1967, during Operation DESOTO, the lead elements of Staff Sergeant Dinota's platoon came under heavy machine gun and sniper fire from Viet Cong located in a series of bunkers. He immediately moved to a position where he could direct the fire of his men. While pinpointing the enemy positions for one of his M-60 machine gun teams, he was exposed to a heavy volume of enemy fire from at least six enemy bunkers.

Realizing that another machine gun team had not located the enemy bunkers, he sprinted across sixty meters of exposed terrain to assist the team in locating the enemy targets. Directing the fire of 3.5 rocket launchers against the hostile positions, his succeeded in destroying one enemy bunker which produced a large secondary explosion.

In addition, he effectively marked enemy positions which facilitated the accurate delivery of air and artillery fire, resulting in the subsequent destruction of a series of mutually supporting bunkers connected by trenches. As a result of his actions, the company was able to maintain its position and establish a defensive perimeter.

During the engagement, when a fire team experienced difficulty in retrieving a wounded Marine, Staff Sergeant Dinota unhesitatingly assisted in retrieving the wounded man and carried him over forty meters of fire swept terrain to a position of safety.

Throughout, Staff Sergeant Dinota displayed outstanding courage, exemplary professional skill and daring initiative in the face of heavy enemy fire, and thereby upheld the highest traditions of the Marine Corps and the United States Naval Service.

For the President,

Louis A. Wilson
Commandant of the Marine Corps
Operation UNION
On May 12-13, we got what you might call Banzai-ed after an all day fight. We were out-numbered by several hundred. The NVA did manage to break through our line, but died for their efforts. During times like that you don't see officers and staff getting up running about the area giving directions and displaying leadership and all that stuff. You couldn't stick your little finger in the air without getting it shot off.
The skinny kids in the fighting holes did what they were trained to do, and did it. point man was the first to come upon what was left of Fox 2/1. He first came up on a Marine machine gun squad still around their gun. Because they still had their gun means to me that they fought until they died, and the enemy never got the gun. About 10 yards further, we came upon the rest of the company. They were on line, halfway across a rice paddy, dead. Most of them anyway. Very few emergency evacs. Officers still had their radio handsets to their ears. All very surreal.
During that time earlier in the day as we were losing people we received replacements from the rear. They were cooks, bakers and candlestick makers who probably earlier in the day were fat and happy and getting a sun tan. Boy, were they in for "It." Anyway, when the sun came up in the morning we were all in a daze. I didn't count the dead NVA, but the rumored number was 167 that they left on the field. We don't know how many they managed to take with them.
Combat experience is all relative to each individual's own experience. During January and February we had been in some pretty good scraps. I knew I had experienced combat. I could have left the war and felt satisfied. The company had seen the elephant. On May 12-13 and the rest of UNION, I realized that I (we) hadn't seen shit. And it never stopped for six weeks.
About a week after UNION, we were still in the field on yet another operation. I was standing at the bottom of a hill when a company runner came running down and with excitement told me that I was getting transferred. I felt bad about leaving, but at the same time I couldn't believe that I just might get out alive. As I started up the hill to the C.P., Bill Vandegriff stopped me to tell me thanks. I'll never forget that. Coming from a man like Vandegriff it was like getting the Medal of Honor. There is no way to describe what goes on, and everybody while going through the same experience remembers it differently. Strange life we have here. Denny

GySgt. Dinota receiving Bronze Star for Operation UNION from Lt. Gen. Robert Cushman, CG III MAF & I Corps


The President of the United States takes pleasure in presenting the BRONZE STAR MEDAL to

GUNNERY SERGEANT DENNIS T. DINOTA

UNITED STATES MARINE CORPS

for service as set forth in the following

CITATION:

For heroic achievement in connection with operations against the enemy in the Republic of Vietnam while serving as Company Gunnery Sergeant with Company M, Third Battalion, Fifth Marines, First Marine Division.

On 16 May 1967 during Operation UNION, Company M was deployed in the vicinity of Phong Phu (1), Quang Tin Province, to relieve another company which had been subjected to enemy small arms, machine gun and mortar fire. As his company moved into position, Gunnery Sergeant Dinota observed two mortally wounded Marines lying in an exposed area approximately 110 meters to the front of the company's perimeter and in danger of being captured by the numerically superior enemy force.

Unhesitatingly, he organized a squad and led it along a trench line for seventy-five meters across an exposed rice paddy to the position of their fallen companions. Exposing himself to the intense enemy fire, he directed the evacuation of the Marines, recovered three M-16 rifles and one M-60 machine gun, and returned his squad safely to his company's position without sustaining a casualty.

His resolute courage and unwavering determination inspired all who observed him and greatly enhanced the morale of his unit. Gunnery Sergeant Dinota's exceptional professionalism, exemplary leadership and selfless devotion to duty were in keeping with the highest traditions of the Marine Corps and the United States Naval Service.

The Combat Distinguishing Device is authorized.

For the President,

Louis A. Wilson
Commandant of the Marine Corps

16 June 2003
I'ts a sad day with the loss of Gunny -had the honor to serve with him in Nam- he was a true Marine. I' m sure he's standing watch over the Gates today in his dress blues. Semper Fi, Frank Jurney, M Co. 3/5

Denny Dinota, 3/5 Reunion 2002
LaGrange, Georgia

Letter Sent in by J.R. McElroy
Our beloved fellow Marine and grunt Denny passed away in the late evening on 15 June 2003. He passed peacefully and in no pain as the result of rapidly spreading cancer. He is now with thousands of his fellow Marines from throughout the history of our Corps.

Jones Funeral Home, Jacksonville, NC is in charge of funeral details. Visitation is from 10 -11a.m.,Wednesday 18 June 2003 followed by burial at 11a.m., Wednesday 18 June 2003 at North Carolina Veterans Cemetary, just off LeJeune Blvd. [Hwy 24] by the main gate to Camp Johnson [Camp LeJeune complex]. For those desiring to express condolences to the next of kin, the names and addresses will be provided later. Bill Vandegriff and I will attend the services.

It is requested that Debbe and Brad, and Curtis use their computer lists to notify all of Denny's death. Thanks.

With best regards, J.R. McElroy
Cards for Denny's Family can be sent here:
Mackie Fretwell
27 Royal Pines Blvd.
Beaufort, SC
29907


(click to enlarge)
Denny's Obiturary

Our Friend has begun his walk.
Walk your walk in peace. We will meet you again our friend.
SEMPER FI, OUR FRIEND!!
Curtis and Brenda Eidson
I Co. 3/5 67-68

Pictures of the 3/5 Wreath and Ceremony by Bill Vandegriff sent in by Jim Bisesi


(click to enlarge)
Wreath purchased by The Marines of 3/5 for GySgt Denny Dinota


(click to enlarge)
Bill Vandegriff perfoming an Indian Ceremony in Honor of Denny Dinota
REMEMBRANCES

"Denny"
M/3/5, Dec 66-Jun 67
Denny Dinota joined the Marine Corps at age seventeen. Here he was, in combat for the first time as a twenty-five year old Staff Sergeant. He had missed going to combat as a rifleman. There just hadn't been a war and he couldn't do anything about it. He was with Mike Company, 3rd Battalion, 5th Marines for six months. Here are some of my memories of Denny.

In his first large operation, Operation DESOTO, Staff Sergeant Dinota distinguished himself as a platoon commander by ensuring the destruction of a series of six mutually supporting enemy bunkers connected by a number of trenches. While sprinting over open terrain to direct fires of machine guns and rocket launchers, he marked enemy positions for air and artillery. His skills were obvious. He knew how to look out for his men and he could lead; and, his knowledge of infantry weapons, support arms, offensive and defensive tactics, and map reading was superior.

Denny received a meritorious promotion to Gunnery Sergeant just prior to to Operations UNION and UNION II and became Company Gunnery Sergeant. Additionally, he served as Company Executive Officer in the field. During Operation UNION, Denny was continually picking fragments from his red, largely swollen left arm. It was obviously infected. He wouldn't turn himself in and wasn't about to leave in spite of the Battalion Commander's expressed concern to me. It seemed combat to him was both a mental and physical challenge. He fought aggressively, but with control. Denny constantly checked lines at night for security. He was keenly aware of ammo, water and supply requirements and kept up with them at all times. On the move, his major effort was to detect ambushes or surprises.

In mid May after an all day encounter with NVA forces, the company set up nighttime defensive positions. At dusk and into darkness, Gunny Dinota had the right flank of the company lines moved back and new positions dug in. At midnight when the company again came under intense NVA mortars, the bugles sounded and a ground attack followed. The main thrust of the NVA ground attack was where Denny had moved the lines and the enemy advanced right into our machine guns, rifles and M-79s firing down their flank. The NVA assault met with disaster. Several days later, Gunny Dinota became aware of two Marines (found to be mortally wounded) in front of the company perimeter in danger of being captured by the NVA. Amid mortars and small arms fire, he quickly organized and led a squad along a trench through an exposed rice paddy. From there the Marines and their weapons were evacuated back to the company perimeter without a casualty.

Throughout these operations Denny possessed a unique ability to quickly and accurately diagnose the strength, disposition and size of an enemy force. He was a superb leader who looked out for his men.
These are a few of my memories of Denny. After Denny was transferred from Mike Company, he received a Battlefield Commission in August. J. R. McElroy, Jr.

Jim Bisesi (H&S 3/5 67-68), Craig Sullivan (H&S and M/3/5 67-68), Denny Dinota (M/3/5)
3/5 Reunion 2001, La Grange, Georgia
He will be missed....I feel like someone just kicked me in the stomach. Ed McCurry, H&S 3/5
Semper Fi, Gunny...you are missed
Brad and Debbe Reynolds
M Co. 3/5, 1967-68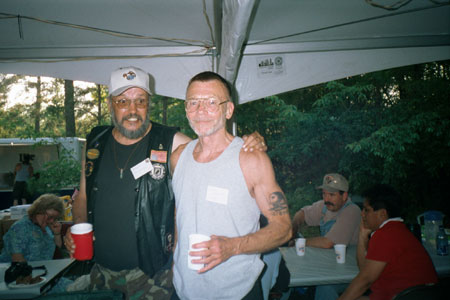 Brad Reynolds (M/3/5 67-68) and Denny Dinota
3/5 Reunion 2001, La Grange, GA
We have truly lost one of the best in the Corps. He has joined our fallen brothers in keeping heaven's gate for our Blessed Savior. We have gained a true Guardian Angel. We will miss him, and knowing he is no longer in pain. May he and the 3/5 Bothers be Blessed by our Lord and rest in peace. For his battle is won. Semper Fi! Terrapin Mike! Jerry Bain, India 3/5

Jan. 2003
Kevin Kelly and Denny Dinota having a little reunion at Denny's favorite watering hole, NC.
(sent in by Kevin Kelly, M/3/5)
When I first found out about the Mike 3/5 web site from Chuck Cummings and went on the site, so many names from the past were brought back into my mind and in some cases, my life. Through the site I found that Denny Dinota was living in Jacksonville, NC. My son-in -law, Rich is stationed at Camp LeJeune. When Merry and I went to visit my daughter Amy, Rich and their sons last summer, I looked in the phone book and found a D. Dinota. I called, said "Hello," and asked when we could get together. Merry and I met Denny at the Paradise Point Golf Course on Camp LeJeune. We talked about what had taken place in the last 30-35 years and talked in general about Mike Co. and some of the operations we were on. During that 2 1/2 hours, it was easy to tell the pride that Denny felt having been a member of "Mighty Mike."
At Christmas time we went to visit my daughter and family again. I called Denny and he said to meet him at a place called Sywanyk's. It is a private club. Denny told us, "Just tell them you're meeting Denny Dinota and they'll let you in." We did that and soon Denny arrived. Sywanyk's is a club with two floors with a bar on each. This place is amazing!! It's loaded with Marine Corps history and has so much memorabilia, that it should be a museum. During this visit Denny was not talking in general terms. He was pretty specific about his feeling for Mike Co. and grunts. At one point I was looking at some Marine items related to the Air Wing. He said, "What are you looking at that for? That's only Air Wing stuff. They ate three meals a day and slept in a dry place with no mud and didn't get shot at." He had no time for them.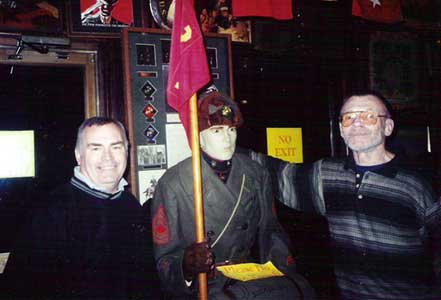 Kevin Kelly and Denny Dinota
He showed us around Sywanyk's and we came to a place near the front and he pointed to the ceiling. On the ceiling were groups of ribbons from different Marines. Denny's were on display. He didn't volunteer that they were his. I sort of had to pull that out of him. He did say something that told me a whole lot about him. He said that he had some medals and awards that were more important to him that were not shown. He said that what Bill Vandegriff said to him when Denny left Mike Co. was like a medal that meant more to him than those on display on the ceiling. Denny said those of us that did what we did can only know that feeling for those with us. He said he would see us at the Reunion. He looked forward to seeing everyone again. He was there in spirit. He was a special guy and I'm glad that we were able to get together to renew a friendship. Semper Fidelis, Kevin Kelly, Mike Co. 3/5
Dear 3/5 family, It saddens me to hear of the passing of Gunny Dinota. Hear another year has come and we lose still another one of our Brothers. And we have to wonder who will be next? That's what makes our reunions so important and so special. I know in my heart that the Gunny is in a better place. But I will still miss him as I did at the last reunion. And so I raise my glass to this Brother Marine grunt, and say SEMPER FI. Gunny, I will see you again some day. Until then may you rest in peace. Jimmie L. Christy, India 3/5
Denny Dinota and Mike Mannell
3/5 Reunion 2002
Sure am sad to hear about Denny...I really loved that Marine...we became pretty good friends since the 2001 reunion...Semper Fi, Mike Mannell, I Co. 3/5
Gunny was such a great person, I got along with him great. I am surely gonna miss him more than anyone can realize. I'm still in shock. I pray that his family are gonna be ok because I know how much they will miss him. Semper Fi Gunny, now you will be guarding the gates of heaven and God has a great person on his side. Amen my brother, I will miss you a lot. Eddie Garcia, "the Bamba Kid", India 3/5
A sad day indeed for us all. Just reminds me that we are all marching toward that great unknown.
Rob Whitlow
I will say a special prayer for him and his family.
R.Lindsey, Sgt.
H&S-3/5 (67-68)

Denny Dinota, Bill Vandegriff, Roger Nicholson, Steve Walker-Haygood, Ken Fields
I was saddened hearing about Denny, it makes you think how short life is and how quick it can end. Semper Fi, Nick Nicholson, M Co. 3/5
GYSGT. DENNY DINOTA'S VIETNAM LEGACY
I joined Mike Company just a day before the company went out on Operation UNION (I) and served under Gunney Dinota through Operation ADAIR. I do not remember if I had any direct person to person contact with him as I was just a lowly assistant machine gunner and he was the company gunnery sergeant.
I don't know if it was true, but the scuttlebutt was that he was the youngest gunnery sergeant in the Marine Corps at that time. If not, he was certainly one of the youngest looking.
I do remember the night we were "banzai-ed" (May 13, 1967). Looking back from my fighting hole I saw Gunney Dinota standing in his fighting hole with one foot up on the parapet waving his .45 caliber pistol while he was directing our fire. This while devastating enemy incoming was raking our positions. The sight was a classic "John Wayne" movie shot.
I told this vignette to Denny while at the 2002 reunion; he humbly denied remembering ever standing up in the face of enemy fire. He did, however, volunteer that he never cleaned his .45 and it probably wouldn't have fired anyway.
Those of us who served with and under Gunney Dinota learned well under his tutelage and we were inspired numerous times by his leadership and actions in the field, especially under fire. I know I was.
Many Mike Company men who served after Denny left the company are probably wondering who this Gunney Dinota was and what does he have to do with them. I say to you:
The lessons taught and the inspirations given to those of us who did know and serve with GySgt. Denny Dinota were carried with us through our tours and we passed them on to the men who came after. They in turn passed them on to you, and so on. We who benefited from his knowledge, leadership and inspirations are, in part, what we are today because of Denny Dinota. And that, my brothers, is the Vietnam legacy that followed Denny throughout his life. And, again, will be carried on by us in our hearts and minds and again passed on to our children, and so on.
I am not trying to make Denny out to be a saint. In fact, he would probably say that this was all bullsh*t; that was the way Denny was. But, he certainly does rate all of our praise and admiration for we will miss him. Semper Fi Gunney!! Ken Fields, Mike Company 67~68, 1st Platoon, Guns

With the passing of Gunny Dinota, we have not only lost a true friend, but we have lost a Marine Warrior who truly cared about his men and the Corps. Gunny was a Leader of men and a highly respected Marine.

God gave us our life here on earth and allowed us to make of it what we will. It is then up to us to make a difference or not, and as to what we will do with it. Denny chose his on destiny and traveled his on road as a Marine to the end. Gunny was a man who cared about the welfare and well being of his fellow man.

Denny touched many of us who served with him in Mike Company, and the Third Battalion Fifth Marines, he also made a difference in the lives of many other Marines throughout the Corps. We will truly miss him but we will never forget him.
Rest in Peace Gunny, you have once again led the way for all of us who will follow you. May God welcome you into his Kingdom and allow you to take your place as one of our Guardian Angels. Until we meet again. Semper Fi Gunny, Sully, M Co. 3/5
Craig Sullivan, Denny Dinota, Debbe and Brad Reynolds
3/5 Reunion 2002
While on Op DESOTO, I was to take part in a reactionary force in case one of our ambushes got into trouble. On this night, you couldn't see five feet in front of you. When it got dark over there, it was dark like a tomb. Our ambush went out just after the sun went down, I believe. I was with 1st squad, 1st plt. We were told to be ready to go at a moment's notice. Being in someone else's sand box, you play when they want to play. This night was play time, so the game was on. Charlie hit the ambush with grenades and small arms fire, the call came in for help. "Move out!" came down the line, "Be ready to haul ass!"
We had been told not to take our gear off other than our packs. Trying to sleep with one's gear on is quite uncomfortable, so I took mine off and laid it next to me. When the word came to haul ass, I had a hell of time finding my gear in the damn dark! Our brothers were in trouble, and here I am looking for my web gear! It only took a very short time for me to find the gear, but it seemed like an eternity feeling on the ground for the gear.
When I got to the CP, Gunny Dinota was madder then hell. The way he was hollering, someone was in big trouble, that someone was me. The next thing I saw was these pretty little stars, Gunny D had whacked me alongside the head, damn he could hit hard. My first thought was how dare him lay a hand on me, and him being a staff NCO to boot! For the next two days I felt like putting a bullet in him, who would have known in a firefight. As soon as I got over being mad and had time to think about what had happened, I knew he was right in his actions.
The lesson of that night taught me to be ready at all times for anything. A lesson like that stays with you, it served me well in the next ten months! Thanks Gunny, you sure saved my dumb ass!! Bill Vandegriff, M/3/5
Jim Cravey (M/3/5), Craig Sullivan (M/3/5), Bill Vandegriff (M/3/5), Denny Dinota (M/3/5)
Semper Fi, Denny. The two reunions you attended and the email we exchanged made me feel like I knew you forever. Someday we will all meet again. Tom Wityak, M Co. 3/5

Semper Fi, Gunny - and may God be guarded by you. My prayers to you and your family. I miss you already. I love you, brother. Semper fi, Rock, M and H&S 3/5
SEMPER FI MY FRIEND--- CURT BATTEN, M CO. 3/5
My only disappointment at the Reunion this year was not being able to see Denny...I had been looking forward to it. Denny was the first person from M/3/5 that I connected with after I found his e-mail address on the M/3/5 website. It was great to get caught up. He told me that the only reason he bought a computer was to get in touch with his old buddies.
He encouraged me to attend a reunion, and when I talked to him from La Grange this year his concern was not about himself (he already knew by then that he was sick), but whether I was having a good time and happy that I came.

Denny was a Marine's Marine and an unforgettable person. He will be missed. Semper Fi, Steve Cottrell, M Co. 3/5
I felt bad that I did not see Gunny Dinota at the Reunion. Jack Swan told me at the Reunion that Gunny said I was a good Marine. That was the most blessed compliment I ever had in my whole
Vietnam experience. Semper Fi, Gunny, Gordy Seablom, M Co. 3/5
My condolences to the family. I will say a prayer for them. Regards, Mario Deludos, M Co. 3/5

(click to enlarge)
3rd Battalion, 5th Marines
Reunion 2002
"Semper Fi, Gunny!"

MESS NIGHT
December 13, 2002

A couple of months ago I was approached by a young Marine Sergeant from Weapons Company 3/6. He must haveseen my M/3/5 tattoo and heard me telling war whoppers at the end of the bar at my favorite watering hole where he moonlights as a bartender from time to time. After talking for a while on several occasions and becoming friends he asked me if I would be the Guest of Honor at his unit's Mess Night. He said that he was to be "Mister Vice" (Vice President for the mess night) and one of his jobs was to find the Guest of Honor. The President of the Mess Night is of course the CO of the unit.

I told him sure I would, all the while thinking (knowing) that it would never happen and that they would surely be able to get some retired general, colonel or some other upper level dignitary as the guess of honor/speaker to bore them to death. After all, this is Jacksonville, the home of Camp Lejeune. Why the hell they would want a former Staff Sergeant/Gunnery Sergeant was beyond me.

A few weeks later the sergeant's unit was having a promotion wetting down at the club and the Sergeant introduced me to his First Sergeant.

A week later a real squared-a-way Sergeant in full dress blues appears at my door and presents me with an invitation to be the Guest of Honor at the Weapons Company 3rd Battalion 6th Marines Mess Night.

I guess they wanted somebody who had actually occupied a fighting hole and who had seen the "Elephant."

While putting down on paper some ideas/thoughts for my speech I realized that of all the mess nights, Marine Balls and other formal events I've attended over the years I cannot recall one of the speaker's names, much less the subject matter of their talk. So I could see myself going into the same abyss.

Well, on Friday, December 13, 2002, a squared-a-way Corporal wearing full blues arrives at my door to escort me to the mess night!

My speech? It was about those (YOU) magnificent, wonderful skinny "kids" I served with in Mike Company and the rest of 3rd Battalion 5th Marines! I told them about the battles you fought and won. I told them how you would raise up under fire and advance against fortified positions. I told them about how you beat back attacks. I told them about the stink of death and fear and how you sacrificed and didn't complain and how you are still making that sacrifice and still not complaining. I told them about the reunion and the tears.

I told them how "I Got To" (as if it were some kind of miraculous appointment from on high) serve with you.

I at times had to catch my breath and hold back the tears, but I got through it. I could tell I had their attention and later when it was over and the young PFCs and Lance Corporals and Corpsman told me it was the first time they ever saw the men pay that much attention to anybody before. Whether it was speeches by the general, training instructors or whatever. That compliment coming from the "Troops" put me in a daze. It was an award. It was like Vandergriff telling me "Thank You" when I left Mike Company.

Seeing those "Kids" I see time frozen from thirty five years ago.

Denny Dinota
M/3/5 1967

Operation DESOTO
Operation UNION and UNION II
Mike 3/5 Website
[Home] [Intro] [Table of Contents] [What's New] [My Marines] [FMF Corpsmen] [Combat Wives]
[Combat Histories] [Memorials] [Stories, Poems, Memoirs] [Reunions] [Special Tributes]
[Picture Gallery] [Links] [Guestbook] [Message Forum]