In Memory of Lt. Col. Hans S. Haupt, USMC Ret.
January 26, 1933--January 7, 2004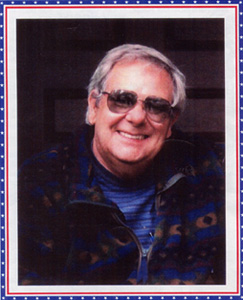 Hans S. Haupt
Hans Schindel Haupt, Lt. Col, USMC, Ret., died suddenly and peacefully at home on Jan. 7, 2004. He was born in Westfield, Mass., on Jan. 26, 1933, to Dr. George Webster Haupt and Grace Good Maines. For the most part, Hans was reared in southern New Jersey but spent many summers living throughout the country where his father taught as an exchange professor.
Hans graduated from Woodbury (New Jersey) High School in 1951, received a bachelor of science with highest praise from Springfield College, Mass., in 1955, did graduate work at Duke University and received a master of arts from the University of Michigan in Ann Arbor.
Hans joined the Marine Corps in 1957, served honorably for 20 years, two of which were spent in Vietnam. He was awarded the Bronze Star and the Navy Commendation medal, as well as other unit citations and medals. He was a proud Marine and true patriot. His love of country was instilled by his family who emigrated from Germany in the 1600s. Hans was a member of the Order of the Founders and Patriots of America.
Upon his retirement from the Marine Corps in 1977, Hans accepted a position at the Maritime Academy in Vallejo which brought him and his family from Northern Virginia to the Napa Valley. The phrase "can't do" was unknown to Hans. He was an excellent golfer, great bridge player, good photographer ... a master of all he surveyed. As poor health slowed him down, he spent his last years in an "e-mail world" with his Marine friends and former school mates.
He is survived by Arlene, his wife of 41 years; his son, Byron of Fairfield; his daughter, Erika Cox of Napa; and granddaughters, Jacquelyn Haupt and Shelby Cox. (Napa Register, Thursday, January 15, 2004)
Thank You Note from Arlene Haupt and Family
Funeral services with full Military Honors were held at Tulocay Cemetery, Napa, CA
22 Jan. 2004
1. 3rd Battalion, 5th Marines wreath at Tulocay Cemetery
2. 3/5 Marines Joe Holt, Chuck Goebel, Jack Swan, Dave Krueger, Brad and Debbe Reynolds with Hans' wife, Arlene
3. Marines who delivered the 21-gun salute
4. Marines preparing to present Hans' flag to Arlene
5. Local MCL Detachment members attended, including a Sgt. Major who served in WWII, Korea and Vietnam (second from right)
Chuck Goebel, Cathy and Dave Krueger, Brad Reynolds, Joe Holt celebrate Hans' life at Uva Trattoria Restaurant after the services. At the restaurant Dave and Joe delighted the guests with their humorous, but deeply respectful tributes to Hans. Also representing 3/5, Jack Swan graciously read a letter from Curtis Eidson, and Chuck Goebel did JD Murray proud reading his tribute to Hans (see Remembrances below). Everyone in attendance learned what a great Marine, and "Legend" Hans Haupt is to his fellow Marines.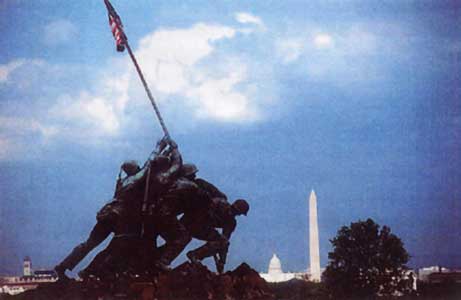 "A man's country is not a certain area of land, of mountains, rivers, and woods, but it is a principle; and patriotism is a loyalty to that principle." ~George William Curtis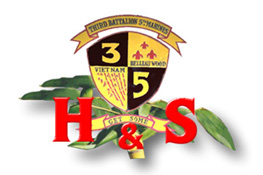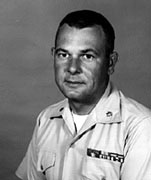 Hans S. Haupt
Remembrances
Letter written by JD Murray, read by Chuck Goebel at Hans' Celebration of Life
NOT YOUR AVERAGE GRUNT
I first met Hans when I joined 3/5 in early 1966 at Camp Pendleton, CA when they were forming for deployment to Vietnam. The Battalion Commander, LtCol. Bronars (later LtGen. Bronars) selected Hans for the toughest job in the Battalion, the CO of H&S Co. 3/5. As Skipper, Hans was highly qualified to turn a group of Marines into a fighting team. That was initially demonstrated in our first major battle as the Special Landing Force, Vietnam on Operation HASTINGS. Selecting and defending an isolated Battalion CP that moved constantly while deep into NVA territory was a major task, but it was a piece of cake for Hans. After the battle for Hill 362, Hans integrated the remainder of I Co. into his H&S Co. positions for the remainder of the operation. Hans held the H&S Co. billet for seven months until he was dragged from that job to become the Division Commander's Staff Secretary.
Hans was a MUSTANG from the OLD CORPS, a no-nonsense, hard-nosed leatherneck who spoke his piece and was not afraid of a challenge. I got to know Hans better when I played bridge with him and the Battalion Commander aboard the LPH Princeton during our deployment to Vietnam, and I grew to appreciate his knowledge of the Corps. Unfortunately, I never had the nerve to tell him that until later, Brown bars do not normally associate with Railroad tracks.
We did not cross paths again until he found me in 2000 through his monumental Internet activities. No longer in the Corps, but performing an even more important duty than any of our retired Commandants, that of finding all the lost 3/5 Vietnam Veterans in the slopshutes and boonies of America.
I marvelled at his persistence--He had a full seabag to deal with, yet he spent hour's daily uncovering every Marine he could find through scuttlebut, rumors, suggestions, and working his bolt at all the angles. Seldom did he not succeed! He was focused as the sleuth of the Internet, tracking all leads, using his magic wand and zeroing in, grabbing all by the stacking swivel, up gently against the bulkhead, and making us deal with reality. He was always on the horn, pushing me to call, to saddle up and get my act together and uncover our unsung heroes. In his most gentle terms, he chided me for sending out emails with zillion giga-bites of information overwhelming everyone's server. "JD, deliver us a product we can read!"
Although I know him as a fighting Marine, he will be remembered by everyone for the Marines and families he brought together through his Internet activities for the Fighting Fifth Marines.
So when we all join him later, be prepared to find him green side out with a full marching pack, updated Field Manuals, holding class for us new Marines on his Dell.
HE IS NOT AN AVERAGE MARINE, HE IS MY BROTHER.
Semper Fidelis, Hans
JD
Hans' USMC pictures and medals, including 3/5 caps and "Not Going Home Alone," book by his friend, Jim Kirschke
Letter from friend and fellow Marine, Jim Kirschke to Hans' family
Dear Arlene and Hans's Children:

I am writing to say a few words about your Dad, as I knew him. Hans was my Company Commander for ten months in rugged training and vicious combat. During this time I came to know him about as well as any fellow officer. To my great good fortune he also put a call in to me and reintroduced himself some six years ago. Since that time Hans and I had corresponded, mainly by email, almost daily; and some days many times daily. We also spoke on the telephone a few times. Many years ago, therefore, he had become one of my two best and most reliable friends, despite the fact that I had not seen him since the day I boarded the truck to ride from the 3/5 Headquarters to the 2/5 one.

He was one of the greatest and most remarkable people I have ever known. It would be difficult to say how important he had become in my life. As a Company Commander he was superb. I have never met anyone who understood the military better than Hans. Always I felt he was looking out for the best interests of the c. 250 Marines and Corpsmen in his Company. As a Skipper he somewhat reminded me of a great hs basketball coach, Jack Kraft, under whom I briefly played, who was a proper disciplinarian, but who always silently encouraged you with a smile and a good word whenever you were playing well and making shots, how ever unusual.

As a. C.O. Hans always had the right balance between supersvising his officers and letting them have a long leash when they were out there performing well. One of the biggest compliments of my life I received when, after Hans had learned that I had planned to go to a Rifle Company in 2/5--in many ways a life changing move--he earnestly tried to dissuade me from leaving. In typical Hansian fashion, he did not make this attempt simply, but as I perceive now, he must have prepared well ahead of time with my highly respected Platoon Sergeant, Gunny Rockwell: the two teamed up to have a lengthy and well rehearsed persuasion session of some 45 minutes.

On Operation HASTINGS, Hans's immediate perception of the dangers of a French chateau as a prospective Command Post for 3/5 almost certainly saved us the kind of slaughter that our 2/5 Bn HQ sustained on PRAIRIE. In his own ways, too, Hans showed me by example how to have a strong backbone when it came to speaking up to command authority when it was making a big mistake. This quality is one I think I still have, and I can thank Hans for it.

Hans fortuitously called me one day in early 1998; and thereafter we reestablished our friendship, mainly via email. Hans's reentry into my life came at an almost perfect time. As Arlene may know, at this time my son was just coming out of a major medical, legal and professional crisis that had almost completely drained me in many ways. With Hans's sage advice and encouragement, I managed not only to stay afloat, but actually to ride above the waves a bit.

I grew up a somewhat poor kid, without a father and with no siblings I was until recently aware of, in South Philly. At this time in my life Hans appeared from Napa and guided and supported me much like a wise and loyal big brother would have.

Since 1998 I have also sustained many other shocks and disruptions of a personal nature, and Hans has helped me well with every one of them. Never during this time did he give any indication of the extent of his physical disabilities! The truth of this I only learned from Arlene just after Hans died. Despite all of the complaining I did to Hans, he never revealed to me anything like the extent of his disabilities, nor the fact that he had essentially been home bound for very many years since his first stroke some 16 years ago.

Hans also aided me greatly professionally. Over the years since he had come back into my life, he has provided tremendous help on work I have done on two completed books, NOT GOING HOME ALONE and GOUVERNEUR MORRIS (forthcoming) and one book in progress, ATLANTIC REVOLUTIONARIES. During the same six year period he has also aided me a lot with papers and articles on aspects of the American Revolution, the Civil War, the Boer War, World War I, World War II, and Vietnam! And he always had for me excelelnt advic eregarding campus politics!

When I learned that Hans had perished I cried harder than I ever have since the loss of my Mom, more than 27 years ago. He meant a lot to me, more than these words can say. Hans is gone from the earth now in the standard sense, but as another great man I know has recently written me, when a great man dies, he does not completely diasappear, because his influence and his spirit live on in the people who knew him. So in a way Hans, the Gentlemanly Curmudgeon, has not completely disappeared. As a matter of fact, I hear him saying to me now: enough already! Get on with your other work!!!

May His Soul Rest in Peace: Thanks again, Hans. And SF.

Very sincerely,
Jim Kirschke
Letter written by Curtis Eidson, read at the "Celebration of Hans' Life" by Jack Swan
Semper Fi, My Friend
For a week or more I have been trying to come up with what my heart wanted to say. My brain aint very good at explaining what is inside my heart. The reason for that is because my brain is all Marine Corps, and my heart is like my Mama's. The two don't know how to deal with each other. Hans on the other hand had the key to do this, and shared this with me on several occasions. He always told me that when I got to where I couldn't think, NOT TO. To let my heart take over and all would be OK. I think Hans had one of the best ideas about this, makes sense anyway.
Our world is going to miss this "Old Fart." The world is lesser now than it was a week or so ago, also. But yet, it is a better place for this Marine's life story will always be here to shine and make things better.
This man has had many names among us: Mighty Mater,,,Catfishman,,,,, Transplanted Yankee,,,Leftsider......Old Fart.

But the most important, that will always be with me is that this Marine Col. allowed me, a lowly grunt, to call him "Friend." That in itself just shows what kind of man this Hans Haupt was and is! A man that cared for people, a man that wanted things for his people, a man who worked hard to be sure that his people were "all right." Never asking much of his own but giving to be sure that others were cared for.
My friend would send me a few dollars for the 3/5 Reunion so that he could help in some small way. That was very important to him. He told me every year that if I told anyone that he sent me a small donation that he would rip it out of my Rebel rear. Never has anyone known about this till now. But, this was Hans. Always in the background and never wanting any thanks. "Just doing what I want to do Curtis" is what he would say, and that's the way it was.

I will miss this my friend, but look forward to remembering what his life was about:
Semper Fi!!!!!!
Curtis aka "The Reb", India Co. 3/5
Letter written by Bill Fischer, read by Joe Holt at Hans' Celebration of Life
Semper Fi, Captain Haupt
This is very sad news. I had corresponded with Captain Haupt several times after reading Lt. Kirschke's book "Not Going Home Alone." In the tradition of telling a personal story about someone when they pass away, I recall when we landed at Chu Lai and went back to the beach for a party. Captain Haupt was known as a no-nonsense officer. The enlisted men were taking the officers into the water and dunking them, but everyone was afraid to touch Captain Haupt. Captain Chalmers asked me to get a couple of people and dunk Captain Haupt because he felt bad about being the only officer who wasn't wet. Reluctantly, I did. I related the story to him last year, and he told me if he had known who it was, I would have been on mess duty or standing before him for office hours!
Semper Fi, Captain Haupt, and give my best to Colonel Bronars and all the brave men of 3/5!
Bill Fischer
Thank You, My Friend
My heart is sad when I realize your emails have stopped coming, and then everywhere I look I see remembrances of how far-reaching your influence has been in my life these last few years. I can never say THANK YOU enough for your wisdom and guidance when I needed it most. You are in my heart, and thoughts forever.~Debbe Reynolds, aka WebbeDebbe
Semper Fi, Hans
It was at least 2 months before our friend Hans Haupt let this grunt know he was an officer, let alone Lt. Col. And he made it clear than we were NOT to call him SIR...he was just one of us grunts, but a very smart one and a big brother we all looked up to. He lives on with us as one of the finest Marines we know. Semper Fi, Hans!~Brad Reynolds, M Co. 3/5
H&S 3/5 website
Operation HASTINGS
[Home] [Intro] [Table of Contents] [What's New] [My Marines] [FMF Corpsmen] [Combat Wives]
[Combat Histories] [Memorials] [Stories, Poems, Memoirs] [Reunions][Picture Gallery] [Links] [Guestbook]
(Background and title by Redeye)
(H&S 3/5 emblem by Vic Vilionis)