JR McElroy, Mike 3/5 I served with "M" Co. 3rd Battalion, 5th Marines from 15 Dec 66 to 24 June 67.Participated in Operations SPOIL, DESOTO, UNION (hospitalized 13-21 May 67), UNION II, and ADAIR (until transferred to 2nd Combined Action Group, III MAF). Had an additional tour as an advisor to VN Marine Corps from 9 Dec 70 to 1 Dec 71.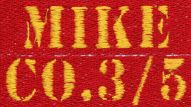 Operation DESOTO
During Operation DESOTO most of Mike's action was against insurgent Viet Cong forces which utilized bunker complexes, hedgerows for fighting positions, open rice paddies approaching their defensive positions; and well-constructed cave hill sites for logistical support and living areas. Mike Company's action was in Duc Pho and the immediate surrounding area.

Artillery smoke rounds were successfully used in crossing a large rice paddy against heavy VC resistance. SSgt. Dinota, plt cmdr., was especially creative at ensuring trench-connected bunker complexes were eliminated. The Marines out front and in frontline foxholes fought with valor, and made Marines throughout the ages proud.
Operation UNION and UNION II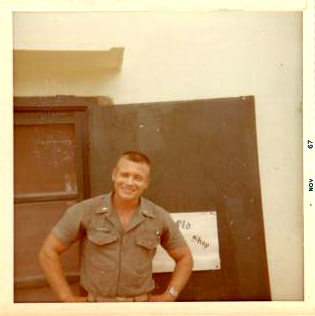 Denny Dinota
(picture courtesy of Frank Jurney, M/3/5)
Denny Dinota received a meritorious promotion to Gunnery Sergeant just prior to to Operations UNION and UNION II and became Company Gunnery Sergeant. Additionally, he served as Company Executive Officer in the field. During Operation UNION, Denny was continually picking fragments from his red, largely swollen left arm. It was obviously infected. He wouldn't turn himself in and wasn't about to leave in spite of the Battalion Commander's expressed concern to me. It seemed combat to him was both a mental and physical challenge. He fought aggressively, but with control. Denny constantly checked lines at night for security. He was keenly aware of ammo, water and supply requirements and kept up with them at all times. On the move, his major effort was to detect ambushes or surprises.
In mid May after an all day encounter with NVA forces, the company set up nighttime defensive positions. At dusk and into darkness, Gunny Dinota had the right flank of the company lines moved back and new positions dug in. At midnight when the company again came under intense NVA mortars, the bugles sounded and a ground attack followed. The main thrust of the NVA ground attack was where Denny had moved the lines and the enemy advanced right into our machine guns, rifles and M-79s firing down their flank. The NVA assault met with disaster. Several days later, Gunny Dinota became aware of two Marines (found to be mortally wounded) in front of the company perimeter in danger of being captured by the NVA. Amid mortars and small arms fire, he quickly organized and led a squad along a trench through an exposed rice paddy. From there the Marines and their weapons were evacuated back to the company perimeter without a casualty.
Throughout these operations Denny possessed a unique ability to quickly and accurately diagnose the strength, disposition and size of an enemy force. He was a superb leader who looked out for his men.
Left: Hodery, McElroy, Johnson
Right: McElroy
(Pictures courtesy of JD Murray, M/3/5)
3rd Battalion, 5th Marines Reunion 2002
La Grange, Georgia

Debbe Reynolds, Craig Sullivan, JR McElroy, Jim Cravey (back left)
3rd Battalion, 5th Marines Reunion 2003
La Grange, Georgia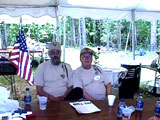 Brad Reynolds and Skipper Mac