Just chillin in Chu-Lai

Ric Lee, India 3/5 1967-68 Life here in Wisconsin while I was growing up was very good. I've never liked the winters though as I got older. They suck. I graduated in 1966 from Wm. Horlick H.S. My younger years were spent totally involved in sports, with Track being my favorite, which paid off later in the Nam. I could have gone on to play college football, but I knew that my heart was not into school. Had a broken heart. It was my first (smile).

A couple of my buddies and I were about to be drafted real soon, so we decided to join the Navy. Too late, they had a six month back log. Tried the Air Force, and they said, "Yes." All we had to do was get sworn in down at Amarillo, TX and that would of been it. But a couple days later we were all downtown again, and that was when I saw a Marine Corps Recruiter, and I talked my two buddy's into joining the Corps. They have never let me live it down either. Two of us went to the Nam, and one did not. My friend John who went has suffered greatly from PTSD. Me! I do good most of the time, but I do have my bad days. But I love life to much to let it hold me down too long.

After going through what Boot Camp entailed, I still hadn't come to full realization as to what I had gotten us into. That came sometime at Camp Pendleton, CA. The returning Vets could not be missed, and their stories really hit home. Some of the pics that were in Life Magazine were very scary, and for the first time I realized that I was in for a passage that I just might not get through.

Republic of Vietnam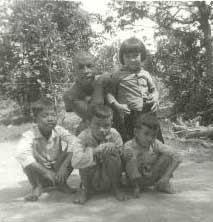 My love of kids goes way back
On Feb. 12, 1967, I landed in DaNang. My MOS was 0311/Airwing Attachment. I thought for sure that I was going to be a door gunner on a chopper, but was in for a surprise. I was sent to Chu-Lai Airbase, just south of DaNang. I was attached to Mag-13 which was a group of Marines who did MP duty, and guarded the runways and bunkers around the strip. It was gravy duty, and I thought, "Ric you really lucked out, you can handle this for a year."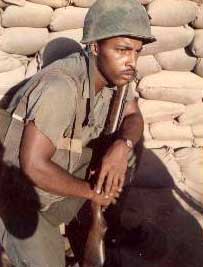 Chu Lai, still had my M-14
Spent a lot of time at China Beach, and I mean a lot. Went to DaNang a lot also to visit friends that were in the Air Force. And my time passed very safely. That is until September of '67. Bang!!!!!!! My world as I knew it at that time came crashing down. I didn't know it, but 3/5 in that month ran into a buzz saw. Operation SWIFT decimated the Battalion, and an order went out to the Airwing were I was at for replacements immediately. My soft, safe world came to a end. I had made it from Feb. '67 to Sept. '67 without a hitch. I only had to make it about six more months, and damn if it wasn't going to be in a place were I did not want to go...TO THE BUSH.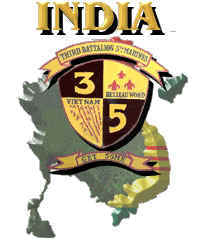 3rd Battalion, 5th Marines India Company

I landed in India Company 3/5. I had my M-14 taken away, and I was given an M-16. The first day I had it, I had an accidental discharge in the company area. What a way to start with a grunt unit, huh? The 1st. Sgt. called me to his tent, chewed my butt...and said he didn't really have time to discipline me because we were going out in the field. He said he would watch me. I think what he really meant was, I would more than likely not be coming back, so he wasn't going to worry about it.

Surprise: I came back in. And he said he never saw anybody run as fast as me when the squad had to move across a field of fire. Track!! Remember? 9.8 100 yd. dash in high school. Anyways, I was on all the ops that took place after SWIFT. And I'm not sorry that I missed that one.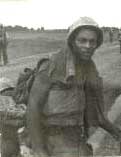 On patrol with India 3/5
My Marine Records have me participating in a half dozen or so up until I left. And that was when we were up in PHU-BAI. Individual ops I don't remember anymore. My mind has just run it all into one big OPERATION, with a lot of confusion, fright, hilarity. There were many good times.

Cpl. Dansby took me under his wing when I got there, and he was one of the best jungle fighters I ever met.


(click to enlarge)
Nolan Nunnery "The Nun"

There was another guy who was from the streets of Detroit, and he had a keen sense of survival. His name was Nolan Nunnery. He was an M-60 gunner. He had a 6th sense out in the bush. I knew him well. Not many people in the unit really knew how good he was. I did!! And he taught me many things after Cpl. Dansby left.


(click to enlarge)
Nolan and Ric together again, May 2003
. Nolan was a great Machine gunnner, he taught me how to walk point shortly after I got to Nam.

I loved the Marine Corps, but it did not give many African Americans the opportunity for leadership. So most of us AA's (smile) took control of our own destinys and looked to each other when we felt unduly treated or left out of knowing about specific information, which we felt should have been passed on. It was almost like the underground railroad all over again. Anyways, that stuff is in the past, and I try not to dwell on it. But some of my AA friends have not let it go, and I understand why.


(click to enlarge)
Robert Peterson with 60mm (KIA 30 Jan 68)

Approaching TET of '68, the day Robert Petersen was killed
Not sure, but for a period I think I had contacted malaria or some type of bug. Temperature was 102, I was vomiting from both ends. India went out on patrol, and I stayed in the company area. Sometime later in the morning, Sgt. Pruett came back to the hootch to check on me. He told me it was real nasty out the back door by the village. I told Bill I would go back out with him to help. Sgt. Pruett said, "No, you stay here, it's real bad."

To this day I have always felt because Pruett told me to stay in the rear area is why I'm alive today. I felt it that morning in the tent, and I still feel it 35 years later. I've written to Pruett and thanked him for it also. Petersen was killed that day, and another of my friends, Columbus Brooks, was greatly effected by Pete's death, and is still to this day. I guess PTSD has managed to mess with most of us, in one way or another. But like I said, I'm real glad to be sitting here and telling this story.


(click to enlarge
Pfc. Charles Townsend (3rd from left) KIA 28 December '67
Charles Townsend Memorial page

I was married. 13 years was about all it could sustain. My Ex-wife is a great lady. We have a 30-year-old daughter who is a school teacher, and a 15-year-old son in H.S. Great family planning, huh. I also have a 2.5 year old grandson. My 28 years as a law enforcement officer were great. And it is great to be retired...RIC LEE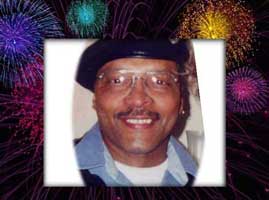 Ric Lee
2002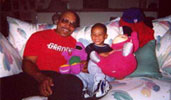 (click to enlarge)
Ric and his grandson, Dwight
Christmas 2002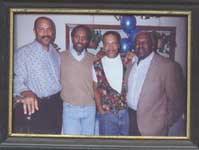 (click to enlarge)
Lee boys left to right: Brother Jeff, brother Brad, Me, and POP


(click to enlarge)
Ric and buddy, Mike Touchette
Mike was with Scouts 2/26. A great lasting friendship. He lives in Aussie land.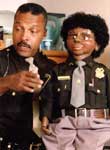 (click to enlarge)
Ric and Partner, Sgt. Alexander
I needed a diversion for all the talking I was doing with myself. Learned ventriloquism about 10 years ago.
3rd Battalion, 5th Marines Reunion 2003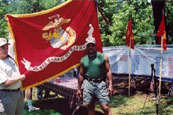 (click to enlarge)
Ric Lee with Gil Currie holding our 3/5 colors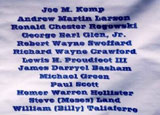 (click to enlarge)
From our 3/5 Wall, George Earl Glenn, Jr. (Boone), Kilo Co.
"Died from one of our own friendly mortar rounds. He was my best friend."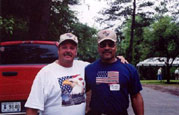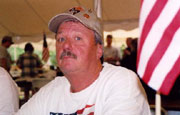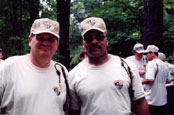 (click to enlarge)
1. Jimmy Moss and Ric Lee
2. Jimmy Moss
3. Gill Currie and Ric Lee


(click to enlarge)
Columbus Brooks and Ric Lee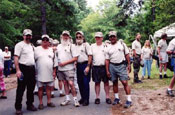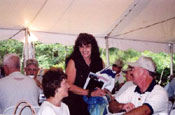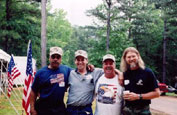 (click to enlarge)
1. Art Green, Jimmy Moss, Ken Godkin, "Chunky" Stonebreaker, Gil Currie, Ric Lee, Terry Welcher
2. "Webbedebbe" Debbe Reynolds and Vernon and Barbara Ford
3. India 3/5 Marines Ric Lee, Chuck Strong, Jimmy Moss, Terry Welcher

Operation SHELBYVILLE
Sept. '67
Operation BAXTER
Oct. 67
Operation ESSEX
Nov. '67
Operation AUBURN
late Dec. '67-Jan. '68
Operation "ALAMO" (Jan. '68)
part of Operation AUBURN
Operation HOUSTON
Feb. to March '68
(Background by Redeye)