Information and messages submitted by our website visitors
[PICTURE GALLERY 2004][PICTURE GALLERY 2005][PICTURE GALLERY 2006]
[PICTURE GALLERY 2007][PICTURE GALLERY 2008][PICTURE GALLERY 2009]
[PICTURE GALLERY 2010][PICTURE GALLERY 2011][PICTURE GALLERY 2012]
[PICTURE GALLERY 2013]
(click images to enlarge)
********************************************************
(Sent in by Bob Geraldo, Sept. 13, 2012)
M Co. 3/5 Marines and Corpsmen, 1967
Please let us know if you recognize anyone here
**********************************************************
(Sent in by Michael Williams, Sept. 12, 2012)
Operation SWIFT
I was a member of Delta 1/5 on Operation Swift, we were alone at the beginning of the operation. Thanks for the help, Marines.
******************************************
(Sent in by Diana Giaccardo, Sept. 12, 2012)
JAMES STEVEN CAZARES
Killed In Action, Operation SWIFT
JAMES STEVEN CAZARES of OKLAHOMA. H&S Co, 3rd BN, 5th Marines, 1st MarDiv, III MAF United States Navy. Operation SWIFT. KIA September 8th, 1967. Is there anybody out there that knew my Uncle Jimmy? He was a Hospitalman from Oklahoma City. My Mother SIMONA CAZARES was his only sister and all I had of Uncle Jimmy were his letters he sent to Mommy. He always asked about me & my 2 sisters. Can someone tell me a story about this great man? Please. Gracias~Diana Giaccardo
HN James Steven Cazares Memorial Page
************************************************************
(Sent in by Kevin 'Doc' Reider, Sept. 12, 2012)
FMF Corpsman, 1967-68
I was 'Doc' with 5th 155mm Guns attached to 1/5 on Hill 51 Que Son from July to Oct 67 when we were pulled off and the Army came in to take over after Operation Swift... You are to be congratulated on this web site, it is an outstanding tribute to those who experienced the 'pucker power', that both operations Cochise followed immediately, by Swift served up.

To date this is the best site with most information on Swift I have located. I keep looking not only because I was part of it but I lost a couple of true FRIENDS whom I still miss some 40 plus years later.

Never have I been so proud as the time I served with my 'jar head' family, during the good and the bad. God Bless You Chesty, you set a great example of what it is to be a Marine. Semper Fi, Doc Reider 5/67 - 7/68
******************************
Aug. 18, 2012
Jerry Lomax, M Co. 3/5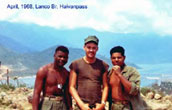 Sam Cole, Jerry Lomax, Willie Rivera
M Co. 3/5 has lost another of our Marines. Jerry Lomax passed away Saturday, August 18. His smile and great sense of humor will be sadly missed by all who knew him. Our love and prayers are with his wife, Beth and their family. Visitation is Tuesday Aug. 21st from 12 noon till 8 PM at Hendersonville Memorial Gardens, 353 East Main Street (Johnny Cash Parkway), Hendersonville, TN. Funeral services are Wed. Aug. 22nd 11 AM at the chapel. Interment will be at the National Cemetery at 2 PM.


Jim Blankenheim, Brad Reynolds, Jerry Lomax
LaGrange, Georgia 2001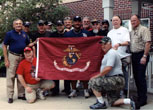 Jerry Lomax and M Co. 3/5 Marines in Pickerington, Ohio, Memorial Day 2011
Semper Fi, Jerry...we will never forget.
***********************************
(Sent in by June, Aug. 1, 2012)
Max Idom, M Co. 3/5
Killed In Action Nov. 9, 1967 on Operation ESSEX
I came across this 1965 High School photo of Max Idom, so I am sending this on to you. I was 2 doors down from his fiance's dorm room when they came to tell her he was killed. Middle of the night, was an awful time. Thanks for all you do to keep the website available to us. God's wings over you and yours,~June
********************************
(Sent in by Tom Wiseman, July 28, 2012)

Vietnam War veteran Tom Wiseman of Comstock Park is one of the 230 motorcyclists escorting the Cost of Freedom Traveling Tribute, a Vietnam Wall replica, from the Gun Lake Casino to Kentwood Veterans Memorial Park Wednesday, July 25, 2012. (Chris Clark, MLive)
*****************************************************
(Sent in by Mike Alden, May 27, 2012)
Perry Frago "Flower Child", M Co. 3/5
For those of you that are not aware, Perry Frago "Flower Child" passed away at home on the 27th of May @ 21:14 hours. Flower had very agressive cancer. No more than a month went past from the time Flower was informed of his cancer till his passing. A gentleman I asked to search for Flower almost a year ago, located Flower, into his 6th month of his search. Some of us got the chance to talk on the land line with Flower shortly after he was located. My opportunity personally to talk with Flower was a blessing. I know those of you who talked with Flower feel the same way. We had Flower in our grasp after 43 years and we lost him. But, Flower passed knowing we remembered him, and I know he was pleased. A friend of Flower's told me, "Flower was smiling as he passed. He was so at peace." God Bless. S/F~ Mike
**********************************
(Sent in by Mike Alden, May 14. 2012)


John Ryba's picture of "Flower Child" & John Ryba, An Hoa.
Thank you John for sharing. (I wonder what happened to the pocket watch)~Mike
********************************************************
(Sent in by Mike Alden, May 12, 2012)

My daughter Amber made this poster for our annual M Co. 3/5 gathering at The David Johnston American Legion Post #283 in Pickerington, Ohio on Memorial Day weekend. Looking forward to seeing "Flower Child", John Ryba and other "new" faces this year. Semper Fi~Mike
**********************************************
(Sent in by Mike Alden, May 10, 2012)
John Ryba's Pictures, M Co. 3/5 1969
These pictures are property of John Ryba. The explosion is on the west side of Fire Support Base Maxwell. Incoming N.V.A. mortars hit an ammo dump. John was fortunate he was "just happening" to be taking a picture of the area .Two Marines in the one photo are Perry Frago "Flower Child" and Jim Turnage "Cackalack" ("He says"!). The other Marines, I don't know. Thank you John for sharing these pictures.~Mike
***********************************
(Sent in by Alan Cantrell, May 9, 2012)
Pete Black
M Co. 3/5, Vietnam 1968
I received an email today telling me that Pete Black passed away in Dec. 2011.
I knew I hadn't heard from Pete in a while, his death was result of exposure to agent orange~Alan Cantrell, M Co. 3/5
************************************************
(Sent in by Jeff Waite, May 6, 2012)
CPL. ERNEST EUSTACE PEREZ
M Co. 3/5
KIA June 30, 1966
I WAS STATIONED WITH ERNIE FOR A YEAR AT MWTC BRIDGEPORT, CA.65/66. I WAS IN THE PX AND HE WAS THE BARBER....HE WAS MY BEST FRIEND.....I STILL MISS HIM NOW AND THEN........HE WAS A REALLY FUNNY GUY....RALPH ZABEL, DAVE CASIDA AND I HAD DINNER AT HIS HOME IN LONE PINE ONCE........I'VE BEEN TO HIS GRAVE..VERY SAD .
GOOD THOUGHTS TO ALL~JEFF WAITE, SGT. USMC
***************************
(Sent in by Tom Bizzarri, May 1, 2012)
Remembering Paul Bazar, M Co. 3/5
Paul Bazar and I went through basic together starting on 23 June 68. We were in an all-state platoon (Nebraska). Maj Gen L.E. English Co of MCRD flew from San Diego to Lincoln, NE. and swore us in on the steps of the state capital building, Marine Band and all. I remember him as a good recruit, we were in the same squad and the DI's always called us brothers. I was crushed when I learned of his death. I think of him often.Your web site is very nice and a credit to your loyalty for your fellow Marines. I was separated May 71 as a Sgt.~ Tom Bizzarri, Sr., Chaplain VFW Post 1581, Nebraska
********************************************
(Sent in by Mike Alden, May 1, 2012)


Darrell Ross, M Co. 3/5
Mar. 14, 1948--Aug. 17, 2005
(picture courtesy of Richard Reed)
Darrell Ross was a member of 1st squad, 1st platoon in "M" Co. 3/5. He was in the 7 man recon patrol that ran into the ambush on Hill 332, in which 2 Marines were K.I.A. and 2 wounded. Through Jamie Vroman's efforts, we now know that another Marine from "M" Co. that many of us were looking for passed away in 2005. With a sincere heart, thank you Jamie for your information.~ Mike
*****************************************
(Sent in by Jacqueline Watson, April 30, 2012)
I would like to get in touch with Ric Lee, India 3/5
My name is Jacqueline Watson and I was interested in getting in touch with Ric Lee, a Marine who knew my brother Nolan Nunnery, also a Marine. My brother died 3 years ago and I wanted to ask Ric who served with him some questions. I read my brother's story on the your website and have read about the Vietnam War, but this would mean so much to me to talk to someone who knew him. If you cannot reach Ric Lee, maybe there is another Marine who knew my brother in the 3/5 Marines, India Co during 1966-1969. Thanks!~Sincerely, Jacqueline
*****************************************
(Sent in by Robert Geraldo, Apr. 29, 2012)
I served with Mike Co. 3/5 from Sept.66 to Nov.67. I was in first platoon, first squad, first fire team. I want to thank you for the web page. I'm looking for Dan Link, I have looked for him for years and can't find him. I can't wait for the 3/5 reunion in Kentucky. Semper Fi, Bob
If anyone recognizes the unidentified Marines, please let us know





1. Bob Geraldo
1. Richard McStravick and unidentified Marine on Hill 69, Dec. 66 or Jan. 67
(McStravick was KIA Feb. 1, '67, Cpl. Richard P. McStravick, Jr. Memorial page)
2. Bob Geraldo (left) and "Doc" Dan Link
3. Unidentified Marine, KIA Feb. 67






Hill 69
1. Plt. Sgt. with unidentified Marine
2. LCp. King and unidentified Marine
3. Geraldo, left, 2 unidentified Marines, then King
4. M Co. test firing M-16s
5. M Co. Marines get awards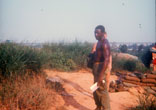 Hill 26 outside Chu Lai
1, 2. Unidentified Marines on Hill 26
3. Cpl. Geraldo between 2 unidentified Marines
4. CC Jones Hill 26 outside of Chu Lai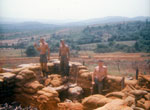 1, 2. Hill 26 BBQ
3, 4. Building a bunker on Hill 26





1. Cpl. in 1st. Plt, Oct. 67
2. Richard Duncan (left) and 2 unidentified Marines
(Richard Duncan was KIA Nov. 67, awarded the Navy Cross, posthumously, see Richard Duncan Memorial page)
3. An Hoa, Oct. 1967
4 . Richard Duncan, Oct. 67
We will be posting more of Bob Geraldo's pictures soonly...have a great time at the reunion, Bob!
********************************************
[PICTURE GALLERY 2004][PICTURE GALLERY 2005][PICTURE GALLERY 2006]
[PICTURE GALLERY 2007][PICTURE GALLERY 2008][PICTURE GALLERY 2009]
[PICTURE GALLERY 2010][PICTURE GALLERY 2011][PICTURE GALLERY 2012]
[PICTURE GALLERY 2013]
[Home][Table of Contents][What's New][Picture Gallery][USMC Picture Pages ][FMFCorpsmen
][Combat Wives][Combat Histories][Memorials][Poems, Memoirs][Links][Guestbook]