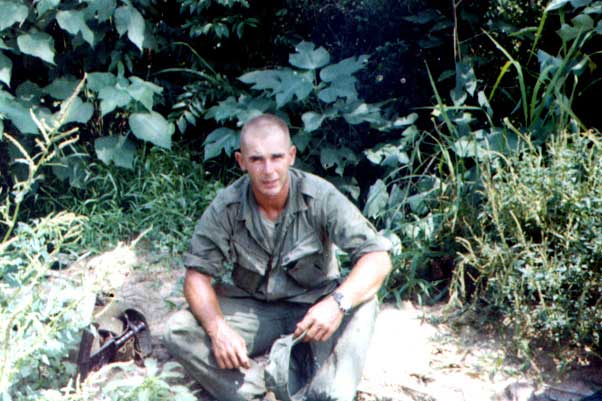 JD Murray, Nov. '66
West of Hill 49, Operation MUSTANG (also called Operation STARVATION)

JD Murray, Mike 3/5 66-67 Enlisted 1962--plt 245 P. I. Commissioned 1965 under the Meritorious NCO Program.Went to Camp Pendleton in Dec 65 and assigned to 2d Plt M Co. 3/5. Served as 2d plt cmdr, XO and CO of M Co. for most of the next 18 mos. Served under two fine Co. Cmdrs., Dell Pettengill and the JUDGE. JD

Enhanced pictures by Gary Bolen, M/3/5...well done, Gary!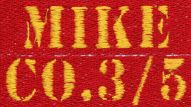 M Company 3/5, Dec. 1965 to Nov. 1967 Formed at Camp Pendleton, Ca. Dec. 1965. Initial officers-CO Capt. Pettengill, XO- Lt. Prince, Wpns Plt- Lt. Matthys, 1st Plt-Lt. Keker, 2d Plt-Lt. Murray, and 3rd Plt-Lt. Lindblom.

Spent one month on Okinawa training and preparing to form the Special Landing Force for operations in Vietnam. Spent another month of concentrated training in the jungles of the Philippines.
(click pictures to enlarge)


M Co 3/5 Okinawa, Apr-May 1966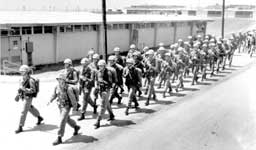 M Co. 3/5, 2nd Platoon
Okinawa '66
M Co. Operations
18-27 June '66
DECKHOUSE I
Song Cau, Phu Yen, Vietnam
27-30 June '66
NATHAN HALE
in support of the US Army, Vietnam
16-18 July '66
Operation DECKHOUSE II
Gio Lien Province


Map for DECKHOUSE II
16 July '66
Helos lifting off M Co from USS Princeton heading for the "Street Without Joy" area just north of Dong Ha on Operation DECKHOUSE II 16 July.
18-29 July '66
Operation HASTINGS
DMZ, Cam Lo, Quang Tri, Vietnam
Completed our Special Landing Force mission and offloaded in Chu Lai, Vietnam
The map graphics were created in honor of Hans Haupt, H&S Co commander for BLT 3/5 on HASTINGS. In the last several years he has personally been responsible for locating many of the surviving members of the BLT 3/5 through his diligent and persistent efforts on the internet.

I have used the following references:
"A Few Good Men" by Ronald Brown
"Semper Fi, Vietnam" by Edward Murphy
BLT 3/5 After Action Report and Command Chronology
My experience with M Co as 2d Platoon Commander on HASTINGS
Input from Reiss Tatum, CO of L Co. on HASTINGS

18 July '66

BLT 3/5 was airlifted into the area to exploit the B-52 strike and act as a blocking force for any NVA units escaping from the Song Ngan area where most of the Task Force were located. No friendly forces had operated in BLT 3/5 initial zone of action prior to their entry. It was suspected that the area might include a regimental sized CP, and perhaps, even the CP for the 324B NVA Division.

BLT 3/5 was commanded by LtCol. Ed Bronars, with his able commanders, Capt. Hans Haupt (H&S), Capt. Sam Glaize (I Co), Capt. Dick Maresco (K Co), Capt. Reiss Tatum (L Co), and Capt. Harold (Dell) Pettengill (M Co).


Helos preparing to liftoff 2d Plt., M Co into HASTINGS (JD is holding map in pic)

"Capt. Pettengill had briefed the platoon commanders 10 mins. prior, and I believe I was able to brief my squad leaders only minutes before this pic. I doubt whether the troops got more than, "Get ready to Rumble.'"



M Co making helo assault on NVA positions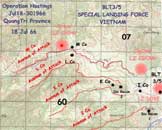 In the initial landing, only Capt. Pettengill's M Co encountered serious resistance. The company landed on an NVA unit in LZ CROW at 04362, and after heavy airstrikes were able to overrun the NVA. 20 NVA killed during the afternoon battle.

L Co also landed in LZ CROW. Cos K, I, H&S, and BLT CP landed in LZ DOVE.
I think this is just after we landed where M Co landed on top of the NVA on the 18th.
19 July '66

There was little contact during the morning of the 19th. L Co made contact with a platoon of NVA at 045625, and K Co had NVA contact at 038608 that afternoon. L Co discovered a Bn CP at 040620 with 140 bunkers.
20 July '66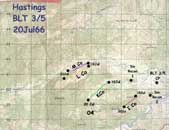 At first light all BLT companies resumed search and destroy operations west in their assigned TAOR's.
At 0915am Co L destroyed an NVA Hqs.
At 040620. Both L and M Cos had contact early in the day. A patrol from the 106rr platoon discovered a possible political reception center at 098619.
At 1610 K Co at 044598 found a Bn/Regt CP with hundreds of uniforms, packs, shirts, shelter halfs, etc. and documents. All were new.
Co M had contact at 028616 and 022610 killing 4 NVA and capturing supplies and documents.
At 1815pm L Co killed 2 NVA at 025610.
At 0100am K Co ambushed 10-15 NVA. Results unknown.


M Co Command Group and radiomen
Wineriter, GySgt. Goodrich, Capt. Pettengill, Lt. ("ready for inspection") Lindblom
21 July '66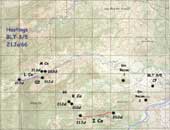 All BLT 3/5 companies continued search and destroy missions in their TAORs. Co M at 0920am discovered prepared positions at 024618 with much equipment. 200 bunkers, hospital and mess hall in area. Large quantities of engineering equipment and explosives and mines found indicating probably an NVA Engineering Bn. Probably evacuated because of B-52 Arc Light.

M Co found a Chinese Mine Detector at 028618. 2 NVA bodies, 12 graves were also found, apparently caused by arty fire or an earlier contact with Co K or M.

CO, M Co Capt. Pettengill, with radiomen Wineriter and Leslie, calling in an air strike on NVA positions. Lt. Lindblom wounded during the strike and evacuated. Lt. Joe Mirgeaux was sent in to replace Lindblom by the Bn. Cmdr., LtCol. Bronars.


Joe Mirgeaux, WIA 21 July 1966


Part of NVA Engr. Bn. mines and equipment found by 2d Plt. M Co on 21 July
22 July '66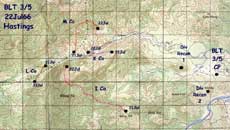 Continuing search and destroy operations to the west, Co M reached Hill 314, which intelligence sources indicated was the site of a regimental CP. 1 NVA killed by M Co 024625.

At 1545pm Co M 2d platoon surprised 30-40 NVA in prepared bunker positions vic. 034625. Co M overran the positions. While evacuating the wounded, the NVA assaulted from 034623. Both the 1st platoon under John Keker and the 3rd Platoon under Joe Mirgeaux overran the NVA on top of the nearby hill. The NVA probed M Co positions throughout the night.

At 1700pm, an ambush from L Co. fired on 4 NVA at 025610. Reinforcing squad helped kill 4 NVA.
At 1845pm I Co at 026608 contacted 12-15 NVA. NVA withdrew.
2d Plt M Co going down streambed just before we ran into NVA bunker complex which Vernon Ford describes so well.




M Co patrolling in triple canopy jungle
Night of 22nd and Morning of 23rd
The LZ blown out of the triple canopy the night of 22 and morning of 23 when M Co ran into the NVA in bunker complexes along the streambed. Joe Mirgeaux and John Keker, among others, were evacuated from this LZ.


Carl Matlock, 2d Plt. M Co eyeballing NVA shack for sleeping purposes
23 July '66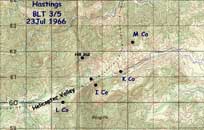 At 0040am Co M killed 2 NVA.
At 0815am I Co killed 1 NVA.
At 1000am Co M killed 2 NVA at 033627. Co K found 1 dead NVA at 025611. Co I at 1105am sighted 2 NVA at 018602, killing one, capturing one and one 57mm recoiless rifle.
At 1555pm I Co discovered a large equipment cache at 017607 and captured another NVA.
At 2230pm L Co killed 1 NVA at 005605.


Looking down into blown out LZ
24 July '66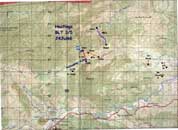 At 0700am L Co was approached by 2 NVA at 005605 wearing camouflaged utilities and U.S. helmets. 1 NVA killed.
At 1115am I Co discovered 21 NVA bodies near 016617, in area of previous L Co ambush.
At 1155am H&S Co patrol found NVA bivouac site at 083614 with 140 bunkers.
At 1200 Co I made contact with 3 NVA near 011616 along well used trail. 1 NVA killed, 1 captured.
At 1215pm Co I came under intense automatic and small arms fire at 013616.

At 1425pm Co I received mortar and automatic weapons fire while moving up draw at base of Hill 362. Once on top of Hill 362 and moving across a saddle, I Co came under very heavy concentrated enemy fire from three sides. LtCol Bronars ordered K Co to reinforce I Co. K Co got within 300 meters before heavy NVA fire from an estimated 30-40 NVA halted their advance at 018614.

Meanwhile, I Co. remained under intense enemy firing including at least 4 NVA mortar positions. The mortars took a heavy toll on I Co Marines until an UH-1E helicoper gunships strafed the NVA mortar positions identified by Lt. Jim Kirschke, the 81mm Mortar Platoon Commander, who discovered the position through a quick map study.

NVA captives identified the NVA forces as 6th Bn, 812th Regt., 324B NVA Division. Captured were 3 mortars, 27 rifles and machineguns, 1 57mm Recoiless Rifle and large numbers of packs and equipment.

At 2335pm M Co was probed at 025636.

I believe this is a photo of Hill 362 where I Co got ambushed on the 24th. This photo was taken on the 26th when M Co arrived on the hill.


M Co Command CP with the WO, Capt Pettengill, Leslie, and other radio operators

Bob Wineriter is in there somewhere. The terrain reminds me of the 24th/25th when M Co was directed to protect a downed helicoper and crew deep in the DMZ.


2d Plt. M Co moving towards downed helicopter
These photos probably off Hill 362 of Helicopter Valley (the valley gained its name during this operation when several helos were shot down earlier).

25 July '66

During the early hours, Co I was contunially probed by an estimated 2 reinforced NVA companies. NVA broke contact 0430am.

At 1000am L Co killed 1 NVA at 016607 and at 1500am they sighted 7 NVA, killing 1 NVA at 011612.
At 1630pm L Co was attacked by approx. 20 NVA at 011617, killing four NVA.
At 1645pm L Co received a tear gas grenade.

At 1700pm Co K discovered 6 NVA bodies and numerous drag trails vicinity 018617 and a large store of equipment including machineguns, submachineguns, grenades, and uniforms.
By 1715pm I Co patrols around 011617 had found 14 more NVA bodies and numerous drag marks.
26 July '66

Today was relatively quiet, with contact consisting chiefly of small probes. M Co joined the other companies on Hill 362 in preparation for the foot movement to a newly assigned TAOR.

Probably Hill 362 on the 26th. As I recall, it was the only hill we were on in HASTINGS that we could see other terrain.
27 July '66

L Co received probes at 0015am on Hill 362. After conducting intensive air strikes and artillery preparation, the rifle companies moved westward to designated positions in the new TAOR. The BLT CP displaced by helicopter.

At 0815am, L Co. received sniper fire, returned fire killing 1 NVA. at 011617 and capturing 1 NVA with 2 submachineguns.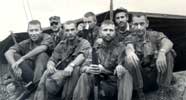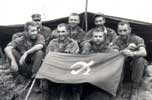 M Co. Command Group
Front Row: Lt. . MacArthur, Arty FO, JD, Lt. Fred Matthys, and WO Griggs
Back Row: FAC, Capt. Pettengill (CO), and Lt. Mullinex, XO
28 July '66


The following companies conducted search and destroy operations against NVA forces in the grid squares indicated:
Co K - 7960
Co L - 9660
Co M- 9860, 9960, 0060

At 1215pm Co M found a cache at 999593 of NVA equipment. An hour later M Co found another cache of clothing and equipment at 999593.

At 1227pm, the 2d Platoon M Co sighted 25-30 NVA at 989613 digging a mortar and 50cal MG position on top of the hill as the 2d platoon moved up a steep ravine. Artillery and air strikes were called in on NVA position. During a search conducted by Co. M, a trail eight to ten feet wide was discovered in the area of 0161 to 9661 along the mountain ridge line. It was noted that tall trees were pulled and lashed together to complete the jungle canopy over the trail. The trail showed signs of frequent use and had communications wire throughout its length.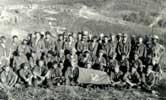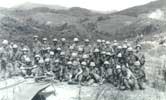 Left: 2nd Platoon, M Co. 3/5
Right: 3rd Platoon, M Co. 3/5
2d and 3rd plts M Co, taken the afternoon after 2d platoon had run into the NVA Mortar Platoon as described by Rick Golbeck. We returned to this knoll for our M Co night defensive positions. Arc lights hit the high ground that night on the hills directly to the right of the pics. Although at least 1000 meters away, shrapnel fell into our lines. Lots of after action explosions.


I believe this was the ravine 2d platoon M Co climbed and found the NVA Mortar unit.
At 1400pm K Co received 10-20rds sniper fire from 987592.
At 1605 L Co made contact with 4-5 NVA snipers at 965603.
At 1815pm I Co moved into the BLT CP area to provide security and constitute the BLT reserve.
29 July '66

At 0915am Co K commenced movement to Landing Zone Bluejay vic. 983563 for subsequent helilift to the USS PRINCETON. H&S Co., 2d platoon, Co B, 1stMotor Transport Bn, and I Co followed in trace. The helilift was completed by 1610pm.

Battery F commenced helilift from vic 117579 at 0900am to USS PRINCETON.
30 July '66

Operation HASTINGS ended for BLT 3/5 on 30 July

At 0830am Co L and M and the remainder of H&S Co commenced movement towards LZ BLUEJAY. Helicopters lifted the first elements of Company M at 1305pm, and by 1530pm all units of BLT 3/5 were aboard assigned shipping.

2 Aug. '66
Gen. Lou Walt, CG 1st MarDiv, visited 3/5 in Chu Lai for congrats on our performance in HASTINGS
6-15 Aug. '66
COLORADO
West of Tam Ky in the pineapple forest area.
Aug. '66
Hill 49, K, M






1. Hurrin, Hunsucker
2. Griffith, Barlow, Hunsucker
3. Griffith, Turner
4. Carlin, Griffith, Hunsucker, Barlow
5. Griffith, Barlow, Hunsucker
Aug. '66
Operation JACKSON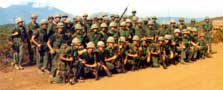 2nd Platoon M Co. 3/5



1. Lindblom, Mullinex
2. Lindblom
3. Mullinex
5-15 Sept. '66
NAPA
Northwest of Tam Ky.
19 Sept. '66
3/5 TAOR expanded to include 2/5 TAOR to the north and west of Hill 49 in Chu Lai
21-26 Sept. '66
M Co. operations in SE sector of 3/5 TAOR-Chu Lai
28-30 Sept. '66
MONTEREY
Operations in support of 1/5
2 Oct-1 Nov. '66
M Co. OPCON Chu Lai Defense Command--Defense of the Air Field
8-13 Nov. '66
MUSTANG
Co. M operations west of Hill 49, sometimes called Operation STARVATION







1. Steve Lindblom
2. Goodrich, Lindblom, Finn
3. Goodrich, Lindblom, JD Murray
4. JD Murray
5. Goodrich
5-12 Dec. '66
CORTEZ
M and K Cos. provided protection for downed aircraft in Que Son Valley




1. Turner
2. McElroy, Hurrin, Clark
3. Turner, Clark
14 Dec. '66
1st Plt. hit BT434058 on Hill 76 (?) near Chu Lai after returning from CORTEZ.
15 Dec. '66
Co. M withdraws from BT434058 and 452038 (Hill 76)
Dec.' 66,
Hill 69, Chu Lai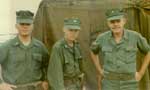 1. Hodery, McElroy, Johnson
2. Steed
3. Johnson, Turner, Hurrin
4. McElroy







1.Steve Lindblom and his 3d pl.t radio operator
2. Lindblom, Cullin, JD Murray
3. Pettingill, Howe, Hunsucker, Turner
4. Turner, JD Murray
5. Lindblom
6. Marnell
2-5 Jan. '67
GRAYHOUND
M Co(-) operation in TAOR
16-19 Jan. '67
SHEPARD
Hill 29, 35 Tam Ky





1. Jack Fretwell
2. JD Murray
3. Steve Lindblom and Bud
4. JD
1-23 Feb. '67
DESOTO
Duc Pho in support of 3/7


Lindblom
19 Apr-17 May '67
UNION
OPCON 1st Marines Que Son Valley
26 May-6 June '67
UNION II
Que Son Valley
15-24 June '67
ADAIR
25 June-1 July '67
CALHOUN
31 July-3 Aug. '67
PIKE
11 Aug-28 Aug. '67
COCHISE
M Co. security from Tam Ky to Hill 63
4-15 Sept. '67
SWIFT
Que Son Valley

General route of M Co. 3/5 on Operation SWIFT

This day-to-day mapping should be considered a subjective report, done some thirty-five years later, with an attempt to be as accurate as possible. I took the After Action Reports from 1/5, 3/5, and Task Force X-Ray and used Fred Riddle's map and route in some places, as well as my own recollection to develop the graphics. There are several areas that I just don't remember and have relied on Fred Riddle's map, in some cases, and relied on the official AAR in others. And I have also applied my own opinion when I felt differently than official reports.


Capt. Strichker, Lt. Dunnigan, and Father Capadonno before the beginning of SWIFT
4 September


Liftoff of M Co at Hill 63 into SWIFT

5 September


Grassy knoll


Left: CP crater on knoll
Right: Lt. Hayden CO M Co.


Troops in the open


JD on phone on the grassy knoll


Left: Sgt. Sullivan, Lt. Hayden, JD
Right: Kevin Kelly, 3rd plt. radioman


NVA Mortar found just outside M Co position
NVA Weapons and our KIAs in background. The RPG on the rifle was located 10-20 meters away from CP, with dead NVA behind sights ready to fire.

NVA KIAs on knoll


Captured NVA on knoll


NVA Weapons captured on the 4th/5th

6 September
This is another knoll where M Co set in defenses on the 8th. The knoll had numerous boobytraps around it. Notice the large rock w/2 other rocks on top! I had walked twice between the two large bolders looking over the area for M Co night position. Tom Barnard shortly thereafter detonated an artillery shell booby trap between those boulders.



Left: M Co. Marines on that knoll
Right: Steve Cottrell, CP radioman
9 September
This map covers the remaining days of SWIFT. Because it moves into a different area in the Que Son, I have used another map area west of the map for the initial days of SWIFT. I have been unable to find additional information from other sources to validate some of the movements and nighttime locations of all concerned. I have depicted Fred Riddle's map movements as well--they disagree with the 3/5 AAR. I also disagree with 3/5 AAR in some areas as well. The AARs, in my estimation, are put together after the fact and sometimes make gigantic mistakes. I have corrected those mistakes to the best of my knowledge.

The biggest question, in my eyes, was the night of the 11th. AAR has M and H Co. about a click away from the Battalion. I remember distinctly being with all companies when we caught the NVA during their night movement near our position. We had an outpost that was hit with friendly fire that night, and I remember the fighting because it was primarily on the other side of the Battalion perimeter. It was also one of the nights having the entire Battalion together.

10 September

Snipers


Radio operators, probably Steve Cottrell and Kevin Kelly

11-12 September
13th Sept. saw us march on an objective some 3 clicks away, turn around and go back two clicks to an LZ, AND ONCE HOT, decide to march out at night some 7 clicks over terrain we had not seen before, and arrive at 0700 at Hill 35, and lift off up north followed by 2 days of nothing. The 13th continued till early on the 14th.




Frank Jurney, JD Murray, and inspectors after SWIFT on Hill 63


Sgt. Reilly and Cpl. Hatzfield receiving Silver Stars for UNION from LtCol. Rockey
This was after SWIFT, Frank Jurney is taking pic in background
3rd Battalion, 5th Marines Reunon 2002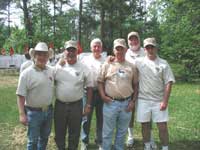 Mike CO '66-'67
Front: D. Krueger, C. Septien, Vernon Ford, JD
Back: S. Lindblom, J. Cravey

Carlos Septien, Jim Cravey, Gen. Ray Davis, Dave Krueger, JD Murray
1. Ed and Susan Combs, Randy and Judy Cernick, JD and Beth Murray.
(Ed had 1st Plt. and Randy had 3rd Plt. on Operation SWIFT)
2. Steve and Ann Lindblom, and Beth Murray (Steve had 3rd Plt M Co for the first 7 months in country).
(Both Ed and Randy were told about the reunion only one month before it occurred.)
3. Ford instructing McElroy on *How to do it*
4. Rob Whitlow and JD. Rob was our AO on Operation SWIFT. He, working with Chuck Goebel, saved the day!

Stu Hurrin and JD Murray
July 2002
3rd Battalion, 5th Marines Reunon 2003


JD and Beth Murray with daughter, Paige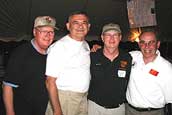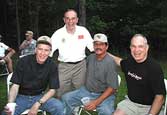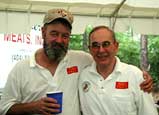 3/5 Reunion 2003
1. Former M Co. 3/5 Captains JR McElroy, Frank Pacello, Randy Pelt, JD Murray
2. Jim Johnson, JD Murray, Bill Mulcrevy, Dave Krueger
3. Jack Swan and JD
4. Kevin Kelly, Frank Jurney, Steve Cottrell, JD
Operations DECKHOUSE II and HASTINGS