*******************************************************************
Submitted by Ron Pizano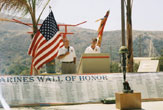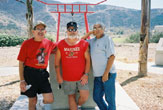 1. Fighting 5th sign at Camp Pendleton
2. JD Murray and Craig Sullivan speaking at the Memorial
3 . Chuck Goebel, Roger Nicholson, Bill Vandegriff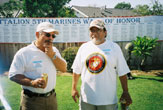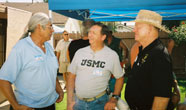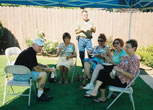 1. Elliott "Recon" Rubenfeld and Tony "Short Round" Martinez
2. Bill Vandegriff, Bill Grissinger, Lynwood Scott
3. Kevin Kelly, Bev Haney, John Bowers, Pilar Cummings, Merry Kelly, Susan Combs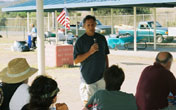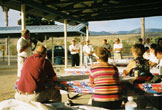 1. Rob Whitlow, "Bird Dog" on SWIFT
2. Larry Nunez, 2nd plt. (speaking)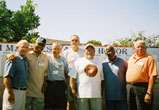 2nd platoon M Co.
Keith Rounseville, Carlton Clark, JD Murray, Ron Pizano, Tony Martinez, Bert Watkins, Larry Nunez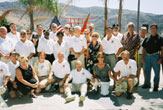 3/5 Memorial Park, Sept. 4, 2007
*****************************************
Swift Reunion: 4 Sep. 2007
Submitted by Steve Lovejoy
I was somewhat apprehensive as I was driving the 350 miles south to San Clemente, Ca. for the commemoration of Operation Swift, 40 years ago, Sept. 4, 1967. Of course the 4th was the most talked about, but other events also happened during the rest of the operation. I wasn't too sure how things would go, but when I arrived and met my long-time friend, John Lobur and his lovely wife Jan, my fears quickly disappeared. John and I had spent many a day surviving in Vietnam, and it had been 31 years since we had last seen each other. It was as if we had just been separated for a short time! We went up to Chuck Goebel's mom's home, in Lake Forrest for a back yard barbecue. Chuck, his mom, and wife Christy, Capt. J.D. Murray, Jack Swan, and others, not to mention USMC personnel at Camp Pendleton went beyond the call to organize and manage this reunion. A big thanks to all!
During the barbecue, I was interested to discover what had happened to several of my fellow Marines. I will give one example: After being on an all night ambush, with (I believe 6 men), we were fired upon by an AC47 gunship. At least one was KIA on one side of me and one WIA on the other, each being about 3-4 feet from me. I never knew what happened to the wounded Marine until Larry Nunez spoke of his being wounded during Swift by friendly fire. I spoke with Larry and we agreed that it was the AC47 gunship incident! Finally, after 40 years, I knew who it was that had been wounded and what had happened to him after he was medi-vaced. I also discovered the names of the others. Wayne Carnell lost his life and Raines was the 2nd WIA. Of course, those who did not survive Swift were the ones most honored, but we also celebrated the survivors and were grateful to learn of their lives since, even though at least some of us have suffered greatly either physically, mentally, or both, we were able to embrace each other and give thanks.
To sum up, I believe most, if not all of us that were there at the reunion, realize how important we are to each other. We were in battle(s) and now, since we have shared experiences, a bond is created that those who have not gone through this, will never know. Whether we have told others over the years or not, I think getting together allows us to realize that we will always be in each others' prayers and thoughts. I also discovered that by talking with each other we can piece together memories of actions that may have not been complete. Consequently, we owe each other debts of gratitude for what we did in Vietnam and appreciation for each other now. I guess what this all adds up to is that we all are heroes to each other! (P.S. Sorry, I do not remember Raines' first name).~Respectively submitted by: Steve Lovejoy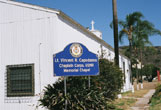 Father Capodanno (MOH) chapel at Camp Pendleton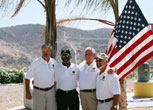 1. John Lobur, Steve Lovejoy
2. Carlton Clark, John Lobur
3. John Lobur, Bert Watkins, Larry Nunez, Elliott Rubenfeld


2nd plt. M Co. 3/5
Front: Larry Nunez, Elliott Rubenfeld, Bert Watkins, Keith Rounseville, Carlton Clark
Back: John Lobur, Steve Lovejoy, Ron Pizano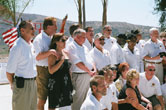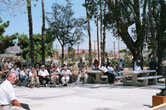 SWIFT Memorial at 3rd Battalion, 5th Marines Memorial Park
September 4, 2007
*****************************************
Submitted by Brad Reynolds





1. Chuck Chummings, John Bowers, Howard Haney, Jack Swan, Lynwood Scott, Brad Reynolds
2. Jack Swan, 1st plt. point man
3. Howard Haney and "Swanie" with NVA flag from JD Murray
4. "Skipper" Murray relaxing (Swanie's boonie hat)
5. Lynwood Scott and Bill Grissinger with new tattoos (ask Scotty about "Juanita")





Cook-out at Chuck Goebel's Mom's home, Sept. 3
1. Swanie with Lasa and Ken Fields
2. Sully, Bill Grissinger, Scotty
3. Ken Fields, Larry Nunez, Carlton Clark
4. Steve Lovejoy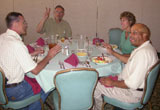 Lunch at the Officer's Club, Camp Pendleton, Sept. 6


Jack Swan with Lima 3/5 Marines who were shipping out for Iraq in a few days
*****************************************

M Co. 3/5 Marines Killed In Action on Operation SWIFT
(Click on names to view individual Memorial pages)
LCpl. Jack Albert Berry, LCpl. Stephen Cornell, Pfc. Dennis Fisher, LCpl. Thomas Fisher-Navy Cross, Pfc. Tony Gabaldon, LCpl. Andrew Giordano, LCpl. Richard Guerrero, Pfc. Raymond Hengels, Pfc. James Calvin McKenzie, Pfc. Charles Frederick Martin, Pfc. Gene Mortensen, Sgt. Lawrence David Peters-MOH, Cpl. William Young, LCpl. Albert Willard Santos, Pfc. Steven James Wright, Pfc. William Franklin Miller, Pfc. Talmadge Carnell.
Navy Personnel Also Killed In Action on Operation SWIFT
(Click on names to view individual Memorial pages)
Lt. Vincent Capodanno-MOH
HN "Doc" Armando Leal-Navy Cross
HN David Clayton Phelps

Semper Fi, Brother Marines...we will never forget
*****************************************
[Home][Table of Contents][What's New][Picture Gallery][USMC Picture Pages ]
[FMFCorpsmen][Combat Wives][Combat Histories][Memorials]
[Poems, Memoirs][Links][Guestbook]